Throughout the EFG London Jazz Festival, we at Women in Jazz Media are holding a jazz art and photography exhibition, showcasing some of the leading artist and photographers from the UK. Curated by Aurelie Freoua, it is an exciting opportunity to see how different art forms have influenced and inspired a wide ranging of stunning artists.
We asked team member and curator of the exhibition, Aurelie Freoua to put some questions to the artists and explore their work. In this article, Aurelie talks to Ley Loosh.
'Leyla Ustunkaya, also known as Ley Loosh is a visual artist who observes and is inspired by the cycles of nature. She expresses this via mixing media; in painting, installation, performance and video art forms. Ley sees signs through characteristics and patterns of existence; the species she depicts including animals, plants, humans, fungi, crystals, minerals or micro organisms can be seen throughout her artworks. Repetitive patterns emerge, just like the behaviours and properties of these chosen species. Messages or signs are brought to life via understanding these organisms and unity within duality is conserved. Elements appear and journeys happen'
What does it mean to you to create artworks in interaction and dialogue with Jazz?
It means to have the freedom to improvise to unexpected sounds and visions created by amazing musicians, which in my opinion brings out my most natural self. Jazz is amazing for this, in each live art performance I do to Jazz I get the feeling that I am alive, Jazz is diverse which leads me onto a new journey each time; the unknown, revealing layers of my psyche.
What artistic influences and experiences have shaped the artist you are today?
Being an active artist in London for the past 10 years has been mind opening in many respects. I have had access to amazing art and music. Also enabling me to visit many places of the world easily. Nature is where I obtain most of my inspiration from. Perfect with its perfections. Fellow art makers have also played a huge role in my shaping as an artist, I thrive in creative environments/hives, and with creatives. I also find that music helps move blockages in my body when I have the urge to move, which gradually unblocks my creativity to shape the artist I am today. Also, maybe some bitter experiences.
Nature and its cycles have an important place in your work. Do you manage to integrate your passion for nature into your artworks linked to jazz music?
 Of course, I always want to incorporate elements of nature into everything I do. Just trying to raise awareness around the subject!  Also, I believe that our most natural self comes out in live improvised performances. There; is a direct link to nature: the "human nature". What we do to exist.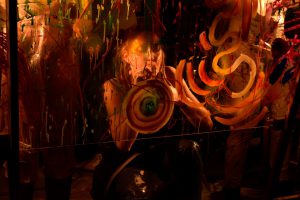 Why is the existence and work of organisations such as Women in Jazz Media important and how do you think it will benefit the jazz and art world?
Because we still live in a male dominated society and even though I am socially surrounded by amazing ladies who are creatives or other professionals; it doesn't mean that in many parts of the world we are still living a male dominated society, especially recognised this in the commercial music world. I realised this one more time when I was doing my research for this show. For inspiration; I was happy to find Woman musicians through London Jazz festival and Toulouse Lautrec Jazz Club's links, to listen and paint the pieces I am exhibiting at Woman in Jazz Media Show.
What role does improvisation play in your practice and live performances?
It is a bit like nude, but with clothes on. Emotionally, with no much filters and there is not much space for thinking about making mistakes. It is more of a "rush" then planned artwork. It allows me to stay on the moment and upgrade in a way. Once that thing comes out, I can then move on, liberation maybe.
Ley Loosh's work will be exhibited at Toulouse Lautrec, London from November 11th to 21st as part of the Jazz in Art Exhibition for the EFG London Jazz Festival. For further information, click here
To support the work of Ley, please visit her website here
Last modified: February 27, 2023