Throughout the EFG London Jazz Festival, we at Women in Jazz Media, are holding a jazz art and photography exhibition, showcasing some of the leading artists and photographers living in the UK. Curated by Aurelie Freoua, it is an exciting opportunity to see how different art forms have been influenced and inspired by a wide range of stunning artists and to showcase their work.
We asked team member and curator of the exhibition, Aurelie Freoua to put some questions to the artists and explore their work. In this first article, Aurelie talks to Gwendolyn Kassenaar.
Gwendolyn Kassenaar is a Dutch visual artist based in London. A graduate from Chelsea College of Art, she carried out further studies at the Royal Drawing School. She engages in both painting and drawing, which lies at the heart of her practice. Her art is based on rhythm, music and dance, which also form an integral part of her creative process. She creates live-art at live music and dance performances, in her studio and through close collaborations. Her work combines figurative and abstract and is characterised by expressive gestural mark-making, bold lines and a vivid use of colour. She is interested in distilling that indefinable energy of the ephemeral moment. In her practice she embraces the aleatory aspect of experimentation and improvisation.
Recurring themes in her work are: self-discovery, empowerment, personal liberation and spiritual awakening, conveying her energetic zest for life. Being an active participant in the improvised and experimental music scene in London, she is resident artist at Freedom (Vortex Jazz Club), Melifera (Hundred Years Gallery), Skronk and part of the recent Spherical Improv series. She currently collaborates with percussionist Beibei Wang, fusing their art forms into a simultaneous performance.
Her artwork features on album covers (Apocalypse Jazz Unit, Loz Speyer); has been presented in group shows in London (Nexus Art, Kindred Upper Gallery), and forms part of a corporate collection in Germany. Her live mural in Shoreditch was her first public art commission. Most recently, her London artist residency included public live-art performances alongside a solo exhibit of her works.
What does it mean to you to create artworks in interaction and dialogue with Jazz?
A human connection in a meaningful collaboration between artist and musician, mutually inspiring one another in a joint investigation how sound and visual can fuse together to create something new together. It means a two-way flow of energy between musician and visual artist. When shapes, colours, and sounds and rhythms, are in real dialogue with each other, live in the moment! It's the most beautiful thing when this happens.  Synesthesia. Art and jazz interact in my head all the time. I paint in my mind when listening to live music. When I hear the timbre of a specific instrument, a rhythm, a sound or vibration, I see shapes in different colours, appearing and fading, lines weaving through, like a spontaneous animation. There is a long tradition in art history of magnificent visual artists interacting with equally brilliant musicians, composers and dancers. I seek to push my artist practice to make a unique contribution to this rich tapestry. 
What artistic influences and experiences have shaped the artist you are today?
Too many to tell! My time at Chelsea College of Art was formative, as were many years of life drawing. More specifically, the use of colour is absolutely vital in my work. I spend days mixing paints in my studio to create new colour palettes. I devoured Johannes Itten's colour 'bible', studying it front to back. I went through Josef Albers's intense colour exercises to train my eye. Visual rhythm is also important to me and I meticulously studied the work of Emilio Pucci, Bridget Riley and impressive Brazilian artist Beatriz Milhazes, whom I had the pleasure to have a real conversation with once.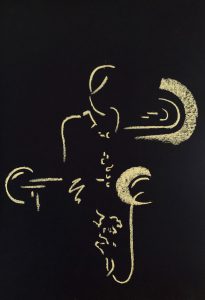 As my collaborations with musicians and dancers deepened in a joint quest to fuse our art forms, we actually started to perform together. I naturally evolved into a performance artist. Spiritually, the more I delve into Taoism, the more I see the connection in my art. Seeking the essence and energy in a present moment. The contrast between mark and empty space on paper. A link to calligraphy. Also, in my process, before I start painting, I bring myself into the right state of consciousness to work in a flow, with my thinking head switched off, like in meditation. 
Movement has always been part of my life. I regularly practise movement method Five Rhythms, which connects me to my deeper inner self which is otherwise inaccessible to me. Dancing is also my way to appreciate different rhythms, on a subconscious level I suppose. I used to dance ballroom and Latin. Listening to live music also sharpens my ear, I go to live gigs every week.
During your live painting performances, how do you integrate the notion of movement into your process and artworks?
In my live art performances, my physical body movement occurs naturally. Every movement I happen to make is purely with the intention of making a mark on canvas, creating the art. My brush strokes are expressive and gestural, and necessitate the movement of my entire arm, not just my hand or fingers, sometimes even my whole body. For the 6x4m mural I painted in Shoreditch I had to jump up high to reach the top. I painted it in just over one hour, live-streamed, so I had to move very fast. As a result, my live painting is often perceived as some kind of dance, as Beibei Wang aptly commented in our recent performance at SOAS.
 Movement is also my way to transcend and get into my zone. Even in my studio I put on music and often dance before I start. That way I reach a state of mind to paint in a flow and improvise.  In my art I focus on depicting the movement of a dancer or musician, rather than a figurative still representation. A dancer's arm gracefully swinging through space in an arch-shaped trajectory, a percussionist's mallet powerfully striking a drum or nimble fingers dancing up and down the strings of a harp. To me this captures the essence of the moment. In addition, I express movement through a two-tone use of colour, like a 'double exposure'.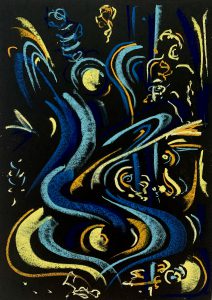 What role does improvisation play in your practice?
A huge role! I totally embrace the aleatory aspect of improvisation and experimentation in my artist practice. In my live art performances, I create art live in the moment. It comes from a different state of consciousness, like a different part of me. In my studio I improvise too. Even if I try to create a painting from a sketch I drew, I start painting and it rapidly takes on a life of its own, evolving differently than the sketch. That's when things happen.
Having said that, to make this improvising approach possible, I spend time preparing with figurative studies using video. I draw the poses of a dancer, the body posture of a musician and more importantly their movement, from the tilted head of a double bass player to the minute detail of the fingertip pulling the string. This emerged in a live painting when collaborating with a double bass player at the Hundred Years Gallery. I also make observational drawings of instruments, scrutinising fascinating details like the keys of a saxophone or clarinet and carry out compositional studies. I regard this as practising my own visual 'vocabulary' to feel fluid in it and have it ready to use in the moment of improvisation. Similar to the way musicians practise and improvise.
Why is the existence and work of organisations such as Women in Jazz Media important and how do you think they will benefit the jazz and art world?
It is imperative that women receive equal recognition for their contribution to culture, whether that's art, music or anything else. I'm not versed enough in the history of music to cite specific examples, but if it's anything like the art world where important women were omitted in art history, overlooked, or overshadowed by their male artist partners, there is work to be done!  Organisations who aim to correct this imbalance are crucial until we have reached an equilibrium. That's why society needs initiatives like Women in Jazz Media. When men and women's voices are heard equally, it not only benefits the music world but society at large.  By celebrating the achievements of female musicians and presenting these female role models to young women, it helps them believe in themselves. It will light their fire and stimulate the aspiration and ambition of the next generation. 
Gwendolyn Kassenaar's work will be exhibited at Toulouse Lautrec, London from November 11th to 21st as part of the Jazz in Art Exhibition for the EFG London Jazz Festival. For further information, click here
To support the work of Gwendolyn, please visit her website here
Last modified: February 27, 2023