Throughout the EFG London Jazz Festival, we at Women in Jazz Media are holding a jazz art and photography exhibition, showcasing some of the leading artist and photographers from the UK. Curated by Aurelie Freoua, it is an exciting opportunity to see how different art forms have influenced and inspired a wide ranging of stunning artists.
We asked team member and curator of the exhibition, Aurelie Freoua to put some questions to the artists and explore their work. In this final article, Aurelie talks to Gina Southgate.
Gina Southgate is a live painter best known on the UK's international jazz scene where she produces spectacular, qualitative, real time paintings.  For three decades she's painted at gigs and festivals, both here and abroad, capturing the vitality and nuance in her unique portraits of world class musicians. From soloists to orchestra's Southgate creates, before the audience, spontaneous, site specific artworks which become a vibrant lasting testament of the event.
You're known on the international jazz and free improvised music scene. What does it mean to you to create paintings live at gigs?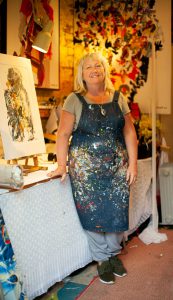 Painting live at gigs creates an urgency and a tension. A truthful result relies on an ability to zone in on the purity of the situation. I try to forget audience reaction, not concern myself with the result of the painting and let go of any other trivia that may be rattling around my brain. It's a pursuit that requires a kit, much like a musician, that can be transported into any space and function well. It's important to have everything to hand as the time limit is restrictive and you only get one chance. This is a pressure if it's a commission or if I'm painting someone I've travelled to paint. I always want to do the situation justice and strive to push the boundaries.
I tend to paint a different painting in each set and sometimes have an 'out-take' of a soloist on the go. This piece may be a five-minute painting that can only occur when I've got my eye in and studied their posture, technique and energy as a part of a more detailed painting. If I paint a musician more than once I get to understand the visual aspects of their process and of course their features. I like this, as once I have the nuts and bolts in place I can then concentrate on their aura and energies. I usually work until the last note is played and then stop. This is a discipline not a rule so very occasionally I will change something after. This occurs when I'm happy with the painting but there is something about it that irritates me or is weak. Mostly I leave the paintings exactly as they were produced. I can usually tell when It's been a good capture, but some paintings come into their own years later.
What artistic influences and experiences have shaped the artist you are today?
My degree at Camberwell School of art (now UAL) was in silversmithing and metalwork so I learnt how to use tools to hone materials precisely. I also learnt about design. We had to do hand drawn technical drawings of all our designs and then the dreaded presentation drawing.  All of this before we even started to make the piece. This is a discipline, that at the time didn't feel particularly creative. It was also a slow process so in a sense my work now is the complete opposite.
Being an art student, you are surrounded by creatives in all areas. My foundation course at Southend College was a really creative and formative time for me. Those I met over 40 years ago are still my friends. There are pop stars, fashion designers, artists and people that went on to pursue a whole range of activities from that one little foundation year in Southend. This is the power of education that doesn't beg an outcome. We are all resourceful and collectively have added hugely to the economy and the countries cultural capital. My blood boils when I watch the Tories slaughter the arts and education systems that feed them.
I didn't have access much to the arts as a child, but my parents were both very creative and always made things. I always made things too. I'm still always making things and pottering alongside my painting pursuits when I have time. I never get bored and I never run out of ideas just never enough time to do everything. In terms of artistic influence, I'm a 20th century girl and am very much influenced by the 20th century greats. Picasso is an unmistakable painter and maker; his live drawings and paintings of bullfights and musicians are fantastic. I love his cubist portraiture and his late works.
 Joan Miro too, completely unmistakable. When you look at the times these people were living in if you see old black and white footage of Miro going up the lane for lunch with his wife you just think how did these people create such radical work in such a stultifying atmosphere. The same with the abstract expressionists in repressed 1950s America. As a lover of form, I always love Barbara Hepworth. She was a woman that made the grade in a macho culture, still not as lauded as her male counterpart Henry Moore, she raised triplets and an older son whilst running the homestead during WW2. Ben Nicholson her husband, meanwhile would lock his studio door.
 Art has historically always been ahead of the rest of the worlds thinking. I think in these times of immediate exposure of and to everything that this is now not the case. Radical departures are being made in different areas, I'm not sure that it's in the fine arts. The inclusion of women, and artists of colour, and I laugh here at how slow coming this has been, is a radical departure that seems to be suddenly embraced by the selecting bodies. In my opinion Lee Krasner was a better artist than her husband Jackson Pollock and so on and so on. We have a book 'The history of art' A weighty tome, and it doesn't have one female artist in it.
My current loves in terms of painting are Lynette Yiadom-Boakye and Joan Eardley. I love going to see blockbuster painting shows and get the feeling that I must rush back and paint something. My performance influences are early Laurie Anderson, Rose English and most of all the late great Jennifer Pike as well as my contemporaries Sharon Gal and Maggie Nicols.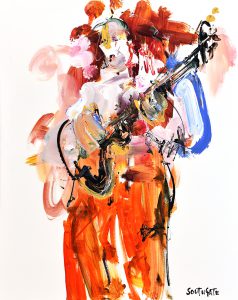 Tell us more about your landscape paintings. Is your process similar to your approach when you paint at a concert?
Yes, it is almost the same. The landscape is a busy old place, never still, never silent. I like to paint at dusk where colours and shapes are defined dramatically. The dying light creates a race against time. So, I work fast and frantically as I would at, say, a Peter Brötzmann gig where the music has got my heart racing and I feel I can't paint quick enough. I was painting a landscape last night; it was chilly and fresh with an amazing early sunset.
There is a tranquillity too about being stood alone with nature and being startled by a low flying goose or listening to the ducks laughing. You become aware of the growing sounds reaching crescendo. New lights start to pop out of the landscape, creating reflections, creatures change behaviour. As a city dweller this is like a concert because it is different to my normal and it makes you just soak it up through your brain and push it out through your hand. I would never stand and look at the same landscape for an hour or more, but painting makes you do that, you have to take it all in.
What role does improvisation play in your practice and performances?
My answer to my first question here talks about live gig painting in the sense of me characterising the musicians I'm painting. The result being a fairly recognisable impression of them. Freely improvised music is great for this as it is about as abstract as a music can be. Also, the sound palettes of improvisers are usually extended, and they work hard to present extremes. Whether that be minimal parps or screaming bellows it's provocative and relates well to mark making and spontaneous responses from me.
In other painting/performance situation I fully interact with musicians to become part of the duo or group. This involves using my tools and materials sonically as well as visually. I am very interested in found object as sculptural form and make site specific installations to manipulate through interactive improvisation. I work on the premise that I will make real time 'sculpture' whilst manipulating objects.
This usually involves plumbing poles, ladder, hostess trolley, shoe trees, tape measures, packing tape, bits of domestic stainless steel etc.
These performances are fully improvised and rely wholly on trust of the musician. I may be clattering about and interjecting sound at certain points and then just be working on something visual without sound. I like to work with musicians who just carry on through these spaces and don't try to create a soundtrack. I feel excited when they use my sounds as a springboard but don't try to second guess when and what the sound is about. Pure improvisation is a rare thing because everyone has their licks and it is easy to step back into what you know works. When I go out to do a performance like this, I have all sorts of ideas about the kit I bring and what I will do with it. In my mind's eye it is always going to be sophisticated high art but invariably I end up, up a ladder with a lampshade on my head blowing a kettle whistle or some such antics.
I lost my /our great friend and colleague John Russell recently. At one of our gigs I rolled around the auditorium in a child's pop up tent, in another I tied up the whole space in elastic and played the swinging doors. I like to look at a situation and think now what can I do with that.
Why is the existence and work of organisations such as Women in Jazz Media important and how do you think it will benefit the jazz and art world?
When I started going to jazz gigs 40 years ago there was often no women on stage or in the audience. This is clearly not the case now but the ratio is still not 50/50.
I am more interested in artistic excellence than positive discrimination but understand that it is not a level playing field from which art and music spring. The unfairness and imbalance of power is a societal whole and comes from a system that is archaic and rotten to the core.  The grass roots level of the arts has always challenged this, but the industries that support the arts have traditionally used artists as pawns. Without the artist there is no industry so it is up to the individual to continue to call this out. Many people are working within a DIY model now which challenges the need for hierarchal structures to be in place. Organisers and programmers are sensitive to the need to be fairer right across the discrimination board so this is a good thing.
 All of the female musicians I have worked alongside in my artistic journey have been powerful, capable women that have just got on with it. I see women having success 20/30 years after their male counterparts, not before time.  I am not informed enough about the work of Women In Jazz Media as an organisation to comment on it. It appears to be gaining traction though, and I've been alerted to female musicians/artists through its profile. I'm happy to have been invited to exhibit in this show.
Gina Southgate's work will be exhibited at Toulouse Lautrec, London from November 11th to 21st as part of the Jazz in Art Exhibition for the EFG London Jazz Festival. For further information, click here
To support the work of Gina, please visit her website here
Last modified: February 27, 2023