Danielle White is a hugely valued, highly respected and much needed part of the jazz community. Her work behind the scenes is vital to the jazz industry and her support for artists, venues and organisations is staggering. She is a huge role model to many and one that should be celebrated for the work she has achieved and the support she gives the industry.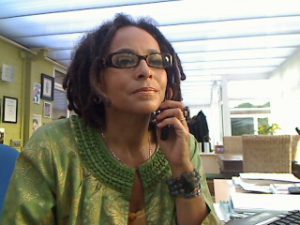 Her vast experience and entrepreneurial mind set has led to her working with a wide range of people and organisations such as celebrated jazz artists Robert Mitchell, Omar Puente, Cameron Pierre, Michael Janisch, Clare Teal, Cleveland Watkiss, Maceo Parker and MOBO award winner Zoe Rahman. Danielle established her own management company Raestar Ventures in 2000 which provided management services primarily for Dennis Rollins – who went on to win several high-profile awards including a BBC Jazz Award, a Parliamentary Jazz Award and a British Jazz Award. Danielle also managed the award-winning princes of post-bop (co-founded by son Jay Phelps) Empirical, recipients of many awards and plaudits including the inaugural European Broadcasting Union Jazz Competition at North Sea Jazz Festival, Mojo Magazine Jazz Album of the year, the Parliamentary Jazz Award for Best Ensemble and MOBO 'Best Jazz Award' . Danielle's collaboration with the UK jazz icon Courtney Pine who produced and recorded Empirical's award-winning debut in 2007 cemented Danielle's reputation as one of the foremost jazz managers in the UK.
Danielle has also gained the trust and respect of directors and promoters and has cultivated strong friendships within the industry. Her extensive areas of expertise include sales, publishing, promotions, marketing and with her jazz industry knowledge and hefty contacts list, she supports and provides a much needed lifeline to jazz artists. It was an absolute pleasure to chat to Danielle about her work, her life and find out a little more about this incredible woman in the first of a two-part article.
Born in Montreal, Canada, with an American jazz pianist father and a bohemian English mother, Danielle's parents separated when she was young and along with her siblings, she entered the foster system. Surrounded by people and situations that have clearly shaped her, I asked her to tell us a little about her upbringing.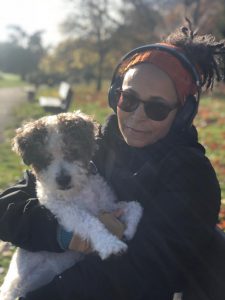 There were three of us kids and we ended up being scattered first of all, in the foster care system and my younger sister was adopted, so I never saw her until my early 30s. My brother and I actually were kept together, and we ended up in a family which coincidentally was a black American father and a French-Canadian mother. They were not artists and had 6 kids of their own, so it's not like there was a piano in the house or anything like that. They were working class people and we weren't really encouraged into the arts; it was more sports. I was always into sports and was actually a gymnast.
 There was my father's records and you know, he loved his records, but I didn't grow up in a real arty space. My father, even though he had a job which nowadays people would think as like a 'low level' position, was a Porter on the trains, and actually for those times in the 50s and 60s, that was like a middle-class job for black people. They contributed quite a lot to changing the employment status for black people throughout Canada – it's a big deal – and so he had a high standing in the community in that sense. So, I would say that influenced me to be sort of entrepreneurial. My whole family, everyone's sort of entrepreneurial. My sister was an MP for 14 years, a liberal MP for Montreal, so you know we've all pretty well struck out and have defined ourselves. I would say that also growing up with seven siblings, you really make your voice heard!
 Where were you in the seven siblings – oldest, youngest? I imagine being heard was quite a challenge for you?
Yes, I had come from a situation where I was the eldest of three, to the third to the last, so I was way down on the pecking order yes! But also, I had to deal with all that trauma from having been separated so I would say that I had to sort of overcome that. I think that I just wanted to do things my way because I didn't trust the system. It wasn't so much I was trying to get attention as trying to not get attention and just quietly go about things my own way.
How did Jazz make its entrance in your life?
Well the irony was that once Jay ( Danielle's son is trumpeter, composer Jay Phelps, an incredible artist and role model for many too) started growing up, I sent him to a fine art school. We had a perfectly good school around the corner but a bunch of us parents got together, and we carpooled an hour away to a Fine Arts school. That's when he took up the trumpet – he wanted to play drums, but I wouldn't let him play. Not that I have anything against drums and drummers, but I knew him, he's very cheeky and he probably would have been good, but he wouldn't have learned how to read music and I wanted him to learn to read. The school he ended up going to through secondary school had a huge emphasis and tradition on jazz. They would go and do competitions and festivals and it was the first time I saw Diana Krall, before she hit it big. She performed and they were giving workshops, all of those big stars at the time used to give masterclass opportunities for the kids, so basically that's how I got into jazz. I started promoting jazz basically because Jay wanted to be a bandleader when he was 13 and he had started a little duo and I started a newsletter in my area, a jazz newsletter to promote him.
You moved to the UK and spent some time working with the incredible Gary Crosby and Janine Irons, founders of Tomorrow Warriors the leading talent development agency and more. I imagine that was hugely inspiring?
That was really great because I had known Gary from the Jazz Warriors so when I came and moved here, it was like I already had a family set up almost, with Courtney (Pine) and Gary. I hadn't met Janine in those years before, but you know she was really welcoming, and they had a slot to help out which was great for me. I'm an entrepreneur and I like to work for myself but obviously I couldn't do that when I first moved here, so it was great to be able to learn the ropes with Janine and you know Janine is the engine of Tomorrow's Warriors and she's just so organised and so efficient. She has a banking background so that's part of it you know, and I learned so much in a really short time.
How did you find the Jazz scene in Canada compared to London?
Canada is such a huge country geographically, it's not the same because you've got your factions in Vancouver, you've got your factions throughout all the different provinces and then into Ontario and Quebec, and so the community is not as cohesive as it is here. Here in the UK, people play with a lot of people you know but you can't tour bands in Canada like you can here. It's a great scene but I would say it's harder because there just isn't as many opportunities because of the geographics. There is a lot of musicians that play two instruments really well, I don't know why, but it's a thing and I mean that they're awesome on both instruments. Musicians that come out of Canada are really great, but they don't have the same hot housing as the musicians here in the UK and in Canada we always looked  at the UK musicians and obviously the Americans.
The EFG London Jazz Festival is coming up, a huge highlight in the jazz calendar – any recommendations?
I just love London Jazz Festival because it's the highlight of the year really and there's so much out there to see! Everybody is excited and you get to see people you haven't seen all year. There is so much pent-up demand and I think that all the gigs are going to be sold or very well attended. It's very exciting and I can't wait!
Join us for part 2 of this interview soon to find out more about Danielle's work and her festival highlights.
For Danielle's EFG London Jazz Festival top picks: Raestar EFG London Jazz Festival
Danielle is a guest speaker at the 'Ladies That Do So Much More Than Lunch' networking event on November 16th as part of the EFG London Jazz festival: Click here for tickets
Last modified: February 27, 2023