Brand new album 'Precious Days' from Bulgarian jazz vocalist, composer and band leader Ami Oprenova features 9 original tracks (3 co-written with guitarist Daniele Cuiffreda) with other band members, Joe Perkins and Havard Tanner being heavily involved in shaping the pieces and creating the overall sound of the album, together with producer John Merriman. Based on life experiences and produced partly before and during the pandemic, this album was three years in the making and features some special guest musicians.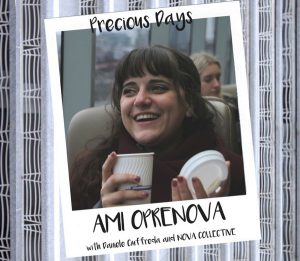 'Precious Days' is the third album featuring Ami Oprenova, but this is the first album in her own name. It really gives a true sense of the honesty and passion behind this unique artist, almost a window into the soul of Ami.
Being already familiar with Ami's music and a big fan of 'Coco 'n' the Fellas' (a Gypsy Swing group born out of Ami's university days), I was excited to listen to the album and my expectations were high.
The CD I received was personally signed and presented in a lovely gift bag together with a thank you card and some other promotional material. It felt really special and had clearly been put together with much care, attention and love. The opening title track 'Precious Days', based around embracing each day and not wasting precious time, really struck a chord as I was taking precious time in my day to appreciate this wonderful music, enriching my life with the creativity of a truly stunning artist.
This opening track has a lovely groove with a double bass riff which immediately draws you in. By the time the acoustic guitar and vocals kick in you're already hooked. There's a lovely George Benson style guitar solo by Daniele Cuiffreda with a little reference to 'On Broadway' which is a nice touch. This track establishes some of Ami's key musical characteristics: exchanges between the vocals and instruments, some vocal and instrumental unison riffs and an introduction to Ami's wonderful voice and her trademark improvisatory scatting.
The album is full of variety, combining Jazz / Gypsy, Latin, sultry Blues and traditional Bulgarian Folk. It is very catchy and listenable throughout with lots of nice surprises and new dimensions being continually presented. The use of percussion rather than drums gives a nice flavour to the album and the inclusion of violin really compliments the Gypsy influence. Hints of Hammond Organ add yet another dimension.
The line-up of musicians works really well with the bass underpinning everything. There's a couple of really lovely tracks which feature just a duo or quartet: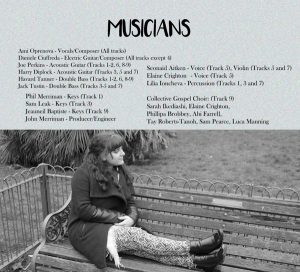 'Moving On' is a Bluesy vocal and bass duet which is just sublime! There's some lovely bass playing by Jack Tustin and the stripped back production works as a nice contrast on the album, but is in no way lacking.  Some truly skilful and articulate scatting by Ami.
'Way Back Home' is a quartet performance of a stunning ballad beautifully sung by Ami, with some lovely guitar playing.
'Ruchenista Style' is a great percussive composition in 7/4 featuring Lilia Ioncheva on percussion. This track clearly references Ami's Bulgarian heritage, having a clear Bulgarian Folk feel but with a jazzy twist. There's some unison vocals and electric guitar before acoustic guitar takes over with a nice solo by Harry Diplock that turns into some Gypsy Swing before being taken over by Sam Leak on keys. An interesting track that wasn't what I initially thought it would be.
'Something to be happy about' surprised me by a totally new dimension – some close vocal harmony and a violin. This track is a really nice surprise and alternates between a straight 4 and Swing rhythm with some wonderful vocal exchanges. This track definitely put a smile on my face and will give any listener something to be happy about. 'Moray Eggs' has a lovely Samba feel and features Seonaid Aitken on violin once again. 'The Man that showed me the way to Jazz' is an intriguing song. One can only wonder who the song is about. I especially like the solo vocal scatting with finger clicks…and i'm sure I hear a reference in there to 'St.Thomas'. 'Smiling Face' is a bonus track which offers a wonderful, uplifting conclusion to this incredibly varied album. The Collective Gospel Choir bring some fabulous backing vocals without overpowering the song.
I really like this album a lot, but it should come with a health warning…it is highly contagious and impossible to shake off! In Ami's words:
"This album means so much to me! Each track has a unique story behind it and has been composed after a deep personal experience."
It is clear that after the pandemic stress and pressure we've all experienced, Ami really feels the importance of appreciating every day we are given. Her vision for the album was to create a positive, feel-good atmosphere, combining everything she has learnt from playing Gypsy Swing, Blues & Bebop together with her childhood upbringing of listening to Soul, Balkan Folk & Gospel. Together with the support of producer John Merriman and the team at Crown Lane Studios, Ami has fulfilled her vision and has most certainly created a positive, feel-good album. It is very much a showcase of Ami's ability as a vocalist and composer. It is an album full of variety, wonderful melodies and heartfelt lyrics clearly derived from Ami's experiences in life.
Having interviewed Ami recently I know that continued life experiences of becoming a wife and mother have inspired yet further writing. So, it will be very exciting to see where her creativity takes her next. In the meantime, I will be enjoying this album for a long time to come and no doubt singing the songs forever. I really can't praise Ami enough for this wonderful offering.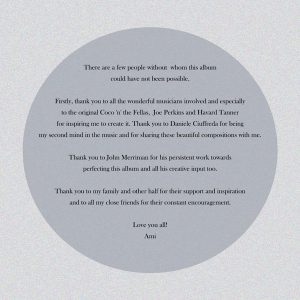 Check the album out now at: https://amioprenova.bandcamp.com/album/precious-days-ami-oprenova
Line-up:
Ami Oprenova – Vocals | Daniele Ciuffreda – Electric Guitar | Joe Perkins & Harry Diplock – Acoustic Guitar | Havard Tanner & Jack Tustin – Double Bass | Phil Merriman, Sam Leak & Jeauneil Baptiste – Keys | Seonaid Aitken – Vocals & Violin | Elaine Crighton – Vocals | Lilia Ioncheva – Percussion | Collective Gospel Choir (Sarah Ikediashi, Elaine Crighton, Phillipa Brobbey, Abi Farrell, Tay Roberts-Tanoh, Sam Pearce & Luca Manning)
Track Listing:
Precious Days 4:32 | 2. Goodbye Love. Goodbye 3:18 | 3. Ruchenista Style 5:31| 4. Moving On 3:57 | 5. Something to be happy about 4:56 | 6. Way Back Home 3:38 | 7. Moray Eggs 5:22 | 8. The Man that showed me the way to Jazz 5:26 | 9. Smiling Face (Bonus Track) 4:00
Release Date: 5 November 2021
Format: Digital / Physical
Last modified: February 27, 2023