Undoubtedly one of the leading harpists in the world today, Alina Bzhezhinska is a one-woman powerhouse, on a mission to bring the harp to the fore of contemporary sound. A jazz harpist, composer, band leader and a founder of the digital platform HipHarpCollective,  "harpist Alina Bzhezhinska is becoming a significant presence across the entire European scene " Downbeat magazine 2021.
Alina Bzhezhinska is an artist whose magnetic presence, incredible virtuosity and authenticity have certified her as a pioneer in her field, as a composer, with the power of her instrument, the Harp. I say 'her' instrument because it is truly played in a way that defines pre-dispositions of the harp, traditionally known as a classical medium and certainly lesser known in the Jazz World. It is the spiritually evocative phrasing, inspired by a delightful ' Hip' factor ( aka she is known as AlinaHipHarp) and a marriage of electronic layering with traditional Afro- Latin instrumentation that has catapulted Alina into stardom. She communicates a message of hope, unity and sometimes a quiet but empowering rebellion in her music, perhaps reminiscent of the great Alice Coltrane. In my eyes, she is an artist of her own accord, drawing us into a world of beauty, engaging musicality and a definitive connection to her audience, making her truly unique.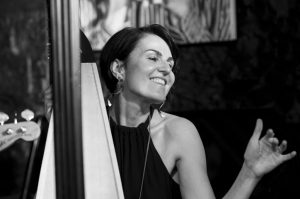 Lara: Alina, let me just start by saying how wonderful it is to speak to you as an artist, and if I may, a pioneer in your field as a harpist. I'm certain there's a story behind your name, Alina Hip Harp!
Alina: Ah well that's a really funny story. As a foreigner in a Western world, having a name that's unusual can be difficult to spell as an artist as I'm sure you can relate, let alone pronounce it properly! In fact, I posted a video on my YouTube channel demonstrating how to pronounce my name, right after my first album 'Inspiration' came out (Laughs) I just had to! Since that time, I found that as an artist one wants to develop and search for new ways to grow artistically speaking. In that respect I thought the album 'Inspiration' felt right at the time, with a traditional jazz quartet – bass, drums, saxophone and a harp. The album did very well, received wonderful reviews and we toured everywhere. The album was inspired heavily by John and Alice Coltrane, hence the name 'Inspiration'. But I wanted to explore some new territory and start thinking about new sound for my harp. The change in sound brought about the change in name. So, I wanted people to think the sound was different to the Alina Bzhezhinska Quartet and also wanted to pay tribute to legendary artist Dorothy Ashby who had an album called ' Hip Harp' in 1958. 'Hip" comes from being different and alternative, so I thought to myself, the combination of words 'hip harp' and 'hip hop' are also relevant to the sound I am exploring as some of the influences are coming from another favourite artist of mine – an innovative DJ and electronic music producer J Dilla. My platform, HipHarpCollective, created during lockdown inspired me to work with different settings and people. It helped me expand and see how different the Harp could really sound. I also found inspiration in the self- made mixtapes I was making during my youth, full of musical genres that included Disco, Afro Beat, Latin, and Electronic music that ultimately made its way into my new project that will come out as a freshly recorded LP "Reflections" in 2022. I'm so excited for it!
Lara: You seem, despite the financial hardships brought on by lockdown to find inspiration and resources to still channel the creative flow not just as a performer and composer but as a listener.
Alina: Life, is so unpredictable. Someone said: Tell God your plans and he will laugh. So, going back to my roots, I grew up in a family with very strong Ukrainian-Polish national identity during the Soviet era. Most of the families I knew including mine suffered gravely from the Soviet regime. We knew what suppression was from a very young age and I think we were all born fighters. Resilience and finding ways to overcome despair are deeply rooted in my DNA. Of course, it exhausts me, but I know how to deal with things. Many colleagues of mine were very down during the lockdown, myself included. I had a whole tour supported by the Arts Council England that was cancelled. It compelled me to find a way forward: little inspirations and omens came my way to push me to re-invent myself and that's how 'HipHarpCollective' was founded. It serves as an online collaboration planform for musicians and a teaching platform as well. I'm still learning how to not allow lockdown and the aftermath to overtake me psychologically, but this is definitely a way to beat it!
Lara: Absolutely. Through hardship you build character, but also through the love of what you do you grow. What obstacles did you face both as an artist and person throughout your career?
Alina: I try not to focus on obstacles when I think of my career. When I look back on 20 years as a professional musician, I remember clearly how when I first started playing gigs in the Ukraine, even before I attended the Conservatoire in Warsaw. I would arrive for a concert with my rock band and there'd be no harp! So, I 'd grab any percussive instrument and a microphone to sing and still feel as a performer. I thought: how much worse can it get with no instrument? That said, the harp is not an easy instrument for most people to comprehend, in jazz and also in classical music. It's really not that often that you see a solo harpist in a solo concert. For instance, when classical harpists Marcel Grandjany and Carlos Salzedo started doing solo performances in the United States at the beginning of the 20 century, promoters wanted other musicians to accompany them instead of accepting a solo harp performance. I think many times the harp is still seen as a novelty. My goal is to make music that no one expects from the harpist. But sometimes it's not even about the music. It's also a kind of 'art of persuasion'. For instance, when I moved to London 7 years ago, there were practically no harp leading bands around, and it took me some time to convince some jazz promoters to give me a chance to put up my own band. Fortunately, I picked some amazing musicians to work with who understood the music I wanted to create and the importance and infinite possibilities of Harp in Jazz. I am very happy to see the jazz harp boom in London at the moment. There are at least 5 different jazz harp shows at EFG LJF this year. It was definitely worth the struggle.
Lara: Your journey has brought you to London. Tell me, what were some of the more defining experiences you had as a person, which affected your artistry and role as a female musician?
Alina: I think the most significant thing that happened to me in London was falling in love. It made me fly high, inspired to write new music and believe that anything is possible… but it also caused a lot of pain and suffering like most of crazy love does and it made me realise once again – I am a woman and not just a performer. To cherish both and honour both is my biggest goal. Finding the balance between me as a person and me as an artist makes me feel fulfilled and happy.
Lara: How have you used those experiences to coach your own students in this new tech-hybrid musical world?
Alina: I don't just teach my students how to play the instrument. I teach them about life and share the experience and knowledge of what I've learned from other people; from reading and listening. I believe what students need the most is leadership. For example, if they have a teacher who doesn't tour and record – that's not the kind of example. If you're talking about the challenges of organising gigs and going on tour, physical and mental shape for performance, that's something that students need to learn from the source, not from an imagined perspective. That said, I always encourage my students to perform live as much as they can, should they wish to pursue performing. Not everyone can be a great performer, teacher or both as we all know. What the younger generation needs from us is the knowledge that comes with music. They do understand this very well already I think, as they know a lot of the business, administrative work, the promotional tools and all the DIY. I myself can learn a thing or two from them. The younger generation are truly multi- talented and very tech- savvy. It's our job to encourage them to do this and excel in their tasks and hence being successful in their careers.
Lara: Undoubtedly, this is the reality for most independent musicians these days. In a way, even if we have managers, can you honestly say that it's a bit of a burden for them to really be great at the social media platform and embrace although quite heavy handed?
Alina: I do! the younger generations are better equipped than us. I learned everything I know by simply being on the job. Nothing was given to us, we had selected paths as a teacher or performer. So, commercial success achieved through other means was not taught or even aware to me and my colleagues. I learned later on through experience how to locate good music platforms, promotional tools etc. I'm amazed by the new generation – it's almost as if they're wired for financial success. When I started writing my own music – I never thought of royalties but younger people already know about this. And as far as managers go, most of my formal students have managers who are friends and willing to help – so, they have some aspects of the business sorted already. They stand on our shoulders but are more progressive.
Lara: That's refreshingly honest Alina, Thank you! I'd love if you could share what you feel is one of the most important lessons as a person, throughout your career, as a message to the world? I felt that your music has a meditative and empowering message; all about identity and triumph through struggle culminating into beauty.
Alina: Thank you. The most important thing for me is truth in music. As Alice Coltrane said: "music has to come from the heart". That's the most rewarding thing for an artist. …You do it because your soul needs it. … Searching for the truth, that's what we're all doing. This is our "love supreme".
Alina's preview for her new solo project with electronics Unspoken Truths is on 13 Nov at Cadogon Hall as part of the London Jazz Festival and she will be opening for American saxophonist Lakecia Benjamin.
Ticket Link: Alina and Lakecia at Cadogan Hall
Her second show at EFG LJF with AlinaHipHarp Quintet featuring Vimala Rowe (voice) is on 12 Nov at Toulouse Lautrec, supported by Women in Jazz Media.
Ticket link: Alina and Vimala at Toulouse Lautrec
To find out more about her new platform, Hip Harp Collective visit it here.
Last modified: February 27, 2023