How does someone go from wanting to write a blog at nine years old to becoming an activist, motivational speaker, and published author by the age of 18? Well, Hannah Alper did exactly that.  Her quest for creating change is inspirational, not just because of her unrelenting passion, honesty and intelligence or the depth of her understanding of her role in society, but her ability to make us reflect on our responsibility, our role in society, as human beings.
Issue + Gift = Change
Hannah's formulaic approach to making a difference in the world, is beautifully simple and I have been truly inspired and motivated following her work.  I've wanted to interview Hannah for quite some time but held back as I was trying to work out a clear jazz related link, after all, this is a publication focussing on the jazz industry. But it occurred to me that Hannah's work, her message, is relevant to everyone. Her experiences are inspiring to all and her words can be – and should be – applied irrelevant of the genre you enjoy or work in. This is bigger picture stuff and often not discussed in the jazz industry. Hannah is an incredible young woman who is already making significant change in the world and we can all learn from this and reflect on our role, whether this is as an artist, composer, venue owner, audience member – a human being.
At the age of nine, Hannah wanted to start writing a blog, but had no idea what she wanted to write about.  Her Dad told her that she had to write about something she was passionate about, pointing out that it couldn't be about how much she loved Justin Bieber (Hannah assured me that was just a phase). Hannah had always loved animals and was inspired to educate herself on animal habitat loss, deforestation and climate change and was understandably upset by these issues. Hannah explained 'I became really devastated, but I sort of turned that devastation into motivation, to do something and I think that's what's so amazing about young people. So many young people don't think, well I'm just one person or I'm just nine what can I do? They just do it and so that's what happened!'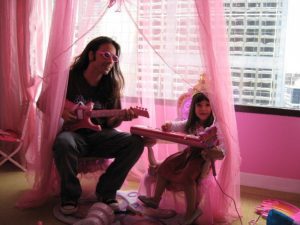 It is worth mentioning that Hannah is the daughter of the legend that is Eric Alper, who for the past 25 years, has been at the forefront of the Canadian entertainment industry. He has been a 6-time nominee for Publicist of the Year during Canadian Music Week, has overseen the PR campaigns for 19-time JUNO Award winners and whose clients past and present, include Ringo Starr, Jerry Lee Lewis, Ray Charles, Barry Manilow, Bob Geldof, Pete Seeger, Joan Baez, Cécile McLorin Salvant, Carole King, Joan Armatrading, Eric Bibb, Dr. John, Ben E. King, Joey Alexander and so, so many more. He knows how to communicate a message.
HA: He's cooler than I am.
Hannah launched her blog 'Call Me Hannah' when she was nine. She was the official eco-blogger for the Juno Awards when she was ten and interviewed Nobel Peace Prize winner, and her role model, Malala Yousafzai when she was fourteen. She published her book 'Momentus: Small Acts, Big Change' when she was 15 and was named 'One to Watch' in the Bloomberg Businessweek also at the age of 15. Now 18 and about to start her journalism degree, I caught up with Hannah to ask her how we can inspire change in the jazz world and what that really means – and at this point, I can really just hand over to Hannah:
HA: Whatever the messages, whatever it is we're passionate about, whether it's the environment, whether it's spiritual …whatever your passion, I think that so many more artists and people in the music industry should be looking at the issues in the world and looking at how they can use their incredible gift to make a difference, because they can. I truly admire so many artists that are sharing their message and using their platform for good and people are doing it! But so many more artists could be doing it more. It's not a hard thing and when you're an artist who has people following you, who have a fanbase and who have people that are influenced by you, use that influence for good, use it to talk about an issue that you're passionate about. I mean, look at even someone like Bob Dylan, he changed the world with that with one song and he's incredible and still such a cool guy and was able to write so many amazing songs that have shaped the world.
We are living in such a crucial and weird time, where the past year and a half has been incredibly weird, and we have so many issues, important issues, going on in the world but there are so many solutions. Artists can use their power, could use their influence for good and to spread the word about things that they are passionate about. Not just all of the stereotypical things that are on the radio right now (and that's totally okay and I love Top 40 and everything like that) but people can and should be using their platform. I think when you're spreading the message about something, you're passionate about, when you, as an artist, are learning about something, people will follow that. People will say, oh let me look into this and you'll inspire them to take action too. That goes for anyone with a platform, whether you're an artist or an athlete or an activist – using your platform for good is the best thing that you can do because it inspires other people to do the same.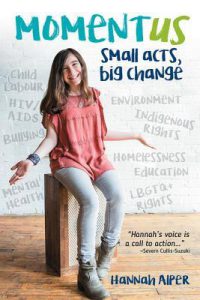 FR: How did you first become interested in writing?
HA: I think that as a very young person I wasn't initially on social media but obviously I grew up in an online world and I like to say that my generation are digital natives and I'm so happy that I got started with a blog. My parents are also both very digitally savvy, so it was kind of really natural for me to take to that online. That eventually grew to social media when I was the age for it because I really believe that social media is the greatest tool that anyone can use to make a difference. It's a really great first step that people can use. For so many, it can be people's way of learning, it can be people's way of educating themselves on issues and it can be people's way of sharing what they are doing to make a difference.
FR: Social media is a great tool, but there is also a lot of negativity there sometimes too.  I often say it can be used equally for good or evil. What would you say to people who are a bit hesitant about fully engaging in social media?
HA: I think that anyone can use it and you can always use social media to make a difference. The truth is that we're living in a time where everyone is on social media and everyone is learning about how the world works, learning about issues in the world and learning about new music through social media. That's how I learn about all of the new music in the world. There are so many different marketing strategies on social media and the truth is that no matter who your audience is, social media is most likely where your audience is and that's just the truth! I'll shamelessly bring my Dad in as an example. He's been around on social media and on Twitter since it began and his love for it just continues to grow as he gets older because there are so many people on social media that are in their 50s and 60s. People just want to go and smile and while social media can kind of sometimes be the opposite of that, with my dad it's something that's become a full time career for him and also a full time love that people go to his social media to learn about music and to learn and to get that positive energy.
FR: You are very passionate about the environment. What would you say to musicians, artists, venue owners, in fact anyone working in the industry that are concerned about the environment but aren't sure how they can play a part?
HA: I think the environment is such an interesting issue because even as an activist, someone that's been learning about the environment, caring and taking action for nine years, I still get so overwhelmed and can feel depressed and helpless about it, especially with the recent report by the United Nations. I think that a lot of people avoid talking about it because it's really scary. In your music, you're not going to give all of these different statistics about the environment, but you can give a message of hope. Messages of hopes of solutions and so I think that artists can step up by providing that hope and the idea that it is going to be okay, that the world isn't dead and that we all do have the power to do something.
There are venues that have stopped selling bottled water to encourage people to bring their own reusable water bottle and even that makes a difference and that's not a such a huge ask, not such a huge insane step. Something like energy consumption is also such a huge one and maybe if artists band together to write a letter when they go to a gig or venue, make a request or encourage them to think about switching their energy use to more renewable energy sources. I think more and more people are looking for the kind of artists and musicians who are being conscious about those kinds of things. I'm not just saying that as an activist, I'm saying that as someone that cares about the world and I know so many of my friend's love seeing artists that are doing something for the world and we applaud them. Those people that care about the world, care about using their actions and their platform for good because they do have the power to do that. Musicians and artists have the power and the influence to talk to venues, to different stadiums and convince them to think about how they can change their habits to make the world better.
FR: So much to explore but for some final thoughts… reflecting on your journey from starting a blog at the age of nine to where you are now, what would you highlight?
HA: There's two messages that truly are still so true even now in everything that I do. It's about the little things that add up to make a big difference and that anyone can change the world and make the world better. It doesn't matter how old you are, how young you are, how much money you have, where you live… we all have the capacity, the responsibility and the power to make a difference and to change the world. Changing the world can be a really daunting thing but changing the world can also mean changing your world, changing your home, your school, your community and finding what you're passionate about. So, since I started the blog, it's really grown into so many other issues that I'm passionate about. There are so many overwhelming issues in the world but there are also so many solutions and I'm very drawn towards solutions, because I'm a huge optimist. Through by social media, my blog, my book and public speaking, I really try to share that message and try to inspire other people to believe that they can make a difference. I hope that through me, through me learning and doing, people will be inspired to learn and do themselves and they'll be able to say if she can do it, I can do it too.
My discussions with Hannah were truly fascinating and so very important. We explored far too many vital areas to cover in just one article. As she has just started the next stage of her incredible journey, studying journalism, I will be following her journey with great excitement and will return again with Hannah in about six months' time to discuss her experiences. Please do take the time to explore the work of this remarkable young woman. She is quite simply, extraordinary.
Momentus: Small acts, big change
Last modified: October 3, 2021