It's September! – My favourite month of the year, nature changes, leaves are falling but there is still warmth in the air and some flowers are still in bloom! The world after Covid, and whilst normality is still trying to re-establish itself, is a different world, one full of doubt, of darkness and lost memories.
As I listen to some of the new music being released this month, all doubts and fears fade, this is the power of music, it elevates the soul and brings new hope.  It feels good to be here and appreciate what we have.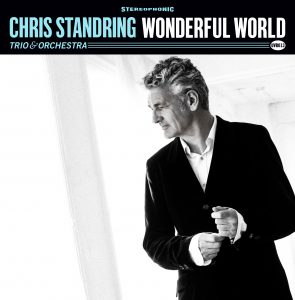 Today, I am writing about "Wonderful World", released on Ultimate Vibe Recordings, by guitarist Chris Standring and his amazing Orchestra, which was arranged and conducted by Geoff Gascoyne and recorded at the famous Abbey Road Studios in London earlier this year!
With a stellar cast of musicians as well as vocalist Kathrin Shorr who sings mellowfully on one of the tracks, namely "What a wonderful World" (Thiele & Weiss), this album is a treasure chest of gems. With ten tracks of well-known standards plus a new composition by Standring, "Sunrise" which features the mighty Randy Brecker on flugelhorn, this is an album that grows and grows on one and needs to be listened to over and over.  I certainly have!
To start with a rendition of "How Insensitive" (Jobim) to "Autumn in New York" (Duke), which are just perfect, but then there are also tracks like "Alfie" (Bacharach & David) as well as "Maxine" (Fagen) which are exemplary in the way they have been arranged and executed making it a sheer pleasure to listen to as if they are brand new pieces! My favourite one is "Estate" (Martino & Brighetti), the original version came up on our playlist last night as we were lazily lounging in the garden enjoying the night and its Summer air.  Estate means Summer in Italian and Bruno Martino's composition is just bliss, so when I listened to Standring's version it was nice to hear how well the recording had been covered.
In the small and beautifully packaged booklet inside the gatefold CD, Standring says that he "wanted to give the strings a lot of space to shine but still play a very supportive role to the melody" and, I must say, this is exactly what Standring and his Orchestra have managed so well to achieve.  This album is a hymn to harmony, melody and beauty all in one.
There are some big names on this new recording, Harvey Mason (drums), Chuck Berghofer (bass), Peter Erskine (drums), but there is also an army of stunning violins, violas and celli which I have simply loved listening to on this album, let's appreciate these as well and I also want to give a special mention to the harp played by the talented Tara Minton who managed to create a very special dream-like state every time she touched the strings!
"Wonderful World" is a five-star album for me: it is refreshing in its elegant approach to the standards it offers to all its old and new listeners, and there will be many new ones as well, I am sure!
Links:
http://www.chrisstandring.com/
Last modified: September 11, 2021