The authentic enquiring personality of Fiona Ross seems to function on copious cups of hot tea and the companionship of her cat affectionately named 'Kitten'.
A personality that gives a lot of herself, is extremely caring, tolerant, and forgiving. A genuine ambassador (recognised and acknowledged at the highest levels) who tirelessly supports and promotes Women in Jazz Media.
Also, a consummate life-long music professional, Fiona Ross releases her fifth album… Red Flags & High Heels. Packed full of tantalizing, self-reflective penned lyrics that are both personally and very much of our time.

 From the very first opening lyric line of track one 'Red Flags & High Heels' – Fiona sings 'I don't know, I don't know how I feel anymore?" Immediately she draws you in, and the lyrics continue deeply unabated – reaching you in some form, evoking comparisons within your own questionings about coping with the often-frenetic pace and expectations (self-imposed or otherwise) of modern life. Especially with the challenges of navigating a world visited by the invisible army of Covid 19!
Those of us in the music industry will also resonate with these lyrics as our careers basically became obliterated by the relentless barrage of societal restrictions concurrently with the dysfunctional energies of social polarization! Now we rebuild with greater discernment maybe seeing the Red Flags more clearly.
This whole album is an open curtain shared confessional – self-reflective, a statement of courage in adversity and relationship endings. Personal doubt, subjective helicopter parenting, core truth personality misinterpretation, and hope that age has a licence on both life wisdom and time to wind down.
The choice of musicians and their cohesive contribution to this album, its production, the liner notes, and the artist renditions are a team effort, gently guided with integrity and the vision of Fiona Ross. This is an album that has many dimensions and tender elements. A real earthy unadulterated creative enterprise…
Therefore, I detest pigeonholing an artist's music style, especially when they standout – in fact, I've had many a heated discussion with record label exec's – yet needs must in giving the reader a sense of direction, therefore; this album is also fun, a keeper, played both at parties and cozying up with wine in a firelit room.
For me, its nearest label is Contemporary Modern Jazz with odes to Latin, big bands of latter years, guitar riffs of blues, rock, great bass lines, and brass played with fast-paced dance tones and sexy melodies – all fused with Fiona's own personal music stamp that has carved out a strong following for her enjoyable live performances.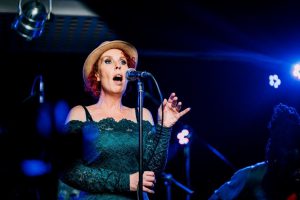 To honestly know Fiona Ross is simply, listen to her latest new album 'Red Flags & High Heels'. The lyrics on each track are like auto-biographical oracle insights into recessed areas of the complexities of a highly motivated woman in a world that has pre-determined expectations and biases of what's acceptable and what is not – Thank goodness that Fiona Ross and her musician cohorts have the courage to share and live life in multicolour music. ~ Nigel J.
PS: If in London and you want a fun night out – Join Fiona Ross at her album launch gig – details in the link below.
https://www.pizzaexpresslive.com/whats-on/fiona-ross-red-flags-and-high-heels
Main article photo and Fiona Ross in a hat © Steven Tiller
Album Personnel:
All songs written, arranged, and produced by Fiona Ross
Fiona Ross (Vocals and Piano)
Gibbi Bettini (Guitar)
Derek Daley (Bass)
Marley Drummond (Drums)
Loren Hignell (Saxophones)
Dave Boa (Trumpets)
Ashaine White (Saxophone on 'You Can Smile' and Backing Vocals)
Simon Todd and Warren Woodcraft (Percussion)
Band Banter: Everyone
Special guest Kim Cypher: Saxophone on 'You Can Smile'
Engineered and recorded at Studio XYZ by Gibbi Bettini
Mixed at Highfield Studio by Warren Woodcraft and Elliot Richardson
Mastered by Nick Watson at Fluid Mastering
Album artwork by Chris Cunningham
Album cover photo by Tatiana Gorilovsky at Craxton Studio, London, UK
Tracklist;
Red Flags and High Heels

More Time

When I Get Old

Don't Say It If You Don't Mean It

You Can't Feel My Groove

Good Enough

You Are Like Poison

You Used To Tell Me

I Always Saw the Red Flags

The Apple Trees Won't Grow Anymore
Live Bonus Tracks:
You Can Smile: Live at Studio XYZ

I Followed My Heart: Live at St Cuthbert's Church

Without you: Live at The Premises

Too Many Thoughts: Live at The Premises
More music by Fiona Ross;
Last modified: October 1, 2021