This coming Friday (10 September) will see the official release of vocalist, Fay Claassen's latest album "And Still We Sing". On this release Fay joins forces with Belgian singer-composer-lyricist and longtime Parisian David Linx for a magnificent collaboration with the WDR Big Band, conducted by Magnus Lindgren.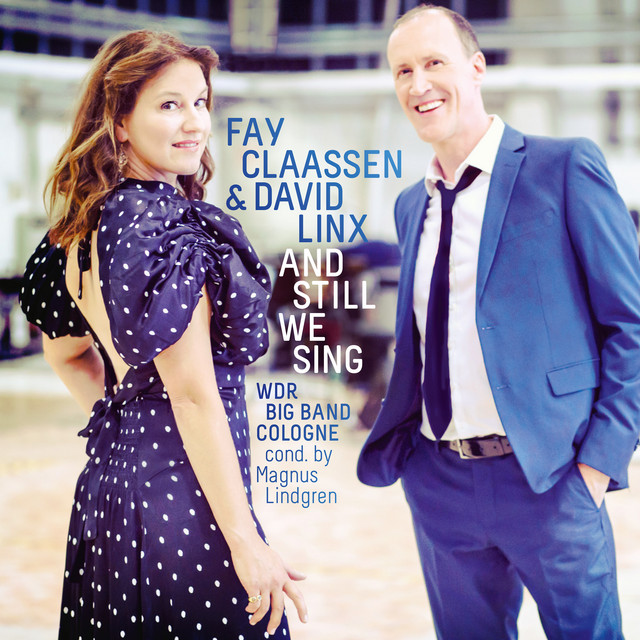 On this release Claassen brings her crystal clear delivery and adventurous scatting chops to the program, blending superbly with Linx with whom she has a special musical connection. "David and I really have a special connection when singing. It's absolutely like sister and brother twins, every nuance that one uses or goes to, the other knows at the same time." said Claassen. Central to the album is the contribution of the world renowned WDR Big Band conducted by Magnus Lindgren who also contributes a number of the arrangements. Further arrangements were contributed by the album's producer Paul Heller along with contributions by Bob Mintzer and Michael Abene.
September 10th also see's the live premiere of the program in the mail hall at the Philharmonie in Cologne. This concert will be followed by a second performance on the 11th of September in the Philharmonie in Essen. These two concerts will feature both Fay and David along with the WDR Big Band. The third concert in the series will be on Sunday 12 September in Amsterdam's Bimhuis and feature Fay and David along with Paul Heller sax, Magnus Lindgren sax/flute, Billy Test piano, Aram Kersbergen bass and Hans Dekker on drums.
Editors Note:

Matty Bannond will be attending the concert in Cologne for Jazz In Europe so stay tuned for his concert review.
This album is Fay's third production with the WDR Big Band under her own name and follows the 2010 release "SING!" and "The Dutch Songbook" released in 2018. Speaking of the project, producer Paul Heller stated "For this album Fay wanted invite her longtime friend and soul brother in singing, the fantastic David Linx. When Fay and I were brainstorming about the repertoire for this new album, three amazing songs of David's immediately came to mind that David and Fay did together some 20 years ago on "One Heart, Three Voices": "Sum It Up", "I Will Build Myself A Nation" and "Along Goes Betty". Another one of my Claassen/Linx favorites is Ivan Paduart's "Waterfalls" that also stems from the" One Heart, Three Voices" period. They even did the tunes in the same keys as they did 20 years ago, pretty remarkable for singers, I think!"
The collection kicks off with "Sum It Up (Disturbing the Peace)," a Diederik Wissels composition with lyrics by Linx. Trombonist Andy Hunter also turns in a beautiful solo on this intriguing opener that features some tight unisons between Fay and David before the piece opens up to some spoken word recitation by Linx. "Along Goes Betty" is Linx's tribute to jazz singer and scatter extraordinaire, Betty Carter. It features a lush arrangement by Lindgren, who also provides a stirring flute solo here.
"Waterfalls" by Belgian pianist-composer Ivan Paduart and with lyrics by Linx, features a glorious intertwining of vocal harmonies and wordless vocals between David and Fay and one of Paul Heller's powerful and yet lyrical tenor sax solos. "This is a lyric I wrote in the early 2000s. Fay and I previously recorded it in a small group setting on Ivan's CD in 2007. The song is about how we try to make life's experiences and feelings last until we understand that we can't force anything and life will ultimately come to claim its due." explained David.
Claassen puts her stamp on Paul Heller's easy swinging number "Good Times" arranged by Bob Mintzer. "When Paul first played this tune for me, I immediately knew it was my song," said Fay. "Of course, he wrote it for me, but as a singer you always have to make a deep connection with what you want to sing; you have to make it completely your own." Fay inhabits Robin Meloy-Goldsby's lyrics here with rare empathy while alto saxophonist Karolina Strassmeyer and tenorist Heller also deliver potent solos on this unabashed swinger.
Linx is showcased on "Tackle and Dabble" composed by Dutch flutist-keyboardist Thijs van Leer, a charter member of the '70s rock band Focus. With new lyrics by Linx, it also features some spectacular scatting by the Belgian singer. Michael Abene's dramatic arrangement of Duke Ellington's classic "In a Sentimental Mood" finds Fay soaring against his mournful, minor key accompaniment. "We kept the general harmonic structure and melody of the original," Fay explained. "But I wanted to have a mysterious kind of groove and an overall modal sound, and Michael came up with this vamp on the spot that is now the hook of the whole arrangement."
Claassen's own composition "Feel the Beat", arranged by the album producer and longtime WDR Big Band member Paul Heller, is an uptempo finger-popping number that features Fay and Linx in a daring simultaneous scatting interlude before they engage in some vocal fireworks with rapid-fire exchanges near the end. "Until now, this song had only been played live in concerts, mostly with my regular band," said Fay. "Paul said when compiling the repertoire for this production that he wanted to write the arrangement to make it a real family affair, which I love. It's so great to really get loose on this one, spontaneously improvising with David, fooling around with the melody, having lots of fun!"
Their gorgeous reading of Ivan Lins' beguiling "J'me Prépare" with French lyrics by Linx, features an arrangement by Lindgren, who also contributes an alluring flute solo. Linx was introduced to Ivan Lins in 1990 by Toots Thielemans and since then the two have collaborated regularly. " 'J'me Prépare' means 'I'm Getting Ready'. It can be heard and felt and read like a love song, but when I write lyrics I want them to work on several levels at once, so there's always a deeper, even political twist to it if you read between the lines."
Linx's Latin flavored "I Will Build Myself a Nation (Biding My Time)" is joyful shout-it-from-the-rooftops love song in 7/8 that Claassen and Linx had previously sung together on 2005's One Heart, Three Voices. The piece builds to a heightened peak and features a brilliant piano solo by Billy Test before segueing to a poetry/rap breakdown by wordsmith Linx. They close the program on a more contemplative note with Heller's relaxed ballad, "Rebirth" with thoughtful lyrics by Linx. The pieces swells to a majestic sweep from the big band, culminating in a dynamic crescendo fueled by the WDR's longtime drummer, Hans Dekker.
"And Still We Sing" will be available on CD, Vinyl LP and of course on all streaming and download platforms. The album is set for release on the Delta/Jazzline label and will be available on the 10th of September 2021.

Track Listing:
1. Sum It Up (Disturbing The Peace) 5:29 | 2. Along Goes Betty 5:14 | 3. Waterfalls 5:45 | 4. Good Times 5:16 | 5. Tackle And Dabble 5:52 | 6. In A Sentimental Mood 6:27 | 7. Feel The Beat 5:01 | 8. J'me Prépare 6:32 | 9. I Will Build Myself A Nation (Biding My Time) 6:09 | 10. Rebirth 3:43
Line-Up:
Fay Claassen: Vocals | David Linx: Vocals | WDR Big Band, Conducted by Magnus Lindgren.
Release Date: 10 Sept 2021
Format: CD | Vinyl LP | Digital
Label: Delta/Jazzline


New Release Spotify Playlist
The Jazz In Europe New Release playlist features tracks from the new releases featured on Jazz In Europe. Updated weekly, this playlist is the perfect place to discover new music from the leading jazz musicians currently on the scene. We hope you enjoy this selection.
The best way to keep up to date with all the latest releases is to follow us on Spotify. Just click the button below.
Last modified: September 10, 2021