The Hungarian jazz fusion band KunaTones have been taking the Hungarian music scene by storm for quite some time, previously under the name the Fourtissimo Jazz Orchestra. They changed their name this year and bring their new album Between Past and Future. The brass section of this ensemble is a family affair with siblings Valeria Kuna (trumpet and vocals) Marton Kuna (trombone) Gyula Kuna (lead trumpet) and Bence Kuna on French horn, having played together for 27 years.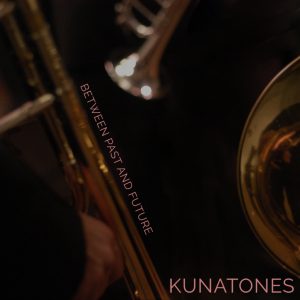 Between Past and Future is a throwback album clearly inspired by 60s/70s jazz funk with some great Latin grooves and presenting a combination of a new arrangements of some standards along with some original compositions. The album is vibrant and full of energy and cannot fail to get you moving. Absolutely superb playing from all.
Bravely starting with a cover of 'Birdland', their version demonstrates their versatility whilst respecting the legacy of this classic track while making a clear brass-based statement, which is at the heart of KunaTones sound. It's a bold statement that works. We are in. 'Mali' demonstrates their fantastic groove-based themes, first with the flute introduction, and then hotly followed by the brass. The variety and skill of their use of textures clearly shows their orchestral influences and training and it captivates and keeps the attention throughout.
'Just Now' is superbly rich with musical references and keeps you riveted throughout. Fantastic track. 'Uninvited' is fascinating. At times epic, with a haunting piano motif running through that gives the track an almost hip hop feel, whilst combined with an undeniable bull fighting vibe which is uplifting and but also brings a smouldering darkness to the track. Special mention of 'Funk4Fun' which has a beautiful flute solo from András Somos.
An absolute highlight track for me is 'Lolli'. Filled with beautifully arranged brass motifs set to superb driving piano based groove. Superb solos from Gyula Kuna (trumpet) and András Somos (keys). I have had this track on repeat. 'Hurricane' is great track to end on with everyone have more than a moment to shine. Wonderful trombone from Marton Kuna and an especially beautiful French horn and trumpet interchange courtesy of Valeria and Bence Kuna.
Although I must admit there were two tracks that I felt just seemed slightly out of context of the fantastic groove felt throughout the album, (many others may disagree and just my personal taste) I am very happy to have this on my playlist. The instrumentalists playing throughout the album shows virtuosity and a tightness that is more than welcomed. The groove is undeniable. I highly recommend exploring this album.
Line-up:
Valeria Kuna trumpet, vocals | Gyula Kuna – trumpet | Bence Kuna – horn | Marton Kuna – trombone | András Somos – keyboards, flute | Ferenc Eder, "LA" – bass | Zoltan Nagy – guitar | Gabor Olah – drums |
Track Listing:
1. Birdland | 2. Over the Rainbow | 3. Mali | 4. Open Air | 5. Dominica | 6. Lolli | 7. Just Now | 7. Walking in… | 8. Uninvited | 9. Amazing Grace | 10. Funk 4 Fun | 11. Don't Funk With My Heart | 12. Hurricane.
Last modified: September 21, 2021