Born in Mexico, trained at Berklee in the US, living in London and just about to play at the world-renowned Ronnie Scott's, drummer Migdalia van der Hoven is a significant rising star and definetly one to watch and support. Endorsed by Prostick USA and RTOM Corporation, she also has her own line of jazz cymbals in collaboration with Red Cymbals, the 'van der jazz' series, having been working in the industry for the past 25 years after studying with Jackie Santos, Terri Lynn Carrington, Victor Mendoza and Mark Walker. Releasing her new brilliant new EP 'Girl Facing South' with a launch at Ronnie Scott's tomorrow, it was an absolute pleasure to catch up with Migdalia and find out a little more about her and her work.
Migdalia has a wealth of experience through her geographical explorations so I firstly asked her how she went from taking a business degree in Mexico to studying at Berklee and then moving to London.
MVDH: I started playing drums when I was around ten or so and I always loved music but growing up I had another mindset of going into business or something like that because there was not a lot of support for female artists especially in Mexico. I finished my business degree and then took six months off before looking for work. My parents are musicians and it was my brother who suggested going to Berklee for their short course. I was playing and gigging and involved in orchestras in Mexico and I always wanted to improve but there wasn't the platform there you know? But when I got there, I was like, wow, this is the place! I had just spent four years of my life studying business and it just felt like home and a lot of things started to make sense. It was one of the best experiences I've had.
Migdalia's family and especially her mother have been hugely supportive in her work. Not all parents would be so welcoming to the career choice of becoming a drummer…
MVDH: Yes! She's a piano player and my brother is a piano player, classical, and then me the drummer came, played jazz and all this craziness, ha. They love it you know and growing up I always had that dream. Now I have my kids and being here in the UK and seeing how the arts and music are actually a big part and people are encouraged. I mean even though they don't support as much as football, ha, for me, growing up in Mexico, there was nothing like that. So now being here I'm really grateful because you can actually do it, you know?  I was really lucky that my parents supported me. I graduated from business and I just went to Berklee, which was a great move. I was more mature, so I knew exactly what I wanted – just focus 100%.  An opportunity like that doesn't come around often, especially at that time when the acceptance rates were pretty low, and I was somebody from Mexico and a female… I just didn't take it for granted. Once I got there everything made sense.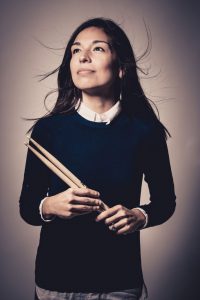 Migdalia met her husband to be, during her training, a musician also studying business, but living in the UK. The connection was immediate and Migdalia eventually moved to the UK.
MVDH: He's a jazz musician from South Africa so, the same kind of mind. Our plan was to stay in the States, but we ended up moving to London and which was great because I feel that the London scene is actually nicer than in the States because it is so congested over there. I feel that there's more opportunity here. We did manage to go back to the states in 2017, to LA, but it didn't feel right and I missed London. So, we decided to move back and actually my thoughts were I promise I will never complain about the weather again!
Over the next few years, Migdalia was busy working the circuit and became the mother of two girls. Her work in the Christian music industry was especially constant and she worked closely with the highly regarded Scott Stroman, who among other things is the director of the American International Church and the London Jazz Orchestra. Fast forward a few years, Migdalia's girls are now three and six and she was ready to step up another gear but then Covid hit and the live music scene took a break.
MVDH: I said, you know what, it's fine it took me so long to wait but I have two choices. One is just complain and wait and the other is to just keep pushing. So I started being active on social media, like everyone else, and started buying gear like crazy!
 Migdalia was more than a little active. She started creating brilliant videos showcasing her playing, recording with artists and some of these videos ended up going viral and the endorsements flooded in.
MVDH: Yes, the video that I posted that went viral was a real huge point and suddenly people were, hang on who is this a crazy woman?! I realised that this is the sort of thing that people want to see. I'm a jazz musician but I'm also very versatile. So I would post something like I don't know…like John Coltrane and then the next day I will go for something different, Michael Jackson or Beyonce. I want people to take me seriously. I can be fun but I'm showing you the technique and versatility. I'm professional but I'm having fun with what I'm doing because I love it.
Migdalia connected with the hugely supportive organisation Women in Jazz who guided and supported her with her next steps. Established in 2019 by Louise Paley and Nina Fine, Women in Jazz have accomplished incredible work in the UK and 'exist to celebrate and showcase the music and stories of women, to inspire the next generation of talent'.
MVDH: Yes, I got in touch with Women in Jazz because I've been sort of away for a little bit from the whole networking and I just wanted to know how to sit and work now, I just didn't know. My intention was to establish myself, as a reliable drummer and that I also have my own project. But I also wanted to meet more musicians and collaborate with people and keep playing good music!
 It was at this point in the interview that I realised Migdalia had been using the word strategy. In all the conversations I have had with artists, I cannot recall any of them using the word strategy. This seemed significant and I started to really reflect on Migdalia's business training coupled with her love and determination – and talent. This is a fierce combination.
MVDH: Well that's the thing, if you don't first of all, know where you want to be – what's your main objective – then how do you get there?!  Also as a female artist, sometimes people don't trust what you do, so you have to cover all those bases. If somebody asks me something there is nothing nicer than to just send them a link and everything is in there – high quality music, high quality recording, your biography etc.
I have one shot, that's it and if I mess it up, they're going to call somebody else. This has made me so disciplined and so reliable, because even if it's a small gig I will prepare myself – 200%. So I rock up, I just sit down and that's it. I got you covered.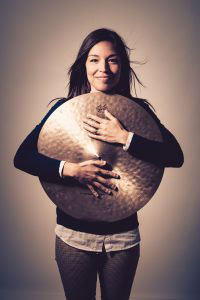 Female drummers are still sadly, in the minority and Migdalia is breaking down the barriers with her two daughters firmly in her mind.
MVDH: I think it's going to be a long time before your gender isn't relevant which is the dream. It's beautiful when you see people that actually couldn't care less about that and then they book you straight away. But that's exactly why I'm doing what I'm doing at the moment, to try to open the way for them so they don't have to struggle like many women. I've struggled in the past and I feel like OK, I already went through that, fine, but it would be really heart breaking see them going through that. If you're a good musician, if you work hard, if you have a quality product, you're reliable and with all of that, why should it be so difficult to get a chance?
 Absolutely! And talking of quality products…Migdalia's new EP Girl Facing South is brilliant. Recorded live at Toulouse Lautrec in London, I asked Migdalia to explain what to expect from her first EP.
MVDH: We're massive fans of the Yellowjackets and that sort of West Coast sound, jazz fusion. It takes you through a journey of different places that we've been. So there's a track called 'Savannah Rain' and it's nearly like you can hear the rain of the Savannah in the background, even with all the colours in the drums and the African groove and then it goes into a proper fusion. I feel there is a sort of a more rock funk groove in 'Girl Facing South' which is pretty much talking about me. I love to groove, and I love a smooth sort of sound on the drum, so it tells you, okay I'm in London, I'm facing South – it's South of the border, South Africa. All of those elements which people won't even think about was the inspiration. The other track is called 'Red Skies' and that one is a sort of up tempo, kind of ballad. I'm a session musician as well but there's nothing like sharing what you're feeling with other people and that they can see and hear exactly what express you through your music.
In Mexico there is a traditional saying 'El que es perico, donde quiera es verde' which I interpret to mean that incredible, talented and hardworking people, always stand out. No matter what barriers or hurdles they face, their presence will be felt. Well, a new focussed, driven and exciting star has arrived, and her name is Migdalia van der Hoven.
Website: https://www.migdaliavanderhoven.com/
Last modified: February 27, 2023