Singer, songwriter and storyteller Lara Eidi writes about her visit to the Athens Technopolis Jazz Festival in a fascinating three-part series.
Part 1: The return to Athens.
Athens. Date: May 28. Post Covid.
Ok, not really. It's a Covid world, where I'm about to attend the Athens Technopolis Jazz Festival. I'm hugely aware that I haven't seen, heard or performed live music in a year and half. I find comfort in knowing that most artists, creatives and industry professionals are in the same boat. In an otherwise highly competitive world, I reflect on how the Pandemic pushed for a more communal collective of minds, and for the first time in years, the music world felt like a more inclusive platform. If you think that sounds highly optimistic, you'd be right, because that's the kind of optimism needed for an industry to develop and flourish. So, as I get ready to attend the Jazz Festival, this time, I'm assuming the role of the observer, as a journalist, wanting to talk about the incredible music scene that I've experienced when I lived here. I set foot bound for Technopolis, Gazi where the festival, now in its 20 th year takes place. My bag packed, my mind is free, my soul afloat with the joyous anticipation of attending a gig.
As I arrive to the industrially cool outdoor venue of Technopolis, I'm reminded of the kind of magic that Athens as an arts scene was always known for. The area of Gazi is built on stylised old Factories turned venues, artist spots and creative hubs. Never mind the fact that you are reminded of the contrast with a city of 4,500 years old bursting with the remnants of the past, splashing onto the new, burning energy of a music scene. It's not a European feel, it's a Greek vibe all its own, and truly acts I find as a backdrop to the younger generation's music. Most musicians reside in downtown Athens, and it's hard not to find inspiration in these two worlds, at once merging into one only to divide and conflict with one another in a way that echoes of chaotic beauty.
I'm now seated at a table at the back, already warmly welcomed by the organization of the festival in terms of hospitality by Eleni Michalaki. The festival had a limited capacity and certainly adhered to all Covid restrictions, so I had to find out more about what the festival would be delivering as a 'Hybrid Edition'. The festival's producer, Anna Gagga sat down with me ahead of the festival who has been in charge of the festival since its creation in 2001, as a collaboration with the Goethe Institute. 'Jazz, she said'- no one heard of Jazz in Greece then. It amassed a small 100 people, but the audience warmed to it and they decided to expand the festival with a growing attraction in 2003. She remarked that it was responsible for shining a spotlight on Jazz in Greece, in particular because it was a freely attended festival. Quickly becoming a staple with Greek Jazz musicians as well significantly drawing the attention of international headliners when Technopolis City of Athens presented the first European Jazz Festival in Athens, in collaboration with the embassies and cultural institutions of the members-states of the EU based in Greece. Impressive to say the least, and Anna added that she's relieved in particular that there has been a particular emphasis on women in jazz. I ask her, if she thinks more could be done? She replied that she wants to take it a step further and create a week-long festival celebrating Women in Music, showcasing all the burgeoning talent. I still wonder, I say to her how open is it for local musicians to apply? It is open, although the emphasis is mostly focused on international acts. Bear garden  ( Sweden) brought Snarky Puppy- inspired harmonic soundscape to the virtual stage, shifting seamlessly from Afro –Brazilian interplay to a more lyrically led sonic delight, particularly with their track 'Liquid Dreams'. Initially, watching the audience watch the pre-recorded livestream was a meta-narrative experience, and it made me quite confused as to why it still seemed to work. The festival was smart to present a live act next, this time with female solo pianist  Anna Stereopoulou . More of a free, improvisational electronic alternative Mediterranean soundscape complete with references to the strict lockdown swimming on a sea of pre-recorded Ferry Sounds, I particularly enjoyed when she addressed the attentive audience and simply said "I've missed you". I longed for the live acts to continue, but another pre-recorded performance followed with The Kuti Mongoes  , hailing from Denmark. The Northern European Jazz scene seems to have developed a sense of hybrid identity in itself, as yet again Afro-Beat, Congolese and Northern Soul were the staple for most of the festival's programme.
You can imagine my delight when the festival headliner, celebrated saxophonist Dimitris Tsakas took the stage with his stellar quartet including Kosti Christodoulou (piano), Yoel Soto (Bass) and Kostas Kiolas (drums). If there seemed to be a lacking energy in the premiere of the festival Dimitris definitely brought it. Starting off strong on alto sax with "Orient", the quartet clearly displayed virtuosic fervour with highly energised delivery; the kind of performance that immediately engages with its audience. After his last number, " Beautiful Roses"- taken off his newly released album ' Back of Beyond", Dimitris waltzed off stage , clearly euphoric from playing and we immediately had a chat about , well  what was it like to perform after so long. "I feel fantastic"! He exclaimed, gleefully after performing. Despite the Hybrid nature of the festival, Dimitris told me that there is simply no other way to showcase music nowadays given our circumstances. He went on to say he felt honoured to headline this festival, in a way, arriving 'home' to his beloved Athens. Dimitris serves as cultural director for the renowned Coulandris Foundation in Athens and is known internationally for his collaborative work with award winning composer Vagelis Papathanasiou. Clearly, like most Greek musicians who leave Greece to pursue their jazz studies either end up flourishing outside or choose (and rightly so) to come back and develop their career here. Dimitris empathised towards the lack of international attention to the jazz scene in Athens, explaining it in terms of Greece as a geographical location and hence not as easily accessible as most European countries. He added to say, it's also about the right kind of exposure to local audiences here- he was honest enough to draw my attention to the fact that musicians themselves try almost exhaustibly so to create opportunities for themselves, because unlike the Athens Jazz Festival, funded opportunities amongst most are not readily available. Still, his advice for the younger generation was frank and to the point: it's a matter of luck, dedication and for Greece, knowing that you're entering a small scene against the backdrop of the dominant Traditional Greek Music Scene.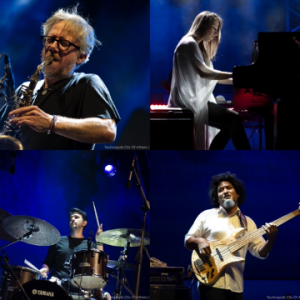 That made perfect sense to me, and comparatively, London has developed a 'Greek Jazz Fusion Scene ', most notably in East London which launched the careers of Valia Calda, The Ziarkas Brothers Vasilis Xenopoulos and more. It is the fusion of traditional Greek music across the regions fused with jazz idiosyncrasies- a kind of genre that certainly has become the trend. Dimitris was aware of this, and encouraged it, adding that this kind of world music has extended to the Middle East. He added that for the younger generation, as a musician developing their jazz career, travel is essential. An artist cannot develop otherwise.
Truer words couldn't have been spoken, and I was reminded of one of the staples of Ancient Greek Philosophers: the more we know, the less we know.
I'll just take a moment hear to remind of you why this was such a significant event for myself personally: I was one of those artists that left Greece, quite a few times (once for my Literature Degree in St. Andrews and then for my master's at Guildhall school of Music). However, my mentality differed from most here, given that my background (Canadian Lebanese) shaped the way I viewed the world as well as the music industry. In my mind, when I moved to London , and ever since, an industry is successful only if the musicians support each other, regardless of gender, age, genre and preference, Diversity has filtered our topic of recurring conversation in the arts world, especially in the last few years, and so I decided to do what my instinct led  me to do – find the voices that needed to be heard.
Part two: The road less travelled coming soon!
Photo Credit: Technopolis City of Athens,  Vangelis Patsialos
Last modified: July 13, 2021