Danish drummer Emil de Waal, whose name fooled me into assuming he would be Belgian, released his sixth album as leader of this formation, Vente, on July 2. He is joined by veteran clarinetist Elith 'Nulle' Nykjær, whom I now want to know everything about, multi-instrumentalist Gustaf Ljunggren and Hammond organist Dan Hemmer.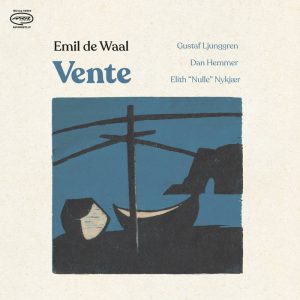 Vente is the Danish word for 'wait', which explains the album's laid-back style, I suppose. It's an album of subtle contrasts that takes you on a pleasant walk through a very colorful world. But don't let that description fool you; if Vente had been the Danish word for 'fun', I would have believed that, too.
The album opens with Peg Of My Heart, an elegant opener, as timeless as ballroom dancing. And dance we will, all through Vente, from the top through to Holgers Vuggevise (a slow, waltzy lullaby) and Uffes Tappenstreg, which historically would refer to a military marching band drummer going around the city notifying drinking soldiers that it is time to go home.
Via Wuhan Waltz (a daring song title in these times, I'm sure!) we move on to what is possibly my favorite song of the year so far. Music To Watch Girls By is a party. A dance waiting to happen. It's upbeat, it's swing, and it's as catchy as a summer fling. It's cheery innocence will be on heavy rotation for a while to come, that's for sure. To add even more to the already broad palate Vente has to offer, Such Sweet Thunder undoubtedly would have made Tom Waits proud.
Breezy, laid-back and very fun: Emil de Waal and his stellar team of all-round music powerhouses present jazz for omnivores without ever resorting to clichés. I couldn't recommend it enough.
Line-up:
Emil de Waal: Drums and percussion | Elith "Nulle" Nykjær: Clarinet | Dan Hemmer: Organ | Gustaf Ljunggren: Electric guitar, lap steel guitar, mandola, celeste, marimba, clarinet
Track Listing:
1. Peg o' My Heart 4:17 | 2. First Song (For Ruth) 4:15 | 3. Ventemedister 3:52 | 4. Holgers vuggevise 4:14 | 5. Uffes tappenstreg 2:01 | 6. Wuhan Waltz 4:40 | 7. Music to Watch Girls By 5:43 | 8. Biblioteksvals 3:57 | 9. Such Sweet Thunder 6:50
Release Date: 2 July 2021
Format: CD | Vinyl | Digital
Label: April Records.



New Release Spotify Playlist
The Jazz In Europe New Release playlist features tracks from the new releases featured on Jazz In Europe. Updated weekly, this playlist is the perfect place to discover new music from the leading jazz musicians currently on the scene. We hope you enjoy this selection.
The best way to keep up to date with all the latest releases is to follow us on Spotify. Just click the button below.
Last modified: July 13, 2021