In the recent past Mexico has produced a series of interesting jazz talents with some of them are obtaining well deserved recognition in their home country and also internationally. One of those talents is without any doubt Adrian Oropeza, drummer, composer and tutor based in Mexico City.
Adrian is, in a way, an ambassador of Mexican Jazz having performed in the most of the prominent festivals in Mexico as well as traveling abroad to the Philippines (International Jazz Festival in Manila), Bolivia, Singapore, Indonesia, Holland (Delft Jazz Festival) and Portugal. "I created my first trio in 2008 to bring on stage my first album "Texturas" with the specific goal to give the right value to Mexican music. Our music has a great potential to merge, especially in Jazz." It's a noble purpose perfectly accomplished which continues today with the release of his latest album "Desafio", a collection of 6 original songs by Oropeza that includes a long list of artists, 15 people to be precise ranging from musicians, artistic directors, engineers and video makers. A huge effort!
Speaking of the project Adrian stated "The composing process began at the beginning of 2019. Originally I planned to title the album Motion reflecting a sort of perpetual motion but as you can see I decided to change the title in "Desafio". I can best describe Desafio as a metaphor of life, it's a sort of mirror reflecting the challenge to be alive and to grow every day. It's a window on the Universe, on the beauty of the world. It's part of an inner transformation that involved at a certain point also my approach on drums in terms of style and sound and even my set up. I then invited Ivan Barrera as a co-producer of the project. Ivan is a great friend and amazing musician, bassist and multi-instrumentalist. Daniel Vadillo on piano also gave an essential contribution with his mild melodic sense. Mariella Bethencourt completes the crew as a guest on the 4th track of the album".
The music of the project is definitely fresh and innovative and reflects in a precise manner the idea sof its composer, Adrian Oropeza. I've personally listened to his previous albums and noticed a very nice aspect in his music. Adrian has a unique vision of the music that follows his personal direction ("Amanaceres" for example). This is always present in his music but on this album, in my modest opinion, the music represents a huge step forward, it's like a person reaching a level of complete maturity. It's exciting and it reflects the world as it is.
In our conversation I asked Adrian if he has a preference for one song in particular, as a composer myself I know how can be tricky to make a choice when you write an album. In any case I had a confirmed suspect, Adrian explained "Para Elian is the most personal composition in the album. My nephew Elian just turned 2 years old and the song is dedicated to him who came as a huge joy for our family"
It's curious how this project literally changed changed it's skin during these last two years and in general how circumstances can alter the course of our lives. In fact, the first recording session of "Desafio" took place at the beginning of 2020 right before the pandemic. I asked Adrian how he felt about this and what happened: "The Pandemic has completely changed our perspective, the market, the way to make music and even our relationships. We came back in studio eight months later and at that point, of course, the situation was different. We still had to record six tracks plus video footage. It was really complex to get a team of 15 people together, especially with social distancing. It's probable been the biggest challenge of my career to organize musicians, technicians, video makers, a photographer and still take care of the music. It came out pretty well in the end and I am very proud and happy with what we have achieved".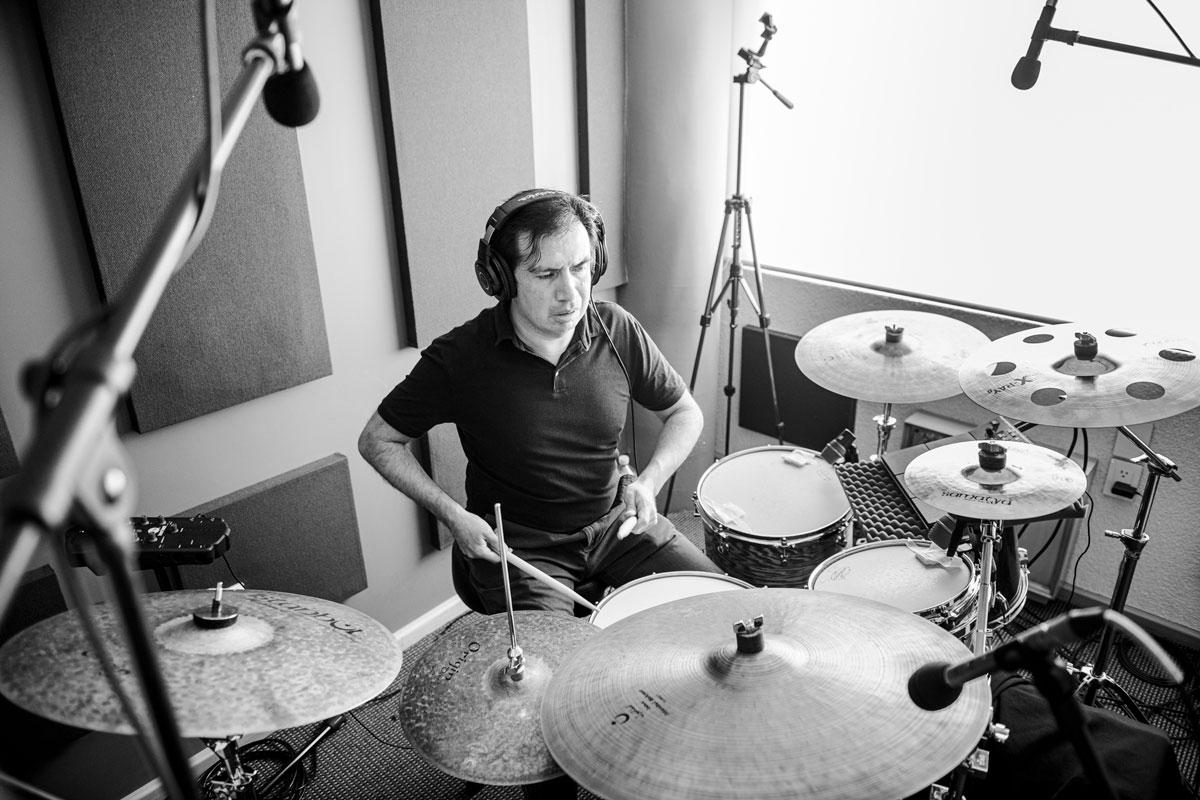 I was curious to know what projects he has planned for the future when we hopefully will get back to a kind of normal.
"I have a special ecological project with Sembrando (I am their ambasador). We providing cards containing the seeds of different plants which you can plant where you wish. On the other side of the card there is a code which you can use to download an Mp3 and a digital booklet. It's a really interesting project. I am also working on some other electronic material with a bunch of young composers that I want to record in the next few months".
I would love, to finish this article by sharing with you the definition of "Desafio". Normally I would have done this at beginning but this time that's not the case. Desafio means breaking the schemes and adapting to a new reality; making new music in a different context and keeping ourselves creative in these uncertain times. That's the spirit of Adrian Oropeza's new album! I'd urge everybody to listen to this project and to witness Adrian Oropeza's language.
Line-up:
Adrian Oropeza – drums | Ivan Barrera – bass and Violin | Daniel Vadillo – piano | Mariella Bethencourt – voice
Track Listing:
1. Sol de Otono | 2. Motion | 3. Collage | 4. Para Elian | 5. Matinal | 6. Desafio
Release Date: 30 April 2021
Format: Digital
Label: Independent Release


New Release Spotify Playlist
The Jazz In Europe New Release playlist features tracks from the new releases featured on Jazz In Europe. Updated weekly, this playlist is the perfect place to discover new music from the leading jazz musicians currently on the scene. We hope you enjoy this selection.
The best way to keep up to date with all the latest releases is to follow us on Spotify. Just click the button below.
Last modified: July 13, 2021