Marta Capponi is an artist everyone should know. The warmth of her sumptuous vocals, her technical virtuosity, the emotional intensity of her performances and the overall beauty of her artistry is something to behold. Born and raised in Rome but moving to the UK and embedding herself in the London Jazz scene, Marta has the air of a modern-day Roman Goddess. That undefinable magical quality and sparkle that makes you feel honoured just to hear her.
As a vocalist Marta has been overwhelming audiences with her diverse repertoire and has worked with an incredible range of musicians across the fields of pop, folk, Brazilian music and the jazz standard catalogue but has never actually released an album under her own name, until now.
MC: Of course it was in the back of my mind for many, many years to record an album of jazz standards and it's a weird thing but I always thought that I wasn't really entitled to do that because I'm Italian! It is not in my heritage…but really it was my husband who really pushed me to do it.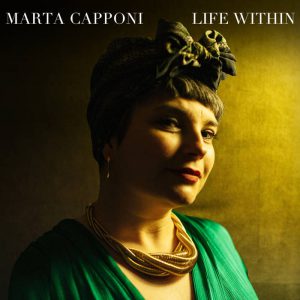 We have an awful lot to thank Marta's husband, the fantastic musician, Emiliano Caroselli, for. At seven months pregnant, instead of perhaps thinking about starting to relax and prepare for motherhood, (as much as you can), Marta recorded her first album under her own name 'Life Within'.
MC: Emiliano said to me, you know you have never done anything like that, but I know that you want to do it and I think that you want to look forward. You want to experiment more and dig into this new musical universe that you have been discovering. If you don't do it now, you probably never will because you're going be in another place, literally. Just do it you now and show the world how much you love this music.
Show us she indeed has. The album is simply exquisite. Everything merges together so beautifully. Jo Caleb on guitar, as well as producing the album, Dario Di Lecce on double bass, Ross Stanley on Hammond organ & piano and of course Marta's husband Emiliano Caroselli, on drums and percussion. As Marta explained to me, these were her dream musicians and she did not expect them to be available but much to her surprise everything just came into place quickly and easily and as if it was meant to be. The musical chemistry that is felt is throughout the album really is something special and you cannot help but wonder if the connection between creating new music, a new album and Marta preparing to bring a new life into the world were linked. There is an undeniable magic about this album.
MC: Yes it was there, definitely. It was the first time in my life, in the studio, that I really enjoyed it. I'm not really a studio person I'm a live person you know? I love to be on stage, and I feel very comfortable to be on stages, they are my home. But I want to tell you this is the first time in my life, in the studio that I really enjoyed it. I have to say thanks, a million times to Jo Caleb. Jo is not just a guitarist – an amazing guitarist – but he's a producer and he knows how to deal with all these kinds of situations. He gave me the freedom to just be there and think about singing and expressing my feelings you know? I can actually say that I enjoyed every single moment. Even when I was listening back to the album, I just had a smile on my face. I remember the energy that was in the studio. We were so tight and there was friendship and joyfulness, kindness… it was a really, really beautiful experience and that's something that I will cherish forever.
A beautiful experience to cherish is the perfect way to describe this album. There is an exquisite air of excitement, virtuosity and love about it and all these exhilarating elements come into place perfectly. It is often said that pregnant women have a glow about them, well Marta's glow lights up this album and is embedded in the music and everyone around it. Artists often refer to creating albums and projects as creating 'a baby', but in this case, Marta was actually doing both of these things at the same time. You can only imagine how that must have felt.
MC: My pregnancy was really a beautiful moment in my life. In my career, I've done so many things, so it was a way to celebrate the divine you know? To celebrate the universe that creates.
Marta's love and passion for her Italian roots is ever present in all of her work and we spent some time discussing the Jazz industry in Italy and some of the barriers.
MC: We have a rich tradition here in Italy and the scene is beautiful, very creative and I think nurtured. Unfortunately I think the government really doesn't care too much about art in general, not just music, art in general.
There is an incredibly active and beautiful community of Italian musicians in London, and I often discuss why musicians from Italy, come to the UK. As wonderful as it is to have so many incredible Italian artists, it also saddens me that the perception is that there is a lack of support for the Arts in Italy, especially when you consider the depth of creative arts history in Italy and the very clear talent. Partnerships need to be developed and the community must try to bridge this gap and ensure that Italian artists have not only a global stage, but a stage and a voice in their own home country. Marta is on the case.
MC: I'm trying now! We think it's a matter of trying to create more opportunities. I'm trying to organise a Jazz Festival in this beautiful little village, Romano, just a few kilometres north of Rome. This place is just stunning, and it is the most beautiful place to have a Jazz Festival so, I'm really trying to organise for this summer. To be honest, my idea is to create a bridge across these places. I'm trying to create a cultural offer for the people that are here in the UK and in Rome of course and create a beautiful place where musicians can come and play. Hopefully it's going to be okay and we're going to make it and then next year, if COVID is going to allow us to come back to our normal lives, then definitely I want to do something bigger and everyone will be there!
I cannot wait to see Marta performing live. As I often ask my interviewees, I asked Marta to explain how she hoped her audience would feel after one of her live performances.
MC: The thing that I really hope is that they go home with their soul full of a different energy. That they go home lighter in their heart. Also, now that I'm writing new music, I'm trying to convey important messages. I think we can change the word if we really want to and if we do it in the right way, we can really touch people. So that's my thing you know? I really don't define myself as a jazz singer, I just think from the heart every time and that is what I would like my audience to recognise, that it was sincere, and they could feel it. That's what I hope.
A goddess is often defined as a woman who is 'beautiful, brilliant, wholesome and possesses some sort of uncommon element that, while it cannot be solidly defined, it is clearly present'. This is the perfect way to describe Marta Capponi. There is a Goddess within her.
Last modified: May 3, 2021