Vocalist, lyricist, composer and educator Clare Foster released her new album Kumbhaka in December, but I must say as the blue skies are arriving and summer is on its way, it is the perfect time to explore this Latin groove-based album.
Clare tells us: "This album came about through a great love of Jazz and Latin American music. Songs from the Great American Song book and some original compositions have been arranged in 15 different grooves from South America and Spain. Each track has its own unique place in my heart. I hope it brings you as much joy as it did us in making it" Well, joy it does indeed bring!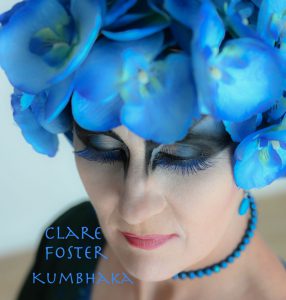 With fifteen tracks to explore and a fantastic line up of musicians, Clare takes us on a groove filled journey with fresh and exciting interpretations of some standards along with some wonderful original compositions. But what adds an especially delicious flavour to this album is the huge range of rhythms used beyond the standard Latin influences we are used to, such as Sambas and Bossas. One of the original compositions on the album 'Baião Na Praia' demonstrates Clare's vocal virtuosity through the fast paced, north eastern Brazilian groove of the Baião. With barely time for a breath, this track is exhilarating, and the energy of the musicians is superb. The flamenco-based rhythm of the Bulerias is used superbly in 'Gone with The Wind' and Shanti Jayasinha's trumpet emulates the feel of the bullring beautifully and you feel truly transported into this world. The album gives us an incredibly sensual interpretation of 'What Are You Doing The Rest Of Your Life?' with the use of the Argentinian Tango influenced, Milonga, put to incredible use and this is one of sexiest arrangements of this standards I have head.
Clare's career has taken her across the globe from Manhattan to New Orleans, Amsterdam to Toronto and the explorer in her has clearly influenced her work in this album and it really is a wonderful rhythmical journey. Kumbhaka is a breathing technique used in yoga and one of its many benefits is an increase of heat in the body. It is an apt title for this album – full of energy, positivity and the infectious rhythms that will definitely get you moving.
Line Up:
Clare Foster – Voice, Arranger | Shanti Jayasinha – Arranger, Cello, Trumpet, | Flügelhorn, Percussion | John Crawford – Fender Rhodes (except track 11) | Andrés Lafone – Electric Bass, Tamborile ( track 9) | Andrés Ticino – Drums & Percussion, Tamborile ( track 9) | Guillermo Hill – Guitar, Tamborile ( track 9) | Neil Angilley – Fender Rhodes (track 11)
Sue Jarvis – Voice (track 11) | Davide Giovannini – Backing Vocals (track 4) | Mick Foster – Alto, Tenor, Baritone saxes, Bass Clarinet | Fayyaz Virgi – Trombone (tracks 4,10) | Karen Tweed – Accordion (track 2)
Track Listing:
1. Who Will Buy? | 2. Baião Na Praia | 3. I Get Along Without You Very Well | 4. I Only Have Eyes For You | 5. Singin' In The Rain | 6. Gone With The Wind | 7. No Moon At All | 8. Can't Help Singing | 9. I'll Remember April | 10. Stairway To The Stars | 11. Quem Canta Os Males Espanta | 12. There's A Small Hotel | 13. What Are You Doing The Rest Of Your Life? | 14. Just One Of Those Things | 15. The Silent Space
Release Date: 10 December 2020
Format: CD | Digital
Label: Independent Release


New Release Spotify Playlist
The Jazz In Europe New Release playlist features tracks from the new releases featured on Jazz In Europe. Updated weekly, this playlist is the perfect place to discover new music from the leading jazz musicians currently on the scene. We hope you enjoy this selection.
The best way to keep up to date with all the latest releases is to follow us on Spotify. Just click the button below.
Last modified: July 13, 2021