Pianist and composer Yoonmi Choi is no stranger to the stage, and certainly not to pioneering her unique creative voice. Having performed at at over 300 venues in Europe, playing almost every major jazz festival, and directing the "Girl Behind the Curtain" Musical in Times Square, Yoonmi has pushed beyond the outer limits and expectations of both classical and jazz. Now, with her trio, Yoonmi presents a bold and genre-bending project titled "7 Days".
Born in Incheon, South Korea, Yoonmi began studying piano at age 3. She continued to study in South Korea as she grew up, and ultimately received her classical and jazz piano education at Sookmyung Women's University and the Dong-ah Institute of Media and Arts College . Shortly thereafter, Yoonmi took her studies to the Netherlands, where she graduated from the Prince Claus Conservatorium in Groningen. It was during her time in Europe that the seeds for 7 Days were planted and began to blossom.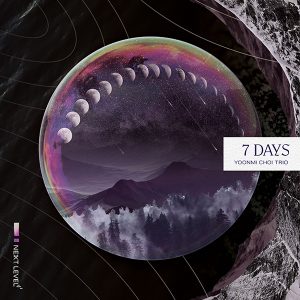 Seven years ago, while touring Italy, Yoonmi had the opportunity to visit the Sistine Chapel, and was enraptured by both the beauty and audacious magnitude of the artwork painted by Michelangelo . "I couldn't help thinking about his passion and tenacious hard work," Yoonmi confesses. Inspired, she set out to create a piece in such a vein as Michelangelo's masterpiece: massive, ambitious, and undoubtedly unified around a single theme.
Yoonmi's music does not exist in a vacuum, and she praises her band for bringing this album to life. 7 Days features Dutch drummer Samvel Sarkisyan , whom she met during her time in the Netherlands. Praised by Yoonmi as a "brilliant drummer" whose palette of dynamics is diverse and masterful, Samvel's tasteful coloring of 7 Days is key in bringing the album to life. The last member of this trio is bassist Myles Sloniker – a player with whom Yoonmi connected upon moving to New York. Above all else, Yoonmi describes Myles as having a phenomenal ear that "catches all the details" of harmony, melody, and subtle interactions between band members.
With 7 Days , Yoonmi Choi reaches beyond genres. Where most musicians put together collections of music that reflect themselves, Yoonmi uses a reflection of herself to go beyond the notes and rhythms and carefully, steadily, and unequivocally captures the essence of an ineffable narrative older than time.
'7 Days' is set for release on NextLevel, an imprint of Outside in Music, on May 28 2021.
More Information and pre-orders can be found at Yoonmi's website here.


New Release Spotify Playlist
The Jazz In Europe New Release playlist features tracks from the new releases featured on Jazz In Europe. Updated weekly, this playlist is the perfect place to discover new music from the leading jazz musicians currently on the scene. We hope you enjoy this selection.
The best way to keep up to date with all the latest releases is to follow us on Spotify. Just click the button below.
Last modified: April 14, 2021