There is no doubt that the last 12 months have been a challenging year for the music industry, in fact, 2020-21 will not only go down in history as the year of the pandemic but I believe will also mark a watershed moment in the music industry. On the one hand, it has been an unbridled disaster for the most of us, myself included, and on the other hand we have seen a burst of creativity that hopefully will lead new initiatives.
One of these initiatives is of course the rise of live concert streaming. While there are many more developments that will impact the industry moving forward, these will need to be the subject of another article. That said, one of the major takeaways of the last 12 months is the need for collaboration, if we all stick to our own castle, opportunities will be missed.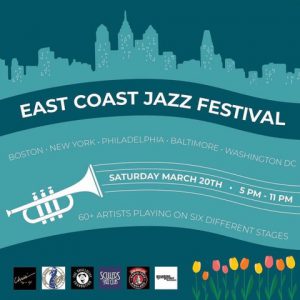 So speaking of collaboration and concert streaming, yesterday I received news of that a collection of the most beloved and well-known jazz clubs on the East Coast of the USA have banded together for the first-ever multi-city East Coast Jazz Festival, which will take place online on Saturday, 20th March from 5 to 11 p.m. The proprietors of Scullers Jazz Club in Boston, Smalls and Birdland in New York, Chris' Jazz Café in Philadelphia, Keystone Korner in Baltimore and Blues Alley in Washington, DC began planning this all-virtual jazz fest at the start of 2021, and the music will flow live with some pre-recorded sessions mixed in from six different stages, and will showcase the talents of more than 80 of the most renowned and respected jazz talents of our time.
NEA Jazz Master and the man behind the 2019 re-launch of Baltimore's Keystone Korner, Todd Barkan stated "Our music can be an indispensable spiritual life raft for our turbulent times when we need more sharing and caring than ever. May this important ECJF collaboration be just the beginning of an ever-growing process and practice of teamwork to make the dream work."
On the 20th of March, all concerts will stream live free of charge and viewers will be able to leave a donation to support the initiative. Below you'll find the full line-up, all times listed are USA Easten Standard Time. For European viewers this is currently 6 hours behind.
To view the concerts click here and bookmark the page.
EAST COAST JAZZ FESTIVAL
Chris' Jazz Cafe
6pm – Bassist Alex Claffy & his Quartet, featuring saxophonist/vocalist Sonny Step
8pm – The New Ari Hoenig Trio with pianist Gadi Lehavi & bassist Ben Tiberio
10pm – Pianist Orrin Evans Quartet, with bassist Luques Curtis & drummer Mark Whitfield Jr, featuring special guest saxophonist Immanuel Wilkins
Smalls
5 p.m. – Nicole Glover Trio
7 p.m. – Warren Wolf Quartet
9 p.m. – Mike Ledonne Quartet feat. Vincent Herring
Blues Alley
6 p.m. – Miki Yamanaka
8 p.m. – Eri Yamamoto
10 p.m. – Yoko Miwa
Scullers Jazz Club
6 p.m. – Christian Sands
8 p.m. – Keyon Harrold
10 p.m. – Tia Fuller
Keystone Korner Baltimore
5 p.m. – Obasi Akoto Oceanic Jazz Orchestra/ Jean Carn & Company
7 p.m. – Cyrus Chestnut & Affirmation with Tim Green, Obasi Akoto & Eric Kennedy
9 p.m. – Big Chief Donald Harrison with Warren Wolf, Kris Funn, Alex Brown, John Lamkin III
Birdland Jazz Club
5 p.m. – David Ostwald's Louis Armstrong Eternity Band / Ken Peplowski & Rossano Sportiello Duo
7 p.m. – Ben Allison, Ted Nash, & Steve Cardeans Play The Music of Jimmy Giuffre & Jim Hall / Champian Fulton Quartet "Bird Song" A Charlie Parker Centennial Celebration
9 p.m. – Houston Person Quartet / Veronica Swift with The Emmet Cohen Trio
Last modified: March 18, 2021