New Zealander Lucien Johnson releases his first digital album, Wax///Wane on April 1st. The saxophonist, who spent much of his twenties living and working in and out of Paris, has put together a set of compositions that reflect the natural surroundings of his life by the sea but also contain some of the energy and urgency associated with city living.
Setting his tenor saxophone in an intriguing line-up – vibes, harp, bass, drums and percussion – has enabled Johnson to capture the dream-like quality he wanted to convey. It also harks back to one of the many musical experiences – playing with Ethiopian jazz pioneer Mulutu Astatke – that have come his way as a result of leaving New Zealand for Europe as a twenty-two-year-old with no contacts and just a smattering of high school French.
"If you come from New Zealand, when you're young anywhere else seems extremely exciting and desirable," he says. "I talked myself into an English teaching job in Paris and stayed with a friend of a friend for a few days, then was in some hostels before finding a flat in the 11th arrondissement. My French was really bad but after a year or so it got much better and before long I was fluent."
As he started to meet people, Johnson, who grew up in a musical family, was able to find work as a musician. He played in brasseries and gravitated towards theatre work, including a clown troupe, with whom he toured India. Another theatre gig took him to Haiti, where he spent four months and contracted malaria but also got to play with voodoo drummers.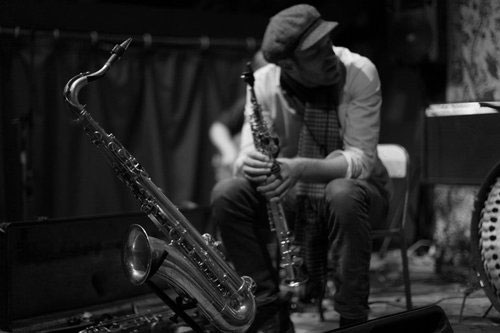 Back in Paris he started to mingle with American and Japanese musicians, hanging out with drumming legend and long-time Paris resident Sunny Murray, pianist Bobby Few and saxophonist Steve Potts and playing in drummer John Betsch's band. The brilliant Japanese drummer Makoto Sato introduced Johnson to free jazz bass titan Alan Silva, of Cecil Taylor, Sun Ra and Albert Ayler fame, and they formed a trio, going on to record the album Stinging Nettles.
"Playing and recording with a musician of Alan's stature was a real honour for me and meeting and gaining the respect of these American players who were of the 1960s and 1970s generation who had settled in Paris was amazing," he says. "But it was often a struggle to pay the rent and after six years, I decided to return home."
In Wellington he joined a band that toured the U.S. and Europe every year and got a taste of the rock 'n' roll lifestyle. He then completed a Doctor of Musical Arts degree at Victoria University and went on to compose music for the New Zealand Symphony Orchestra and the New Zealand Dance Company while making music under his own name. His album West of the Sun, which was released on Japanese label Wonderful Noise, was shortlisted for New Zealand's Jazz Album of the Year title in 2017.
Johnson's travels and experiences led to him becoming the go-to musician for festival collaborations back home, which is how he came to work with pianist Marilyn Crispell and bassist Barre Phillips, and with Mulatu Astatke, both in Wellington and Addis Ababa.
Wax///Wane, he says, is the first album he has made in a really mature musical style and he'd like to think it marks the beginning of being able to concentrate exclusively on making his own music.
"I definitely chose the harp and the vibraphone for a reason," he says. "For me, these instruments invoke, perhaps better than any other, the feeling of dreams. That's why composers like Debussy and Ravel liked the harp. The vibraphone can do that too when you use it with pedal and tremolo. The vibes give Mulatu's music a sense of mystery and one of my favourite Miles Davis albums, Blue Moods, gets this spacious, mysterious feeling with the vibes, as does Archie Shepp's New Thing at Newport with Bobby Hutcherson."
The Wax/Wane instrumentation is one he would like to record with more and he feels there is more to explore in creating music that reflects the weather – winds and storms contrasting with blue skies – and the flora and fauna of the coast where he lives.
"It's a very different experience from, say, living in New York and going head-to-head with jazz virtuosos every night of the week," he says. "My music probably doesn't have the same technical complexity as a lot of the music that is made in that context, but I do believe it has a certain level of emotional nuance nonetheless, and a feeling of mystique."
Last modified: March 24, 2021