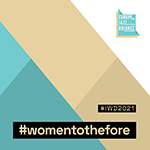 Continuing on with our Women in Jazz series, Jazz In Europe together with the Europe Jazz Network will be highlighting some of the most prominent women currently active in today's jazz world under the common hashtag, #womentothefore. Each day we will be publishing new interviews and re-publishing some great articles that we have published over the last few years. Yesterday we published part one of a great two part interview with Maxine Gordon by Fiona Ross, Today you can enjoy part 2. Stay tuned for more great articles and interviews featuring women in jazz over the next to weeks.


I have been very fortunate to meet some truly incredible people through my work in the music industry, but there are two people that stand out for me. They stand out because they, unknowingly, made me not only re think what I do and why I do it but actually develop and change my perceptive on things. We are all happy to speak of issues that concern us, but how many of us take action? How many of us use the platforms we have – and we all have a platform – to make a difference? Snow Owl is one of these people – and Maxine Gordon is the other.
'Jazz to me is a living music. It's a music that since its beginning has expressed the feelings, the dreams and hopes of the people' – Dexter Gordon
Maxine Gordon, among many things, is a passionate arts advocate and one of her roles is as a senior researcher for the Bronx African American History Project, at Fordham University, USA. The project is phenomenal. It explores the lives and stories of hundreds of African American's who lived in the Bronx since the 1930s and focuses on the economic, cultural, religious and political histories. Maxine's book 'Sophisticated Giant – the Life and Legacy of Dexter Gordon' explores what life was like through not only Dexter Gordon's eyes, but many others. It is not 'just' a Jazz biography. It is so much more.
MG: I wanted to write the story of the culture of his life, musical and social political culture and he be the character in it to tell the story, but the story would be bigger. Many of the books I have read tend to be, very linear, very much about where they were, what they recorded. …and not so much about the history and the culture. So, my idea was to present Dexter in relationship to African American history and culture. I mean our focus is jazz, of course, but there are many other issues that need to be addressed. I have been doing some work with Camille Thurman and was talking with the woman who is organising her tour etc. We were discussing this and how it would be for Camille and she said we have gender training now. The men have to go to these courses and basically learn how to behave. One of the men who took the course – he's a friend of mine – he said he took it twice and got a certificate in like gender behaviour! The culture is very conservative even though the music is not. The people are very slow to accept change and this is true in many of the institutions, in Jazz studies programmes. You know, I mean, there's no women. A woman just got a job replacing Geri Allen, who just died, but she's probably the only one. All the other programmes have men, white men, very few African Americans and hardly any women.
FR: It's a complete contradiction to what Jazz is, to what jazz is about?!
MG: Right! I mean now, they are being forced to come into the real world. My friend who did the gender course, and this was specifically for musicians – and he's a really cool guy – said it was great but you know, I have never seen him be anything other than correct. He said it was very good because now there are rules – don't touch, don't make these jokes, if you see something you have to approach it, don't let anyone be alone in a situation – and this is really what Dee Dee (Bridgewater) and I were saying. You know in the past, you really didn't see a lot of men step up when there was a problem, but I never had that problem because Shirley Scott – who was my friend – we worked together and we always had back up, men that we could call, great people – we called them our bodyguards, ha – but I do know that was unusual.
Maxine is very passionate about sharing and supporting unknown artists and the book explores many musicians that the audience may not know. We discussed the problems with promoting musicians who have made a significant contribution to the Jazz industry but that are virtually unknown.
MG: I have talked to people about writing books about lesser known musicians, but you know, nobody wants to publish them. What would be good would be if in the academic world, people would do dissertations and theses, specifically on people that made contributions that don't have the big name. Then maybe they could be collected into a book or something. When I had the first reading of my book, we had an anonymous reader and he said he didn't see any reason to mention all the members of Lionel Hampton, Billy Eckstine and Louis Armstrong bands, 'because after all, no one's ever heard of them'. I said, well of course no one's ever heard of them because no one ever mentions their names! We were doing the index, I told them, every single musician needs to be included, which makes for a very long index – but I don't care. They all have somebody who is related to them, or knew them and I just find it unacceptable to not include them.
'If you mention them they will be heard'
– Maxine Gordon
Maxine's knowledge of the music business from quite early on in her career is rare. So many musicians made barely any money, lost the rights to their music and signed contracts that were quite simply, not in their best interests. This still goes on today. I was curious as to how Maxine seemed to have a business 'know how', that so many others lacked during this time and in fact, now.
MG: I think it came from the musicians, especially early when I was thrown into it and I didn't know anything. You know I always say, if you can play an instrument and improvise, you can read a contract! They were always like we can't understand it, legal wording etc., but I would say sure you can! It's English, you know. There was this book, written for musicians and we always went to this book.
At this point Maxine went online, while we were talking to track down this book. It may have been the first book published about the music industry. She found it. It is now in its tenth edition – 'This Business of Music' – and was first published in 1964 written by Sidney Shemel and M. William Krasilovsky.
MG: I probably still have a first edition! So, I studied that and you know the way it was written made it easy to understand – and if I don't understand something, I ask, I like to learn one on one. But now, I see they have music business courses and they cover the 'rules' of the business, here's a typical contract etc., but they're missing the hands on and you know, put the human factor in business, right? It's a huge problem. One of the big problems. I've been thinking of doing more work on the political economy. There were times when musicians would come to me and we would go through contracts and I would say, you can't sign this – they will own the rights to your recordings forever. But they would say, yes, but Max, I have bills to pay, I have to pay my musicians so it's a way for me to give them some money. I come from their point of view, I don't come from outside of the music. I was told by a promoter once that I had no future in this business because I like musicians too much.
Maxine is a huge supporter and advocate of new artists, not only sometimes advising on the business side of things but regularly going to gigs not only in New York, but across the country.
MG: I want to go and support and I am totally opposed to the idea that it is over, you know that everything good has already happened, Jazz is dead etc. I also have the over 80 rule – if they are over 80 and still working, I have to go and see them. But a lot of times with what we call the older crowd, and they talk and say it's over and that new musicians don't understand
but you know when the beboppers came out, all the older guys said the same thing… these guys can't play… it's just totally not true. There are all sorts of young people out there doing great things. And you know, these young people find gigs in places I've never heard of, like in the mountains, with actual bears. I spoke to this young drummer at a doughnut place – they made the best doughnuts, soooo good – and he said to me 'I don't play this music for the money. I play this music for the love of the music'.
One of the chapters in Maxine's book is called 'Mischievous Lady' which focuses heavily on Melba Liston, the trombonist, composer and arranger – Dexter Gordon dedicated the song of the same title to her. She is known for being the only female trombonist playing with the likes of Dizzy Gillespie, Coltrane, Billie Holiday, Count Basie etc. A formidable woman in a male dominated industry
'The only way I could survive was that I was young and strong then' – Melba Liston
MG: My next book is about four women – Shirley Scott, Melba Liston, Velma Middleton and Maxine Sullivan. I'm currently working on the proposal and thinking about picking a moment from their lives and writing around that. I'm giving a talk about Louis Armstrong in August and writing an essay on Errol Garner and then I'm going to devote some time to the next book.
I cannot wait.
Maxine's book shows us not only the world Dexter Gordon lived and breathed, but many other musicians we know, don't know and should know. We see the reality of the Jazz world, the unthinkable hardships and struggles brought together through the common love of music. The book is incredible. Maxine Gordon is incredible. Her passion to share, explore and discuss the reality of the Jazz world is a true inspiration. As I stated in part one, Maxine Gordon not only holds and shares the flame of Jazz, she is an actual part of that fire.
Interviewer: Fiona Ross
Read Part One of this Interview here.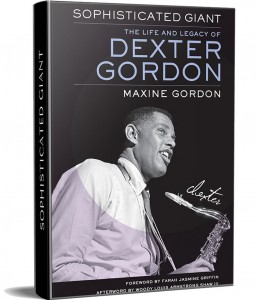 Sophisticated Giant – The Life and Legacy of Dexter Gordon
Maxine Gordon's Biography of Dexter Gordon is to be published in November 2018 on University of California Press. The first edition is in Hard Cover and contains 284 Pages and is now available for pre-order direct from the Dexter Gordon website or at Amazon.
Last modified: May 3, 2021