The date was 20th of January 2020 and Fay Claassen, together with 30 of the Netherlands top musicians, took to the stage at Rotterdam's Lantaren Venster to present Fay's latest album "Close to You" to the public.
The 20th of January 2020 was an important day for another reason. This was the day the news broke about the first cases being detected of the Corona virus (Covid 19) outside of China. Little did we know that just a month later the global music industry would be confronted with it's greatest threat since the outbreak of the second world war.
Fay Claassen together with producer/arranger Roeland Jacobs had spent a large part of 2019 working on her "Close to You" album. The concert at the Lantaren Venster in Rotterdam was meant to be the first in an extensive tour to promote the album that had just been released. Unfortunately the majority of this tour did not take place due to the outbreak of the virus and the restrictions required to slow it's spread within the community.
Luckily the Rotterdam concert was recorded. Although the tour never took place the good news is that the live concert can now be viewed in it's entirety on YouTube. Below you can watch the entire concert.
Fay has always been known for her wide repertoire choice and and her ability to fearlessly go where most would not dare. The album "Close to you" is Fays latest release and once again is confirmation of this. As mentioned above "Close to You" was released earlier in 2020 and follows her 2018 release "Dutch Songbook", recorded with the WDR Big Band, that also reached into a treasure trove of material rarely touched by jazz artists.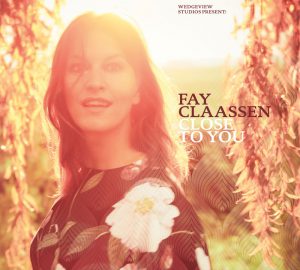 "Close to You" (Wedgeview Music) features eleven spectacular arrangements of well known pop gems, largely from the late 1960's and early 1970's, including among others compositions by Lennon & McCartney classic "The Fool on the Hill", Blood, Sweat & Tears "Spinning Wheel" and of course the title track, Burt Bacharach and Hal David's "Close to You". The album features spectacular arrangements by Roeland Jacobs that elevate these classic songs to a new level while at the same time paying full respect to the original. The musical performances throughout the album are excellent yet, in my opinion, it is Claassen's vocal performances on this album that make this set a true winner.
If you would like to find out more on this album you can read our review here. The album is available to buy, download or stream here.
Last modified: March 10, 2021