British guitarist Patrick Naylor will release his new album titled "Winter Dream" on March the first. Having had access to a pre-release copy I was inspired to put my impressions on the record.
The album is Patrick's follow up to his successful "Days of Blue" (2015) album that so far has generated over 1.5 million streams on Spotify. This album was recorded in 2 sessions shortly before the pandemic broke out at Beeboss Studios and features 9 original compositions, 8 composed by the leader with the 9th penned by pianist David Beebee.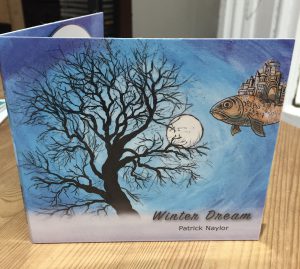 Joining Patrick on the album are David Beebee on piano, Jakub Cywinski on double bass, Milo Fell on drums, with the Saxophone chair being filled by Ian East and Julian Costello. I always advise the artists I work with to make sure the first track on the album is fully representative of the album as a whole and get's to the "meat and potato's" quickly. Why, well research shows that most listeners form a decision, either conscious or not, within the first 30 seconds of listening to the first track. Naylor's opening on the album titled "Where are my Glasses?" does exactly what it should, it draws the listener in and leaves them wanting more. Regarding the title, Patrick stated the track is a "… perennial middle-aged cry of annoyance", I had to laugh, tell me about it!
One of the first things that I noticed about this album is beautiful sound. The credit for this has to go to pianist David Beebee who also engineered this recording at his studio in Brighton. The compositions are exceptionally well crafted and performed spectacularly. The rhythm section is rock solid and extremely tasteful and both Costello and East's contributions on sax are lyrical and blend perfectly within the whole, whether doubling the melody or soloing in their own right. However, while is album is in now way a guitar showcase it is, without a doubt, Naylor's party. Throughout the album he makes full use of the range of sounds he has available from a more traditional jazz sound as heard on the title track to the more ethereal and through to the down right grungy as you will hear on "Tory Drug Off". Just as a side note Patrick describes this last track as: "A musical depiction of the bizarre spectacle of Tory leadership candidates vying to outdo each other in admitting to drug taking in 2019."
While I truly enjoyed this album in it's totality I felt there were indeed a few standout tracks such as the Blues infused "Do I Know You?" and the hypnotic soundscape created in "Satori". This track is one of the most personal compositions and was written by Naylor and dedicated to a student of his who passed away far to young. Patrick composed this after discovering a commemorative park bench dedicated to her in Highgate Woods.
As mentioned above I enjoyed this album a great deal and recommend it highly.
Line-up:
Patrick Naylor – Guitar | David Beebee – Piano | Julian Costello – Soprano Sax (tracks 2 and 6) | Ian East – Sax | Jakub Cywinski – Double bass | Milo Fell – Drums
Track Listing:
1. Where Are My Glasses? 06:24 | 2. Satori 08:09 | 3. Winter Dream 03:54 | 4. Do I Know You? 06:47 | 5. Almost Through 05:24 | 6. Tory Drug Off 05:59 | 7. Winter Space 03:51 | 8. B For Blues 07:17 | 9. Rugby Street 05:08
Release Date: 1 March 2021
Format: CD | Digital
Label: Self Release.


New Release Spotify Playlist
The Jazz In Europe New Release playlist features tracks from the new releases featured on Jazz In Europe. Updated weekly, this playlist is the perfect place to discover new music from the leading jazz musicians currently on the scene. We hope you enjoy this selection.
The best way to keep up to date with all the latest releases is to follow us on Spotify. Just click the button below.
Last modified: February 15, 2021