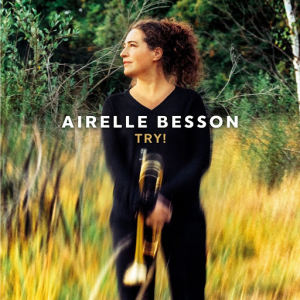 French trumpeter Airelle Besson will release her new album "Try" on March 5th. This album is the follow up to her 2015 debut "Radio One". "Try" is described in the press release as a "natural continuation of the first with the same approach of research and a quest for sound." I would agree with this however after listening to both albums I feel "Try" is far more open and perhaps more ethereal in nature.
One major common thread is the instrumentation and line-up. The combination of Besson's trumpet with the lyric-less vocals of Isabel Sörling is in my opinion far more developed on this release and believe me, this is no criticism of the previous album. Considering that the quartet had been consistently performing since the release of "Radio One" one would expect this to be the case.
I truly enjoyed this combination, the two voices fit together seamlessly creating a unique soundscape. Both Benjamin Moussay and Fabrice Moreau provide excellent support throughout providing, not only a solid basis for Besson and Sörling, but also forming an integral part of the soundscape both harmonically and melodically. The lack of an individual bass player does not at all detract and the application of a Bass Synth in fact seems to open up possibilities.
Trained in both classical and jazz fields, and naming her major influences as Bach and Keith Jarrett, Besson's Trumpet sound is unique, capturing the cleanness and precision of classical trumpet with more than enough color to satisfy the jazz sensibilities. I suggest this is one of the major factors as to why the trumpet voice interplay works so well.
According to the album notes, "Try" was recorded in August after just two days of rehearsal. This lack of preparation time certainly can not be heard in this recording and is a testament to the musical relationship of these players have  built up over the years of performing together.
This album is a gem. It may take a few listens to experience the full beauty but it's worth the time. Highly recommended.
Line-up:
Airelle Besson (Trumpet) | Benjamin Moussay (Piano, Fender Rhodes, bass synth, modular synth) | Isabel Sörling (Voice) | Fabrice Moreau (Drums)
Track Listing:
1. The Sound Of Your Voice Part I | 2. The Sound Of Your Voice Part II | 3. The Sound Of Your Voice Part III | 4. Wild Animals 5. Angel's Dance | 6. Try ! | 7. Patitoune | 8. Uranus Et Pluton | 9. Fly Away | 10. Après La Neige | 11. Lulea's Sunset.
Release Date: 5 March 2021
Format: CD | Digital
Label: Papillon Jaune


New Release Spotify Playlist
The Jazz In Europe New Release playlist features tracks from the new releases featured on Jazz In Europe. Updated weekly, this playlist is the perfect place to discover new music from the leading jazz musicians currently on the scene. We hope you enjoy this selection.
The best way to keep up to date with all the latest releases is to follow us on Spotify. Just click the button below.
Last modified: February 26, 2021