Pianist/composer Alan Broadbent and vocalist/lyricist Georgia Mancio cement their reputation as "one of the most formidable songwriting partnerships of the 21st century" with a new album, Quiet Is The Star, and the publication of The Songs Of Alan Broadbent and Georgia Mancio – a book of their 33 originals.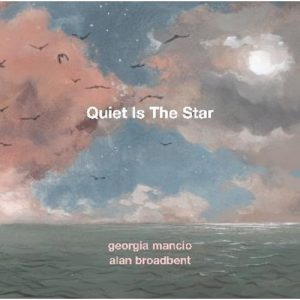 Quiet Is The Star spotlights the purity and parity of the duo setting, in nine co-written songs exploring the ties we weave in life: sisterly, maternal, romantic, universal. One voice, one piano, one dialogue. Georgia's deeply nuanced singing is embraced by Alan's rhapsodic solo piano, indicating the breadth of his musicianship, from accompanist to Big Band/orchestral leader.
Recorded in late 2019, Quiet Is The Star follows their first album of originals, Songbook (2017) and re-unites with producer Andrew Cleyndert and artist Simon Manfield, whose bespoke watercolours perfectly accompany the subtle variations of mood.
The deepening personal resonance in both the songwriting and performances is palpable as is the flow between them. Let Me Whisper To Your Heart, for instance, was inspired by a letter left to Georgia by her late mother; All My Life a tender dedication to her sister and When You're Gone From Me, initially conceived by Alan at just 16 years old, now finally complete with this most poignant lyric, 55 years later.
Where there are silhouettes of associations lost (I Can See You Passing By, Night After Night), there are others waiting to be found (If My Heart Should Love Again, If I Think Of You). Even the touching Tell The River, dedicated to Sandra Bland (one of many Black Americans devastatingly killed by police authorities), is defiantly and gracefully countered by its message of peace and solidarity. And the elegiac title track, Quiet Is The Star, aptly reminds us of the fragility of human existence: "we're only travelling, from first to last".
Alan and Georgia began performing together in 2013, touring Europe and the US for six consecutive years in duo and quartet, with performances including world renowned jazz clubs in their respective home cities: Dizzy's (Jazz at Lincoln Center, New York) and Ronnie Scott's (London). In 2014, Alan invited Georgia to write a lyric for The Long Goodbye, his composition for Charlie Haden's Quartet West. This became The Last Goodbye, immediately revealing their chemistry and the fortuitous start of their songwriting partnership.
They have now written 33 songs together, over these last seven years, published now in their new book: The Songs Of Alan Broadbent & Georgia Mancio. Available in both digital and physical formats (wire-bound to stay open!), this 94-page volume is presented with the elegance and expanse of an art book, with clear lead sheets (in standard female keys), Simon Manfield's evocative artwork from both their albums (Songbook and Quiet Is The Star), photos and song by song descriptions.
From the profound poetry of ballads, waltzes and bossa novas to the linguistic and melodic joy and gymnastics of bop and samba; through journeys and resting places, childhood and old age, community and solitude: their collection displays an astonishing conviction and consistency, already praised and performed by artists Sheila Jordan, Janis Siegel, Tierney Sutton, Claire Martin, John Proulx, Judy Wexler and Norma Winstone.
Both album and book showcase the enduring strength and magic of this transatlantic team. Alan's sophisticated melodies find their perfect match in Georgia's superbly crafted lyrics of both beauty and bite, undeniably setting the standards of the future: "surely worth waiting 50 years for".
Both album and book are set for release on the 27th of March. Single releases are planed for release on the 27th of Feb (Let Me Whisper To Your Heart) and the 13th of March (All My Life).
Both the book and the Album are available for pre-order here.
Line-Up:
Alan Broadbent, piano & music | Georgia Mancio, voice & lyrics
Track Listing:
1. I Can See You Passing By (04:35) | 2. When You're Gone From Me (05:12) | 3. Let Me Whisper To Your Heart (04:44) | 4. Tell The River (05:20) | 5. All My Life (02:47) | 6. If I Think Of You (04:45) | 7. Night After Night (04:50) | 8. If My Heart Should Love Again (04:51) | 9. Quiet Is The Star (03:11)
Release Date: 27 March 2021
Format: CD | Digital | Book
Label: Roomspin Records
Publisher: Broadbent Music / Georgia Mancio / Roomspin Productions
Last modified: February 24, 2021