Although I am very late in writing about this beautiful book, I believe there is never a bad time to shout about something wonderful.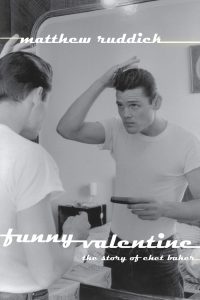 Much has been written, discussed, filmed and debated about the life of the legend Chet Baker and I am in absolute awe of anyone who finds the courage – and has the right skills – to undertake such an important and complex subject. Matthew Ruddick does not disappoint. The book is stunning. Focusing on three elements that he felt had previously been missing – human, appreciation and heroism – Matthew's exceptional book delves into Chet's life from every angle with sincerity, transparency and allows us to see Chet in all of his many colours. It is a hugely welcome and necessary addition to the existing work.
Matthew explores Chet's great work with the poor, analysing these issues through interviews and quotes from incredible sources and his dedication and meticulous research is evident throughout. Where is Chet's place in Jazz history and why? Huge questions and ones that are thoroughly explored, from every angle. As you would expect, Matthew explores Miles Davis and Wynton Marsalis' scathing thoughts on Chet's work and when Ian Carr, author of Miles Davis: the Definitive Biography says 'But the most important thing about music is feeling; Miles could move people to tears' Matthew, steps in and subtly but poignantly, makes it clear that 'one could make the same argument about Chet's playing'. His love, respect and understanding of Chet's work stands proud throughout the book.
The forever open and never answered question of can we and should we separate Art from the Artist is forever present and in the case of Chet, I do wonder why we should even ask – Chet is his Art and Matthew shows us this unquestionable connection in no uncertain terms. Drummer John Engels says it beautifully – 'Chet is important because of the music. How can I explain? He made you cry inside. It has to do with the heart, the soul'.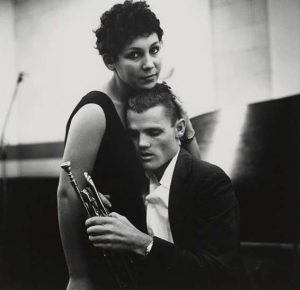 Matthew is currently working on a new book and although the subject is top secret at the moment, it will no doubt, be superb. In the meantime, if you are looking for a beautifully written exploration, celebration and a deeper understanding of Chet Baker, this is the book for you. Highly recommended.
Published by Melrose Books
Cover design by Catherine McIntyre, photo by Graziano Arici
To purchase 'Funny Valentine' please contact Matthew Ruddick directly at mattruddick@mac.com
There are 20 limited edition hardbacks available, which come signed and numbered available for £40.
Paperback edition available for £15 +P&P
Matthew Ruddick is the co-founder and editor in chief of the Kind of Jazz Website.
Last modified: January 22, 2021