This December, Tim Garland launches his "Winter Encounters" – a series of unique trio performances, beautifully filmed and streamed from Oak Gable Studio.
Each 45-minute set features a unique collaboration of world-class musicians followed by a live Q&A session with the artists, starting with Kit Downes & Norma Winstone on December 6th.
Over the last 30 years, British saxophonist Tim Garland has forged a reputation as a highly distinctive and in-demand musician and composer. His vast CV includes world tours with Chick Corea , large-scale orchestral commissions, a Grammy Award and his own award-winning jazz projects featuring the likes of Joe Locke , Geoffrey Keezer , Gwilym Simcock and Asaf Sirkis .
Whilst often inspired by influences from the diverse European classical tradition, his celebrated virtuosity as a saxophonist and improviser maintains his position as one of the UK's most authentic jazz voices.
Winter Encounters launches on the 6th December as Tim (saxophones & bass clarinet) is joined by legendary singer Norma Winstone and ECM recording artist Kit Downes at the piano.
These lyrical and highly emotive one-off performances will continue throughout the winter months, and are available to watch on a per-performance basis.
All sets are streamed at 9pm GMT (4pm New York) and are followed by a live Q&A session.
Joining Tim (saxophones, bass clarinet) for the first three Winter Encounters are:
6th December Norma Winstone, Kit Downes
20th December Liane Carroll , Jason Rebello
27th December Ayanna Witter-Johnson, Jason Rebello
More Information and tickets can be found at Tim's website here.


Jazz In Europe Magazine – Summer 2020 Edition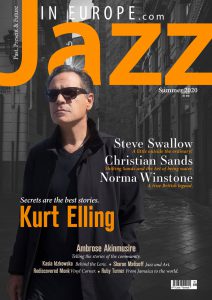 An in-depth interview with Norma Winstone can be found in the Summer 2020 edition of the Jazz In Europe print magazine.
Also included in this edition are interviews with Christian Sands, Steve Swallow, Ambrose Akinmusire and Ruby Turner. We take a look at some rediscovered Thelonious Monk recordings, Nigel speaks with the painter Sharon Matishoff about her work painting portraits of Jazz Icons and our photo feature for this edition features the work of Polish photographer Kasia Idzkowska.
You can purchase a copy of the magazine here.

Last modified: December 2, 2020