The live rounds will take place in the 7 Virtual Rooms. The pre-selection process has concluded. It's time to cast your vote for your favourite performances!
On December 10th 2020 – 7 Virtual Jazz Club proudly announced that the pre-selections of the fifth edition of the contest are over. They received high-quality video-performances from all around the globe.
Until January 7th jazz lovers worldwide can vote for their favourites, by liking them on YouTube Channel. The three most voted musicians will win the Web Community Prize (direct access to the
final).
GO TO LIVE (link: http://www.7virtualjazzclub.net/live/)
JUDGING PANEL 2020 (link: http://www.7virtualjazzclub.net/judges/)
The semifinalists in each virtual room are as follows:

Billy Holiday Room

Sol Jang International Project (South Korea); Elay Kadosh (Israel); Michel Meis Quartet (Luxembourg); Alex Hitchcock Quintet (UK); Greg Johnson (USA); ShekBand (Ukraine); Maripepa Contreras Quintet (Spain).
Duke Ellington Room

Aubrey Logan with Hagelsag (USA); Rachel Terrien (Canada); NAUSYQA (Italy); Salaamata Trio (Indonesia); Ashley Pezzotti (USA); Mateusz Gaweda trio (Poland); Brian Eisenberg Jazz Orchestra (USA).
Jelly Roll Morton Room

Chuck Israels trio (USA); Kasyfi kalyasyena (Indonesia); Maria Mendes & Vincent Houdijk (Netherlands); Win Pongsakorn International Quartet (Thailand); Anuraag Dhoundeyal Collective (India); Milan Verbist Trio (Belgium); Daniel Dyonisius (Indonesia); James Fernando (USA).
Louis Armstrong Room

James Copus (UK); Tommaso Perazzo Quartet (Italy); Gabriela Martina (Switzerland); Marvin Frey Group (Germany); Yuichiro Tokuda RALYZZDIG (Japan); Lukas Gabric (Austria); Davide Battista (Italy).
Charlie Parker Room

Camila Ronza (Brazil); Tawanda Suessbrich-Joaquim (USA); Chai Masters (Spain); Patrick Lui Quartet (Hong Kong); Piotr Matusik Trio (Poland); Kind of Glue (Italy); Mikhail Mendelenko Trio (Ukraine).
Ornette Coleman Room

Ivo Neame Big Band (UK); Tobias Meinhart (Germany); Claudia Campagnol (Denmark); Alex Weitz group (USA); Treis protoporos (Japan); Jason Mountairo Big Band (USA); Ada Flocco (Italy).
Django Reinhardt Room
Roni Eytan (Israel); Monika Kabasele Quintet (Greece); Aki Rissanen Trio (Finland); Juan Posso Jazz Trio (Ecuador); Gio Rossi – Lime Virtual Big Band (Italy); Trance Trio (Portugal); Eytan Schillinger- Hyman (USA).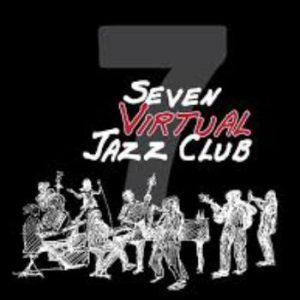 About The Contest

The contest is a unique music competition for solo artists, bands, and singers from all over the world. We believe that jazz is about more than music. It's about emotion, creativity and soul.
Our goal is to find truly outstanding performers and share their music with the world. The competition will be judged by a panel of international jazz industry experts. The contest is open to
amateurs and professionals of any age from anywhere.
Website – www.7virtualjazzclub.net
Contact email: info@7virtualjazzclub.net
Last modified: December 29, 2020