New Orleans is the inspiration for the new album NOLA by the Dutch trumpeter Ellister van der Molen. In 2019, together with Hammond organist Bob Wijnen, Ellister visited the birthplace of jazz and this inspired her to write two songs for "NOLA", "Ahooo!" and "Sola" and arrange eleven titles from the New Orleans vocabulary together with Bob Wijnen. The tourists took the opportunity to gain experience on various stages, among others they played with famous trombonist Delfeayo Marsalis.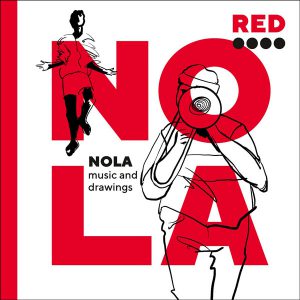 Alongside the trumpeter and keyboardist, the soulful jazz band RED consists of the young talents, tenor saxophonist Gideon Tazelaar and drummer Wouter Kühne. The album lives up to expectations, RED is an excellent quartet and the four play the music that was composed generations ago with a modern twist. The recordings were done live and the musicians play beautiful solos and interplay is well taken care of.
New Orleans is a melting pot of different musical styles: blues, gospel, funk, old-style jazz and modern variants and also musette can be found there. Dr John was an example of a musician who carried the tradition with him and RED is now translating it to Europe in an original way. The album consists of a digital download and a book with images by illustrator Quirine Reijman. She captured the atmosphere in New Orleans in ten atmospheric drawings.
"New Orleans is on every musician's bucket list," says Ellister van der Molen. "Under the current conditions there is, of course, a lot of silence, but normally every day the blues, gospel, funk and jazz sound on countless stages throughout the city. There are streets where a concert takes place three times a day behind each door. The beauty is: all styles coexist. Everyone plays everywhere and all musicians know every style and appreciate every style. It's not like: if you play traditionally, you don't do modern. Or if you play jazz, you don't do funk.''
Bob Wijnen: "There is great respect for the tradition, you don't judge, you just play it. And, if you want to renew: fine, go ahead but it's not done to be innovative. Also, there is actually no distinction between serious music and entertainment music. Even in the more solemn halls, the audience party with you, anytime, anywhere. Music is part of everyday life.''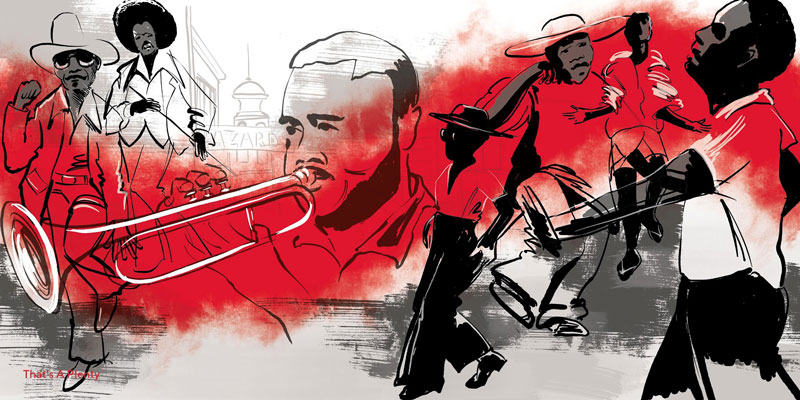 The Louis Armstrong classic "St. James Infirmary" is one of the songs that are inextricably linked to New Orleans, and of course, it's on "NOLA". For Bob Wijnen, the "Hammond song" "Art" by The Meters is the highlight of the album.
"Blues my naughty sweetie gives to me" is also performed. Ellister van der Molen: "For me, this song, which dates back to 1919, is inextricably linked to the soprano saxophone of Sidney Bechet, who put it on record with bass legend Pops Foster. We put a smooth groove under it. From pianist and orchestra leader Jelly Roll Morton we play "Tom Cat Blues". He was an extremely intriguing and extravagant man who made a furore with his colourful compositions.''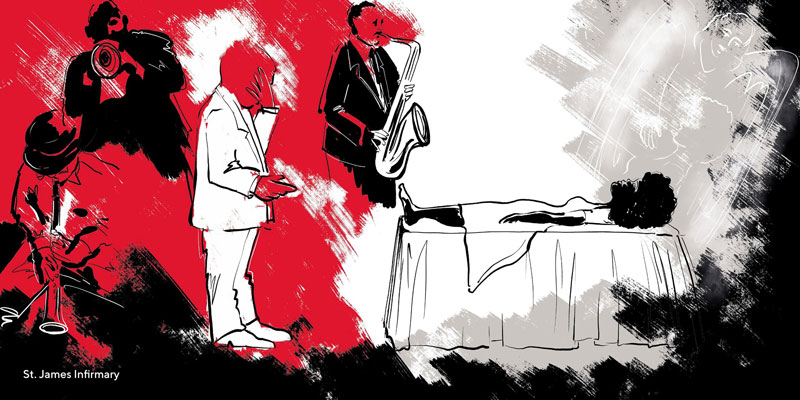 The famous American trumpeter and composer Terence Blanchard has listened to the recordings of NOLA. He is impressed by the album. "Being a New Orleanian I can really appreciate when someone pays homage to the great musical history of my home town. RED fully feels and embodies the vibe and spirit of New Orleans. It is very apparent that Ellister and Bob spent time in New Orleans gaining insight into how the music was created and what it means to the city."
The album "RED | NOLA" will be released by Sound Liaison on Friday 27 November 2020. The digital download is also available without the book. More Information can be found on their website here.
Photo: Merlin Doomernik |Illustrations: Quirine Reijman
Last modified: November 18, 2020