Since the outbreak of Covid at the beginning of the year there have been a plethora of online streaming programs popping up on platforms. Some good, some great and some not worth the bandwidth. recently a good friend tipped me on a series titled "Vocal Gumbo" hosted by Janis Siegel of Manhattan Transfer fame and Lauren Kinhan known for her work with the New York Voices.
When Janis and Lauren found their touring schedules ceremoniously cancelled due to the growing pandemic, they retired to their kitchens and began cooking up ways to keep their artistic juices flowing, creating community through collaboration and keeping the music alive in their lives and the lives of their fellow musicians. Hence, Vocal Gumbo was hatched, proving that the chickens really do come before the egg! Each month, Vocal Gumbo produces an hour+ episode of music featuring artists from around the globe. They curate each show very carefully, bringing together some of the best and brightest singers and musicians. In addition to producing the concert series, Vocal Gumbo hosts two Happy Hours each month. Janis said, "It gives us a chance to commune virtually with a myriad of fabulous guests."
The show's producer, Laurie Green, kindly provided me with an access pass to check out some of the previous episodes and I have to say I loved it. Both Janis and Lauren are natural-born hosts and feed off each other as they introduce a wide range of guests from around the globe for a virtual collaboration or just catching up and discussing current events, music, literature, cooking, life as we know it and hope it to be.
For those readers not familiar with both Janis and Lauren here is a short recap. Janis Siegel's bio states that she is a "Goddess of Song, Queen in the kitchen, unofficial spokesperson for Swiffer™ and Brooklyn Gin."
Alongside her career as a founding member of the musical institution – The Manhattan Transfer – Janis has sustained a solo career that has spawned more than a half dozen finely-crafted solo albums and numerous collaborative projects, amassed a large international fan base and garnered consistently high critical praise – nine Grammy awards and seventeen Grammy nominations.
Over the years, Janis' unmistakable voice has become one of The Manhattan Transfer's most recognizable trademarks. She sang lead on some of the Transfer's biggest hits, such as Operator, Chanson D'Amour, Twilight Zone, Birdland, The Boy from NYC, Spice of Life, Ray's Rockhouse, The Shaker Song, and Mystery. She also co-wrote and sang lead on the Grammy-winning Sassy. She's also gained quite a reputation as a vocal arranger writing five of the charts for the group's acclaimed masterwork, Vocalese, seven charts for the group's Grammy-winning album Brasil, and won a Grammy herself in 1980 for her arrangement of Birdland. These days, you can find Janis in the places she loves most – the studio – producing Vocal Gumbo and various ventures with other artists and singing on a wide array of projects. Pre-pandemic life included touring the world with TMT and her trio, teaching at universities and high schools, and paying tribute to her idol Ella Fitzgerald with a show called ELLA – A Life in Song.
Lauren Kinhan's bio introduces her as a "Singer/Composer who loves good company and a deadline, forcing art out of every crack and crevice and looking for the beauty and pain in it all." Whether on her own highly-acclaimed albums, as a 25-year member of the beloved vocal group New York Voices, or as co-founder of two diverse and inventive supergroups, Moss and JaLaLa, Lauren has always forged her own path as a performer, composer and improviser.
No stranger to the collaborative arts, Lauren takes her years in New York Voices, her long history as a singer/songwriter, producer and arranger and her love of throwing light on the magic of the human voice to new heights with Vocal Gumbo. Feasting on her ravenous appetite to create all the time with a platform that is reaching across oceans and highways to do so, Vocal Gumbo shines a light on Lauren's many hidden talents over the years and is putting them to good use under one umbrella. A lover of many styles with a knack for assimilation, she is soundly in her lane combining her passion for music, activism and celebrating the vocal arts from all over the world.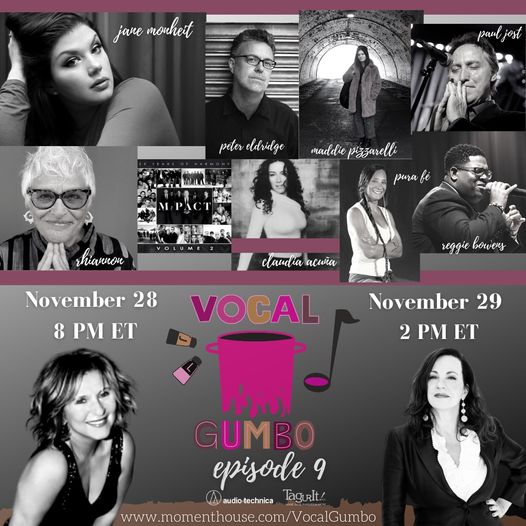 Tonight, Friday 27 November during the Vocal Gumbo "Happy Hour" Janis and Lauren will talk with some of the upcoming artists who will appear on Vocal Gumbo Episode 9 – Jane Monheit, Claudia Acuna and Paul Jost. Special guest will be Sheila Jordan who will be celebrating her birthday. Don't forget to bring your own cake!
Episode 9 goes live on tomorrow night, Saturday the 28th with a repeat on Sunday the 29th. The show features, Jane Monheit, Claudia Acuña, Rhiannon and Pura Fé, Peter Eldridge, Paul Jost, Reggie Bowens, and young artist Maddie Pizzarelli. Tickets and more information on the show available here.
You can find out more about the show at the Vocal Gumbo website and if you wish to support the project you can do so by backing the show at Patreon.
Last modified: November 27, 2020