In the years between 1939 and 1945, three different but somewhat related styles of music grew out of swing: rhythm and blues, spearheaded by Louis Jordan, the early-1940s Lionel Hampton band with Illinois Jacquet on tenor sax, and gospel-blues shouter Sister Rosetta Tharpe; progressive swing, harmonically and rhythmically more advanced, which came out of Eddie Sauter's scores for the Benny Goodman orchestra, the early Stan Kenton band, and poor, benighted Boys Raeburn (followed by Woody Herman's first Herd); and bebop, inspired by Charlie Parker's solos with the Jay McShann orchestra and Dizzy Gillespie's trumpet solos for Cab Calloway.
In addition to this, there were also two unofficial "music labs" in New York City where the more progressive-minded musicians, among them trumpeters Joe Guy and Howard McGhee, pianists Ken Kersey and Thelonious Monk, and guitarist Charlie Christian hung out after hours to jam into the early morning, Monroe's Uptown House and Minton's Playhouse. Yet although progressive swing was based more on the harmonies of classical music, both bop and R&B had a blues base in common, thus in the early days particularly one heard a mixture of the two in much of the music they made.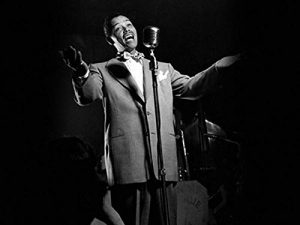 Somewhere in the middle of all this was the Count Basie Orchestra and its very modern-sounding tenor sax star, Lester Young. Although Basie only flirted with bebop in the late 1940s, he was very interested in the music because of its up-tempo blues base, and encouraged its development. And of course, the hard-driving blues rhythms of the Basie band also had an influence on rhythm 'n' blues, so once again there was a sort of circular influence in all of this.
Into this breach stepped one William Clarence Eckstine (1914-1993), a Pittsburgh-born baritone crooner who was also bitten with the jazz bug. It's not well known that Eckstine played pretty good jazz trumpet and fair valve trombone; what most people remember him for is his rich, smooth singing, which he displayed on a couple of hit records with the Earl Hines big band, Stormy Monday Blues and Jelly, Jelly. To today's ears, Eckstine's singing sounds overly sugary except when he sang the blues, but in the 1940s he was very much in the vanguard of pop singing along with Bob Eberle, Tony Martin and Duke Ellington's male singer of the time, Herb Jeffries.
Eckstine made a name for himself with Hines, thus in 1944, he decided to start his own orchestra to back himself. It was a risky proposition and difficult to say where he got the seed money for it. Although he had made a good salary with Hines, Eckstine went all out, hiring Dizzy, Bird and trombonist Jerry Valentine first and foremost, then letting them recruit the other musicians. While it's quite possible that such young unknowns (at the time) as trumpeters Freddy Webster and Leonard Hawkins, trombonist Howard Scott, tenor saxists Budd Johnson, Wardell Navarro Gray and Dexter Gordon, bassists Oscar Pettiford and Tommy Potter, pianist-arranger John Malachi and drummer Art Blakey were probably thrilled to be working with a big-name leader, the ranks of the Eckstine band also included, at one point or another, such established names as trumpeters Al Killian and the great Fats Navarro, trombonists Trummy Young and Claude Jones, baritone saxist Leo Parker and singer Lena Horne, and I'm sure their talents did not come cheaply. Luckily for him, he brought young Sarah Vaughan over from the Hines band to work with him, and since she always credited Billy as an important influence on her style she, too, was happy to be part of the band.
As one can see from the names mentioned above, some of whom never actually recorded with him (neither Parker nor Gordon can be heard on any Eckstine band recordings or broadcasts), he clearly had the cream of the young crop of bebop players in his ranks. As mentioned earlier, a lot of them came out of traditional swing bands, even some of the "hot" blues bands, thus their playing was a strange mixture of early bop with rhythm 'n' blues, but in 1944 the majority of the music-loving public didn't have the slightest clue what bebop was. They were soon to find out, but by and large it didn't please them.
Among the film clips that exist of Eckstine leading his band, there is a torrid arrangement of one of his original tunes (Eckstine could, and did, write several songs for the band), I Love the Rhythm in a Riff. The orchestra sounds terrific, with young Blakey pounding away on drums and Gene "Jug" Ammons taking the tenor sax solo around Eckstine's scatting.
Throughout the performance, the camera occasionally pans a young black couple sitting, holding hands and listening to the band with smiles on their faces. But at the end, the man turns to the woman and says, "I wonder if they can play ballads as well," to which she answers, "I would think better." That tells you all you need to know about the tastes of the average music listener at the time.
Thus Eckstine realized, early on, that the continued existence of his band would have to rely on hit records, but since he had a big name at the time and sang the ballads that people wanted to hear, that's what most of their commercial recordings consisted of. For all the hot numbers that they wanted to play, and among the very few they recorded, were Eckstine's Top 10 hits A Cottage for Sale and Prisoner of Love, both of which were awarded a gold disc by the RIAA. Fortunately, the band accepted the fact that the ballads paid the bills, and in person he let them loose on hotter charts that weren't recorded, but eventually his luck ran out. By January 1947, Eckstine folded the band and never led another one for the rest of his long life.
You might say, then, that claiming the Eckstine band as a "forgotten" one is a bit of a mixed message. I'm sure that a lot of people remembered the ballad recordings they made, and of course the legend of the orchestra as the first real big bop band continued into the late 1960s, when a series of broadcasts that they made for the Armed Forces Jubilee radio show in early 1945 came to light, but I don't think you can honestly say that the best music this band produced was "remembered" so much as, like the Boyd Raeburn orchestra, "discovered" rather late in the game.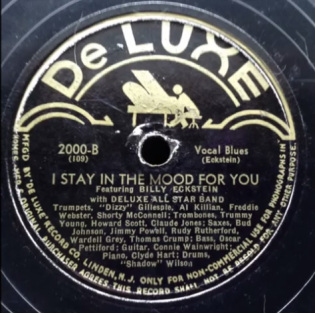 Listening to the best of their commercial recordings—I Love the Rhythm in a Riff, I Stay in the Mood for You (with an excellent Dizzy Gillespie trumpet solo), I Got a Date With the Rhythm Man, It Ain't Like That No More and Opus X—you already get a mixed message. In addition to the frequent allusions to R&B, the ballad arrangements are not really distinguishable from those of any other commercial big band sporting a male crooner, and some of their pieces sounded like swing. Even though the band's theme song, Blues 'n' Boogie, was written by Dizzy Gillespie and Frank Paparelli, the same duo who wrote A Night in Tunisia, it morphs from a hot bebop trumpet lick at the opening (underscored by Blakey's pounding drums) into a Kansas City-styled R&B tune.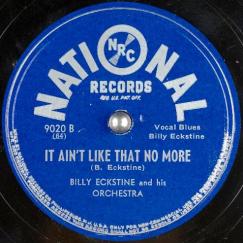 And this mixed musical message is also heard on the Jubilee broadcasts, good as they are. Both Lena Horne and Sarah Vaughan sing fairly commonplace songs such as 'Deed I Do, Mean to Me and Don't Blame Me…in good, tasteful arrangements, but not exceptional ones. Yet when the band really takes off on such numbers as Mr. Chips, Air Mail Special (another tune that bridged both bop and R&B), Love Me or Leave Me and the "live" version of Opus X, you hear something really special, a bop band that is completely together, in tune, and driving. The Eckstine band had none of the intonation and section blend problems that often afflicted Dizzy Gillespie's much more famous bop band of 1947-49, although Dizzy, who was much more familiar to the general public as a jazzman and had the advantage of an RCA Victor recording contract, also had to finally pack it in because the band just wasn't making enough money to meet the payroll. Part of the reason why Eckstine was able to afford his band while Gillespie wasn't was because President Franklin Roosevelt had artificially-induced price controls on everything from food and drink to cars and homes, but after World War II President Truman removed those caps and let the open market fend for itself. The price of everything rose, and in that environment an experimental band like Dizzy's, no matter how good, simply couldn't survive.
Yet on both their commercial records and their Jubilee airchecks, the Eckstine band had a tremendous joie-de-vivre, undoubtedly because they realized that their leader really appreciated their efforts, paid them as well as he could, and sold himself via ballads to make sure they were all paid on time.
This piece was first published by Lynn Rene Bayley on her blog "The Art Music Lounge"
Last modified: November 26, 2020