Since the outbreak of the COVID pandemic GMF, short for Global Music Foundation, has hosted more than 130 virtual events and live stream concerts featuring some of the finest artists in Jazz today. The UK based organization, best known for organizing top-quality intensive jazz courses, both in the UK and Europe, was one of the first organizations to switch to producing live-stream concerts. This as their core activities of presenting jazz workshops was no longer possible due to restrictions. In addition to the Live concert series, GMF has also hosted a series of Virtual masterclasses.
The concerts are performed live, as they happen, and streamed via Zoom. Stephen Keogh from GMF stated "We have done all we can to achieve the best possible audio experience but we can only work within the bounds of the technology available at present. We advise using headphones." Each concert is approximately 30 minutes and is followed by a Q&A session between the audience and the artist(s).
As the concerts are streamed live via Zoom, advanced booking is essential and it's possible to book for a concert up until 60 minutes prior to the start of the stream. This allows time to process the booking and send out the meeting ID and password. All concerts start at 9:00pm Central European Time (8:00pm UK, 3.00pm New York & 12.00pm LA). "It's quite a full schedule and you can find all the details of the events and book tickets on the GMF website." stated Stephen.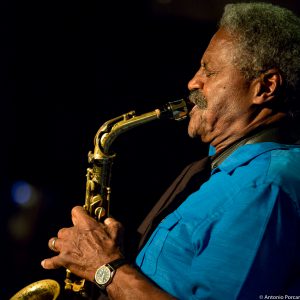 One concert of particular note is a duo concert with Charles McPherson & Rob Thorsen on November 22. Stephen explained "This is a rare online live performance by one of the greatest alto players in the history of the music. At 81 years of age, Charles McPherson is a force of nature. He plays with the fire and vitality of a 20 year old, the virtuosity of a great master, and the wisdom and soul of a great sage all combined."
After growing up in Detroit, Charles studied with the renowned pianist Barry Harris and started playing jazz professionally at age 19. He moved from Detroit to New York in 1959 and performed with Charles Mingus from 1960 to 1972. While performing with Mingus, he collaborated frequently with Harris, Lonnie Hillyer (trumpet), and George Coleman (tenor sax).
Charles has toured the U.S., Europe, Japan, Africa and South America with his own group, as well as with jazz greats Barry Harris, Billy Eckstine, Lionel Hampton, Nat Adderly, Jay McShann, Phil Woods, Wynton Marsalis, Tom Harrell, Randy Brecker, James Moody, Dizzy Gillespie, and others.
Charles was the featured alto saxophonist in the Clint Eastwood film "Bird," a biopic about Charlie Parker. Charles has received numerous awards, including the prestigious Don Redman Lifetime Achievement Award and an Honorary Doctor of Fine Arts from California State University San Marcos. Charles performed this past April at the NEA Jazz Master's 2019 performance during Stanley Crouch's tribute. Widely recognized as a prolific composer, Charles is now Resident Composer for the San Diego Ballet, where he has written three original suites for chamber music and jazz combos.
Charles is joined for this concert by the renowned bassist, Rob Thorsen, one of California's firm favourites.
A full list of the concert schedule for the rest of this month can be found below. The concerts will also continue in December with concerts by Ivo Neame & Julian Siegel, Bobby Watson, Michael Weiss, Scott Hamilton and Jim Ridl to Name just a few. Stephen also mentioned that more concerts for December will be announced soon including New Year's Eve and New Years Day Concerts.
The concerts are listed on the GMF website here however with things moving so quickly Stephen suggested: "If you want to stay fully up to date then the best way is to subscribe to our mailing list and we will let you know what is coming week by week." You can email Stephen here and request to be added to the list.
Below is a full list of the coming concerts in November and a list of artists already scheduled for December. December dates will be announced soon.
November Schedule:
| | |
| --- | --- |
| Friday 20-11-20: | Barry Green & Joris Teepe |
| Saturday 21-11-20: | Michael Kanan Trio |
| Sunday 22-11-20: | Charles McPherson & Rob Thorsen |
| Thursday 26-11-20: | Rob Barron; solo piano |
| Friday 27-11-20: | Sara Dowling Trio |
| Saturday 28-11-20: | Ray Gelato |
| Sunday 29-11-20: | Bruce Barth |
So far Scheduled for December are:
Ivo Neame & Julian Siegel
Francesco Petreni & Maria Laura Bigliazzi -"Dois"
Mathew Fries
Isabel Stover
Bobby Watson
Steve Ash
Hyuna Park
Michael Weiss
Scott Hamilton
Jim Ridl
Danny Grissett
For tickets and more information please visit the GMF website here.
Last modified: December 3, 2020