Composer and pianist Clare Cope has released a stunning debut album entitled 'Small World'. Inspired by her love of travelling and human experiences and connections, Clare along with her fantastic band, Ensemble C, take us on a wistful and fulfilling journey. Each track has a varied and unique inspiration that is communicated through the music beautifully.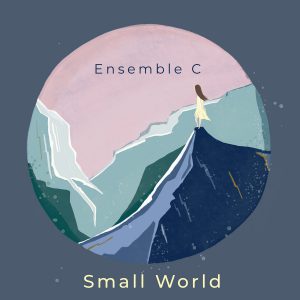 All tracks are superb, and the textures created throughout the album clearly demonstrate the extremely high quality of not only the musicians, but Clare as a composer. She states that the album is 'Inspired by a love of travel, as well as the power of human connection and our common hopes, 'Small World' celebrates the great versatility, yet inherent 'smallness', of our world'. Her vision is expertly communicated and the life and energy that pours out of her work, is inspiring.
With themes ranging from her trips to Kenya, the film 'First Man' and the birth of her niece, there is something to capture us all. A particular highlight for me is 'Travelling Again'. Inspired by the Du Fu, the famous Chinese poet, considered by many to one of the greatest poets of all time, Clare adds vocals to his beautiful words, courtesy of Brigitte Beraha:
'I remember the temple, this route I've travelled before,
I recall the bridge as I cross it again.
It seems the hills and rivers have been waiting,
The flowers and willows all are selfless now.
The field is sleek and vivid, thin mist shines,
On soft sand, the sunlight's colour shows it's late.
All the traveller's sorrow fades away,
What better place to rest than this?'
Much of Du Fu's work is celebrating the beauty in the natural world and this is, in fact, a theme throughout the album. In this track, Clare expertly takes us on this journey with its ups and downs and the dynamic groove and use of rhythm from the entire band ensure we never leave the path. The trumpet and guitar work beautifully together, intricately playing around each other but never overshadowing
An excellent debut album that is highly recommended. Can't wait to hear more from Clare.
Line Up:
Claire Cope – Piano/synthesiser/compositions | Brigitte Beraha – Vocals | Rob Cope – Saxophone | Jack Davies – Trumpet | Jon Ormston – Drums | Ed Babar – Electric Bass/double bass | Tom Varrall – Guitar
Track listing:
1. Intro | 2. A Day in a Life | 3. Spirited | 4. Small World | 5. Sea of Tranquillity | 6. Eyes Open | 7. The Time is Now | 8. Travelling Again | 9. Outro
Release Date: 24 July 2020
Format: CD | Digital
Label: Self Release


New Release Spotify Playlist
The Jazz In Europe New Release playlist features tracks from the new releases featured on Jazz In Europe. Updated weekly, this playlist is the perfect place to discover new music from the leading jazz musicians currently on the scene. We hope you enjoy this selection.
The best way to keep up to date with all the latest releases is to follow us on Spotify. Just click the button below.
Last modified: November 6, 2020