Today Rick Simpson released the first single from his soon to be released re-imagining of Radiohead's Kid A album.
Rick Simpson's impeccable technique and restless imagination have earned him a place at the forefront of contemporary UK music. He's equally at home exploring the tradition or pushing fearlessly against the boundaries, and now his unique creative voice is back in the spotlight with a typically idiosyncratic project: a re-framing of Radiohead's Kid A album, featuring ten original arrangements of the source material played by an all-star band of like-minded musical mavericks.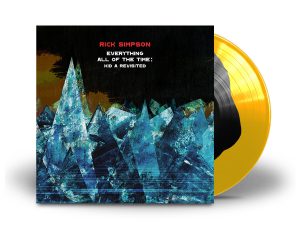 Whirlwind recording artist Tori Freestone joins James Allsop to form the twin-saxophone frontline, and Simpson is joined in the rhythm section by by the universally respected veteran Dave Whitford on bass and upcoming young hotshot Will Glaser on drums.
The project was created to mark the 20th anniversary of the original album's release, as part of a series of sell-out shows curated by Simpson at London's Vortex club featuring non-jazz records rearranged with an improvisational focus. The original show was such a success, drawing in listeners from beyond the club's regular audience, that Simpson re-assembled the band in the studio and recorded the entire album in a single afternoon session "I think the time pressure contributed to the performances. It's really punchy and to the point, but a lot happens – it captures the energy so well". There's a wealth of detail to discover, and surprises at every turn.
'Everything In Its Right Place' sets the scene, with the horns framing a beautifully constructed solo from Simpson, leading into the hushed piano intro of 'Kid A' that builds and builds towards a dramatic finale of controlled chaos. 'The National Anthem's' fractured groove coalesces around a powerful bass figure, spontaneously created by Whitford: "Dave earths the whole thing, with his beautiful, massive amazing sound." 'How to Disappear Completely' shimmers with banks of violins, 'Treefingers' is an oasis of stillness, and 'Optimistic' pulls the listener forward with its impetuous rhythmic rush. 'In Limbo' has a typically unique statement from Freestone, and 'Idioteque' allows Allsop to unleash his fearsome baritone sax: "Tori – she's so free: she goes for it and doesn't hold back, and she never plays any clichés. Her and James are such an amazing pairing – his baritone playing is some of the most dark, vibey playing I've ever heard." 'Morning Bell' features a prodigious solo from drummer Will Glaser – "Will is such a complete musician: he completely understands the right thing to do in any situation. He's a little demon." 'Motion Picture Soundtrack' ends the journey with a hushed, contemplative ballad reading.
Simpson's imaginative, free-flowing arrangements give his superb band space to unleash their own individual voices. Sometimes sticking closely to the original melodies, sometimes re-purposing elements as the jumping-off point for radically new explorations, he leads his creative cohort to create a thrillingly uncategorizable musical experience. This record takes the listener on a journey through an ever-changing landscape of powerfully emotive moods and textures, while still preserving the concise, focused energy and emotional directness of the original.
The album is set for release on the 23rd of October on Whirlwind Recordings and will be available as CD, 180 gram Vinyl and of course on all download and streaming platforms.
Pre-Orders for the vinyl edition are available here.
Last modified: October 2, 2020