River Spirit Music and Jazz Forum Arts have joined forces to present this special virtual concert in association with Musae using their 360°/VR platform to make the show an unforgettable experience. The concert featuring Jason Miles and band will be livestreamed from The Jazz Forum, the only dedicated jazz club in Westchester County, New York On the 24th of October.
Most readers of Jazz In Europe are familiar with Jason however for those of you who don't know Jason: What do Miles Davis, Luther Vandross, Sting, Roberta Flack, Whitney Houston, Chaka Khan, George Benson, Michael Jackson, David Sanborn, Vanessa Williams and hundreds of other legendary artists and musicians have in common? They have all worked with Grammy Award-winning producer, keyboardist, composer, arranger and synthesist Jason Miles. For 46 years, Miles has contributed his vast array of talents and deep musicality to the success of these and countless other superstars and independent artists.
From his groundbreaking work on Miles Davis' Grammy-winning 1986 Album, "TuTu" and eight albums with Luther Vandross (including his Grammy-winning hits "Here and Now" and "Power of Love/Love Power") to his Grammy win for producing Sting (who won Best Male Pop Vocal in 2000 for "She Walks This Earth" from the highly celebrated all-star album "A Love Affair, The Music of Ivan Lins" ) Jason has been a powerful creative force behind some of music's most extraordinary moments.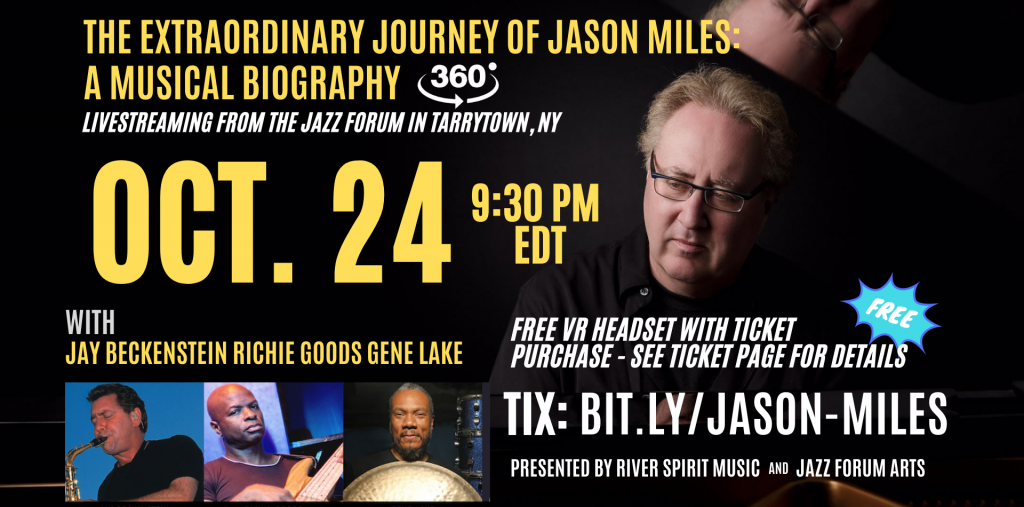 Jason now celebrates his multifaceted career with a one-man show entitled, "The Extraordinary Journey of Jason Miles: A Musical Biography." The retrospective is built around a solo musical performance of Jason playing keyboards, enhanced with one of a kind, in the moment first-hand stories and colorful anecdotes of the professional and personal relationships he had and continues to have with many music legends.
Jason's unique gift of storytelling and his musical virtuosity make this a fresh and entertaining show, which coincides with the release of his highly anticipated upcoming companion book "The Extraordinary Journey of Jason Miles… A Musical Biography" and his new solo piano/keyboard-based album Just For You.
TICKET / CONTRIBUTION LEVELS
If you're struggling due to the Coronavirus situation, take advantage of our "Pay What You Can" offer. If you're able to contribute more, to help someone else pay less, please do!
$5 — I Just Need to Smile Right Now
$15 – Fan of Jason Miles
$25 – Friend of Jason Miles
$50 – Supporter of Jason Miles
$100 – Patron of Jason Miles
Once you purchase your ticket you will receive a link and you will be able to watch the performance as many times as you wish once it is premiered on the live stream broadcast.
More Information can be found here.
Last modified: November 17, 2020