London based nu-jazz duo, Vertaal have been kicking up quite a storm in the past year. Having played at key venues and festivals including Ronnie Scott's, Jazz Café, Cambridge Jazz Festival and radio play including Jazz FM, they have been promoted as 'ones to watch' by Jazz Re: freshed. I thought it was high time I listened to their music and caught up with this duo.
Vertaal are Ajit Gill & Theo Howarth and according to their profile, they share 'a love of groove & improvisation, forming musical ideas traversing spiritual nu-jazz, Dilla-esque hip-hop, broken beat & neo-soul'. Ok, well I'm in. I spent an evening pouring over their tracks and I am now completely hooked. Their music is seductive, beautifully free yet focussed and full of grooves you can't let go of. Outstanding musicianship from all musicians involved with a special shout out for the always masterful Loren Hignell on saxophone and Severin Bruhin on Bass.
Speaking to Ajit and Theo, there is no doubt about their love and passion for music and the power of music as a language. I asked them if someone said 'who is Vertaal' what would they say?
Ajit Gill: Heavily groove based…
What seemed to me like a two-bar chorus of agreeable nods and smiles came in at this point, in perfect harmony and I must say, there was undeniable groove. I could almost hear the beginning of a raw Earth, Wind and Fire track.
Theo Howarth: Rich harmony… little bit souly…solos… (they both giggle at this point) broken beat and hip hop. I really like instrumental music. (and on a serious note) For me, well for us, a strong thing is friendship. It's not just the freedom of musical ideas it's also mental health and well-being which is a very personal thing for us – sharing our experience and friendship.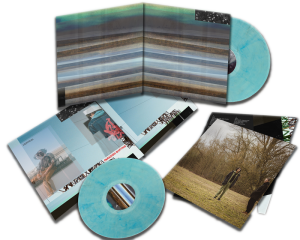 Theo and Ajit's current project 'Paradigm Shifting' is an expanded double vinyl version of their previously released debut mixtape, having readjusted their plans due to COVID related cancelled gigs and the current state of live music. A paradigm shift is a term that has been wildly explored since it was first discussed by the physicist and philosopher Thomas Kuhn in the sixties in his book 'The Structure of Scientific Revolution'. His definition was 'A fundamental change in an individual's or society's view of how things work in the world'. Art – and especially Jazz – is often the perfect tool for exploring this. I asked Theo and Ajit about the name 'Vertaal' (translate in Afrikaans) what it means to them and where Jazz fits into their journey.
TH: The essence of Vertaal is, I guess, the music we want to make – it translates through anything, you know? Verbal language has boundaries and not everyone can understand it, but with music, everyone can understand it.
AG: Yes, I think the way that we play, the improvisation in our music, it's like a dialogue happening live – it's a conversation. We don't come from a background of traditional Jazz playing. We play a mix of different influences, genres and styles that we have come across and yes, I guess the feeling of not fitting in and finding a home for that… Yes, a home for this melting pot of different cultures and ideas to come together.
TH: Our concept of freedom is what I guess, I would link to the concept of jazz.
Theo and Ajit come from very different musical backgrounds and influences but quite beautifully, were drawn together through old school disco and funk.
TH: We met working for a disco band, and I'd been there for a few years, but I hadn't really experienced 70s disco – I knew of it, obviously, but I wasn't really appreciating it. I think over the years, this is where I grew the love for groove and developed that ear for a more complex harmony and I just suddenly started getting it. Ajit came on the crew and we were starting to get into it and wanted to do it, but you know, not in Spandex…Ajit came into my studio and I had some demos, and we started just drumming it out. I changed some stuff and reworked it to Ajit and the irony of that was that I ended up repurposing some other parts from another album and well, that's how Vertaal was found really!
AG: Yes, our backgrounds musically are very different. I come from a more Hip Hop, Rock kind of background as far as playing, whereas Theo comes from a more production-based background.
TH: I guess our family background music is very different, but then we also meet in the middle around a bit of funk and groove and sort of and inspired to be part of the London scene in a way – a way we can.
The 'London Scene' dominates our conversation quite a bit, and there have been many discussions over the past few years about how important the London scene is and all the new sounds that are coming from it. Obviously, London is the home of arguably the most famous Jazz Club in the world, Ronnie Scotts, but these discussions, this 'new scene' is about a new, diverse and exciting musical arena that gently nods to the traditions but develops that true Jazz conversation – freedom too experiment and feel.
AG: I spent a lot of time in London and studied at ICMP (Institute of Contemporary Music Performance) so I spent a lot of time seeing what was happening in London. That was very much inspiring me and driving me at that time and basically, I aspired to be in that scene. It was such a melting pot – I always had this sort of idea of what Jazz was and then to hear this London Jazz scene and go and see these nights where it's not traditional Jazz… a lot of stuff coming from a lot of different influences and places it was like …wow! I thought I didn't fit into a lot of the stuff, but it was just mad to see what was going on. It finally felt like there was a space to be able to do me, a home. That's why I think I am drawn to the London scene in particular.
TH: We've been part of the London Jazz scene, gigs we've done and venues we've played in but actually we aren't sonically part of it, almost.
AG: Yes, and influences from outside the scene that really play a part – we bonded over a lot of the Robert Glasper stuff and the groove element and that was a big thing that went into our melting pot.
TH: I think the US hip hop scene is a big call for us – Kendrick Lamar etc.
The strong chemistry between Theo and Ajit is clear. The energy that exudes from them both when they talk about their music, their vision and their sound has a beautifully understated groove of its own. We talked about their different skills and experiences and how they work together as a duo.
TH: I'm just a tech! In the studio -sound engineer and live sound – gave me a lot of experience. I was also producing on the side and picked up the keys to be able to share ideas. It's great and definitely Ajit pushes my understanding of timing, time signatures and phrases.
AG: I'm forever learning. Seeing Theo doing his thing in the studio – that's mad! I'm constantly learning and asking questions. That's definitely part of it.
TH: We are the core of Vertaal. We have the feeling we want to push, and we chose who we want to let have a say in that and then, they will divert it a bit.
Just a tech? Theo is not 'just' anything. Everything is recorded and mixed in his studio and the only stage he does not do is mastering which he referred to as a 'dark art'. His skills should not be underestimated, and he is quite the force.
Due to COVID, as with many artists, their gig plans were put on hold, but they were clearly excited and motivated by their current project.
TH: We released a debut tape 'Paradigm shifting' in April and then obviously, we couldn't gig it. We wanted to do more, but we couldn't. So, we kind of sat on that for a bit and then we were just going through some of the old recordings that we had and thought, actually we could do something we this. Our manager kind of pushed us to put it out and on vinyl so it's now a double EP that will come out on November 23rd. Loads of bonus content and we've launched a kick starter to help us get through some of the funding for it. It's going really well, and we've gone way beyond our target. We are currently remixing some of the old tracks and working on the new tracks. We have Severin Bruhin (Bass) sending stuff over from Switzerland, Luca Gianassi (guitarist) sending stuff over from Italy and it's going out to master shortly.
More and more artists are releasing their work on vinyl again now and this talk about the return of vinyl is real. We discussed this and I asked Theo and Ajit why it was important to them to release their music on vinyl format.
TH: It's kind of delivering our ultimate vision of Paradigm Shifting for us – and Paradigm Shifting is pretty much the journey from where we started, to now. Especially with this record as there are tracks from the old days, when we jammed at Highfield Studio and the core of the ideas. Evolution's of our tracks and progression and I think that sums it up – meeting new friends and musicians. Putting it on vinyl is also a gift to those people – everyone – like a bookmark. I've listened to records since a young age and I've always collected them. It's also the value – having the value of a record to be something physical. It's special. The expansion, the art work…
AG: Definitely seeing guys mixing vinyl, for us to do that is almost a bit of marking a point in time of our journey. It's going to be quite mind-blowing to hold a tangible form of our music.
Well, I am certainly going to be first in line to also hold that tangible product. Vertaal's passion and love for their art is clear and most importantly, they communicate this through their music with intelligence, beauty and their love of groove. Well, the Groove Gods have listened and welcomed Vertaal with open arms. Highly recommend.
If you would like to support Vertaal with their Kickstarter campaign, here is the link.
Last modified: October 5, 2020