Charlie Parker was born 100 years ago. The alto saxophonist became one of the founders of the bebop, the type of music that gave jazz a new dimension after the swing period. For many in jazz, he has been a great inspiration. His technique, sound and virtuosity are second to none. Charlie Parker died in 1935 at the age of 34.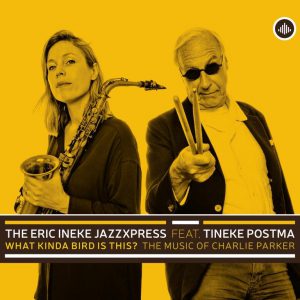 Famous Dutch drummer Eric Ineke honours him with the CD "What Kinda Bird is this? The music of Charlie Parker". The Eric Ineke JazzXpress was expanded for that occasion with Tineke Postma, without a doubt internationally the best known Dutch alto saxophonist. She released the CD "Freya" earlier this year and it received four stars in Down Beat. An earlier album, "Sonic Halo" (2014) with colleague Greg Osby, also received a lot of appreciation. Also on this CD, she plays convincingly. Her version of "Loverman", with only bass and drums as accompanists, is pure emotional beauty. Also played live her performance of the song was beautiful.
I attended the CD presentation in Porgy and Bess, Terneuzen. The pianist there was Rob van Bavel. He's not on the album. At the time of the recordings, he was struggling with a hand injury. Three Dutch colleagues replaced him: Peter Beets, Rein de Graaff and Rob Agerbeek.
Who doesn't know the famous songs from Charlie Parker's oeuvre: "Now's The Time", "Scrapple From The Apple" and "Billie's Bounce"… But they're missing from this album. Eric Ineke opted for lesser-known tunes, although I count "Au Privave" and "Relaxin' at Camarillo"' among the standards of the repertoire of the genius.
Charlie Parker never played "Birdie Num Num" and "What kinda Bird is this?" They are compositions by bassist Marius Beets. He has been a true mainstay in the JazzXpress for years, as has tenor saxophonist Sjoerd Dijkhuizen, a swinging player with a beautiful sound.
Over the years, Eric Ineke has had young promising trumpeters in his band. Rik Mol and Gidon Nunes Vaz are good examples of this. Ian Cleaver (1996) is now the trumpeter in the band and he is a great talent. He plays some excellent solos on the CD, as he did live too.
"What Kinda Bird is this? The music of Charlie Parker" is a CD that pays a dignified tribute to one of jazz's greatest innovators. The Eric Ineke JazzXpress has been a fiercely swinging band for years, which in Europe has no equal. With Tineke Postma as guest soloist, it all becomes even more convincing. This formation is ready to perform at major jazz festivals, but when will they be organized again?
Text: Peter Beije
Photos credits: Jurjen Donkers (taken in Bimhuis, Amsterdam)
On the CD:
1. Relaxin' At Camarillo (06:05)
2. Steeple Chase (06:35)
3. Lover Man (06:19)
4. Birdie Num Num (06:18)
5. Ah-Leu-Cha (06:04)
6. Parker's Mood (07:51)
7. What Kinda Bird Is This? (06:10)
8. Just Friends (06:10)
9. Merry-Go-Round (04:09)
10. Bongo Beep (03:25)
11. Stupendous (06:45)
12. Au Privave (02:01)
Challenge Records
Last modified: October 6, 2020