SG: We've spoken about Gary and John but, I think the most important long term collaboration, both musically and personally, is with Carla. Most people say you shouldn't mix business and romantic relationships, how's this been for you guys over the years?
SS: I need both Carla and music in my life, and she and music have learned to live with each other. It's their problem, not mine, and they've done very well to find a way to share space in my heart.
SG: Thanks. Well said. The list of projects that you and Carla have done together is far too big to delve into, but I would like to ask you about the collaboration with Andy Sheppard. After all, it was in Italy, with this trio, that we first met. The third album with this line-up is about to be released on ECM titled Life Goes On. Can you tell us how this transatlantic collaboration came about?
SS: I was introduced to Andy by our dear, departed friend John Cumming, and I produced several of Andy's early albums. Carla mentioned one day that she was looking for a saxophone player who
didn't sound like John Coltrane, and I said, "I've got one." Andy joined Carla's big band in the early '90s, and the trio followed shortly thereafter. It shows no sign of slowing down. Carla loves the care Andy takes with her music, the way he slowly and deliberately finds particular answers to the questions her music asks him.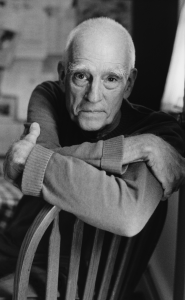 SG: One thing I'd like to touch on is something I think many of our readers would be interested in hearing about and that's the truth behind the Real Book. There are a lot of people that believe the Real Book was your work. Can you clear this up for us?
SS: I'm happy to correct this misunderstanding. The Real Book was made by two students at Berklee. I helped a little bit, providing some of my tunes and those of some of my friends, and occasionally proof-reading, but the considerable work was done by two talented people who choose, to this day, to remain anonymous. The book's effect was immediate, and very obvious to me, as I walked past the practice rooms at school, on the way to my office. All of a sudden, people were playing the right chord changes.
SG: The book, in 1970's terms, went "viral" throughout the jazz community worldwide. How do you think the book ended up as one of the most iconic underground publications the jazz world has ever seen and did you have a role in spreading it?
SS: The two guys who made the book did it, aside from whatever altruistic motives they may have had, to get money to pay for a Berklee education. Ironically, they never made much money from it. As soon as it became available under the counters of music shops and convenience stores around Berklee, others began making and selling their own photocopied editions. I suppose that's how it went "viral". I think it ended up on so many music stands around the world because it filled an obvious need. Many people must have thought, "Why didn't I think of that?"
SG: Speaking of virality, I don't think any interview in this period would be complete without asking about the current Corona pandemic. How do you think this pandemic will affect the music business?
SS: I and everyone I know are asking that question. Things will never be the same. I can only say with certainty that jazz will survive. I've witnessed big changes in the music's demographic before – the move from clubs to concert halls, from the backrooms of music stores to the universities, from the USA to Europe and beyond – and the music has sailed straight ahead through it all.
SG: Thanks, Steve, I have one last question. You've had an amazing career and I would suspect you're one of the most recorded musicians the jazz world has ever seen. What's still on Steve Swallows bucket list?
SS: I hope to learn to play the damn bass.


Jazz In Europe Magazine – Summer 2020 Edition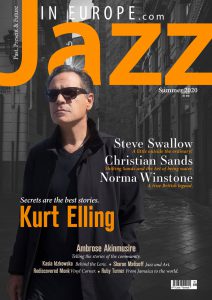 This article is an abridged version of the full interview that appears in the Summer 2020 edition of the Jazz In Europe print magazine.
Also included in this edition are interviews with Norma Winstone Steve Swallow, Ambrose Akinmusire and Ruby Turner. We take a look at some rediscovered Thelonious Monk recordings, Nigel speaks with painter the Sharon Matishoff about her work painting portraits of Jazz Icons and our photo feature for this edition features the work of Polish photographer Kasia Idzkowska.
You can purchase a copy of the magazine here.

Last modified: August 3, 2020