Based in Frankfort, Kentucky, Sharon Matisoff is an award-winning representational artist who paints in the Impressionism/Realism style. Matisoff has spent a lifetime painting a variety of subjects with the focus on portraiture and figurative work. Music plays a very important role in her life, and she has spent many years painting musicians in every genre. Recently, she has begun working on a series of paintings specifically of jazz musicians. Pastel is her primary medium, but she also paints in oil.
I was so impressed by her recent colour painting of Bill Evans, and by the way, she captured such a range of emotions, not only from his expression but also by her use of colour. I wondered if she was herself a jazz musician, her use of colour was for me an interesting parallel to jazz improvisation.

I had to seek her out and find out more! I contacted her via her website. Our very engaging and informative chat is expressed in summary below: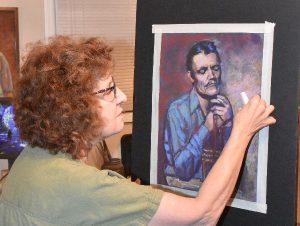 Firstly, I asked, where her love of jazz music comes from. "I have a very eclectic taste in music, but lean towards Blues, Soul and Jazz. This is complemented by my husband, Martin. He's an amateur jazz musician who introduced me to Miles Davis and John Coltrane among others. I can always draw upon his passion and love of jazz as well." She went on to say that she also liked more mainstream artists, such as Norah Jones, Jane Monheit and Sting.
This led me to dig a little deeper on her recent move into the painting of Jazz musicians. I wanted to know if painting jazz musicians was in any way different than other subjects and if so, why. Sharon shared, that up until recently she was extremely tight in her painting, relating to her extreme fidelity to a photo which she used as a reference. Now her style has become much more fluid in expression. She now recognises that she was at first very timid and unsure of letting go. She has learnt to also draw on the immersion of the jazz musicians to hopefully help guide her to bring out an expression of the jazz musicians' creativity. I remarked to Sharon: that's very much Jazz Art meets Jazz Improvisation!
Now, I was hooked and wanted to delve even deeper! I had been amazed by the very vibrant use of colour, light and shade which almost turned the painting into three dimensional. Sharon explained that her love of soft chalk colour pastels was very liberating to use as the main medium.
For many years she's been a portrait artist, so her technical skills are her foundation, and she's always loved to paint creative people – dancers, musicians, anyone who is creative. Sharon mentioned that; "Jazz musicians often have a lot of passionate expressions while holding their musical instrument. That can be a challenge for me. Also challenging was making sure that the instrument appears technically correct. I often ask my husband for help with this." She went on to add, "When working from a black and white photo, I can add my own colour sense."
I continued by asking Sharon How she captures the real individual essence of the jazz artist? "I first have to have an image that talks to me, then I do some research, I listen to their music, maybe read a book, or watch a film, whatever I can find. I want to feel what they are feeling in their music. I've always been that way with painting portraits, even if I couldn't meet the subject of the painting in person. It becomes a real immersive process for me. For example; when I decided to paint Miles Davis, I watched the film on his life, and I wanted to capture his wild background, his passion for music, for the love of the women in his life. He had an incredibly expressive face. Even the way he dressed was a real extension of his personality. I wanted to capture some of that wild spirit. I was working from a black and white photo, so I added really vibrant colours to his clothing. This isn't a man that would have worn black and white!"
There is no doubt, having spent time chatting with Sharon Matisoff, that she not only runs very parallel in her creativity paintings to the art of jazz improvisation, but she also brings a very valuable asset to the jazz industry as a whole. The legacy of jazz music must be remembered and appreciated through the artists themselves, Capturing them in pastels, oil paint or other mediums is as vital as is the preservation of their music.
I recommend you explore the amazing expression of Jazz and Art by Sharon Matisoff.
Text by: Nigel J. Farmer – Photo images: courtesy of Artist.


Jazz In Europe Magazine – Summer 2020 Edition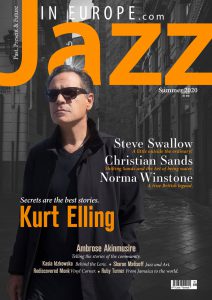 This article is an abridged version of the full interview that appears in the Summer 2020 edition of the Jazz In Europe print magazine.
Also included in this edition are interviews with Norma Winstone, Steve Swallow, Ambrose Akinmusire, Ruby Turner and Christian Sands. We take a look at some rediscovered Thelonious Monk recordings, Nigel J. speaks with the painter Sharon Matishoff about her work painting portraits of Jazz Icons and our photo feature for this edition features the work of Polish photographer Kasia Idzkowska.
You can purchase a copy of the magazine here.

Last modified: August 18, 2020