Vocalist and composer Pepa Niebla released "Renaissance", her first album of original compositions following her releases Pepa Niebla Project and Pepa Niebla & Ricky Vivar on 15 May this year. featuring guitarist Toni Mora, pianist Maxime Moyaerts, double bassist Alex Gilson and drummer Daniel Jonkers, the album presents five original compositions by Niebla as well as contributions by Toni Mora and Fabio Torres. In addition, Niebla tackles two standards "Good Bless The Child" and "Our love is here to stay".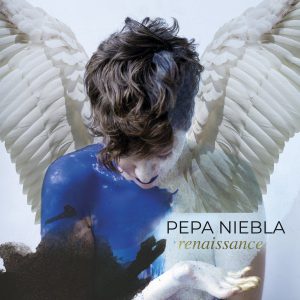 The compositions on "Renaissance" tell stories of love, family, society and immigration creating a sincere and personal work. Stylistically the music on the album reflects a New York contemporary jazz flavour yet there is a decided European influence present as well. While the music is excellent as are the performances this recording stands out from a lyrical perspective.  Throughout the album, lyrically, Niebla touches on aspects of society and rebellion. Speaking about the opening track on the album she states "In Chains, I express the way I feel as a musician and all the things that are expected from us: how we should live our life according to the establishment. I wrote Chains in a moment of change and inner rebellion, trying to overcome the economical stereotypes and express myself through music and lyrics. The desire to express myself through this song is reflected in how the melody of the tune develops and the way it's harmonized. Through the harmonic tension, I wanted to recreate that need for rebellion but also an invitation to liberate ourselves from what Society dictates."
The Title track to the album is equally poignant and tells the story of a pregnant woman trying to cross the Mediterranean Sea on a small boat. The press release states "This is a homage to life and the spiritual rebirth; a metaphor that Niebla has had in her mind throughout the production of this recording." This track, in my mind, is the highlight of the album Niebla tells the story invoking a myriad of emotions and the musical performance is excellent. Also noteworthy is "Otro Tiempo", sung in Spanish, Niebla's melody is captivating as is Moyaerts piano solo.
I enjoyed this album. Niebla's vocal performances are strong throughout as is the accompaniment. Pepa's command of language adds a strong element to the album allowing for commanding performances in Spanish, English and Portuguese. Guitarist Toni Mora along with pianist Maxime Moyaerts contribute strong solos and the rhythm section of Alex Gilson, Bass and Daniel Jonkers on drums is solid. The standards presented on the album "Good Bless The Child" and "Our love is here to stay" are given a strong reading and I particularly enjoyed the use of vocal overdubs in the former, however, it's the original material that stands out.
If you're looking for a great vocal jazz album featuring original material then Pepa Niebla's "Renaissance" is well worth a listen.
Track Listing:
1. Chains 4:34 | 2. Otro Tiempo 4:40 | 3. Good Bless The Child 7:19 | 4. Ode To A Family 5:52 | 5. Renaissance 7:25 | 6. Lilyá 3:40 | 7. Green 4:10 | 8. Our love is here to stay 3:54 | 9. Words if you allow 6:56 | 10. All about Dance 6:20
Line-Up:
Pepa Niebla – vocals | Toni Mora – guitar | Maxime Moyaerts – piano | Alex Gilson – double bass | Daniel Jonkers – drums
Release Date: 15 May 2020
Format: CD | Digital
Label: Self Release
The Album is available on all streaming platforms and the physical CD and Vinyl are available at Bandcamp.

Last modified: July 9, 2020