"I've been dealing with it a lot better than I thought I would. I've really taken this time to practise, to really deconstruct my playing, to really edit the things I want to edit, really take the time to construct something that I'm really looking for. Typically, when you're working on the road constantly, you don't have a chance to do that. In between the shows, in between the travel, in between trying to catch up on sleep, and interviews… the list goes on and on… you really don't have time to practise while you're on the road. So the fact that I haven't been on the road for a while has given me some time to really dive into my playing, and really pick apart things that I personally feel I need to work on – time, harmony, composition, study… all areas. How can I get better? How can I push more? I mean, I haven't been at home this long before, so it's been quite an adjustment."
And so we come to the new album. He came across the song Can't Find My Way Home, which Steve Winwood recorded in 1969 with the short-lived supergroup Blind Faith, thanks to his younger brother Ryan, a drummer. I mentioned that I could hear George Shearing influence on Crash, with its smooth "locked hands" chords. "That was intentional. I'm doing a mixture of styles, with George Shearing, and there's some Dr Billy Taylor in there. I'm also a fan of Nat King Cole. I have these sounds, like block chords, that I grew up with, listening and playing, and so I wanted to recycle that and use it in a context where you don't expect to find it."
Water trickles all the way through the album, from the Keith Jarrett-like Sonar (how you hear underwater) to the discordant Steam, in which water changes its very nature and mutates into something new. And on Still, the waters run deep, with splashy sound effects (which may be someone rowing a boat) and gorgeous, impressionistic piano, joined by Marvin Sewell on scratchy National Resophonic guitar. Sewell is a revelation, a guitarist who – like Christian Sands – has mastered many different styles. You can hear a very different side to him on Drive, where he uses sustain in such a Steely Dan-like manner that you'd swear you were listening to Elliott Randall. Marvin Sewell has been described as "the greatest guitarist you've never heard of", and on this evidence that's an accurate description.
Most of the piano players I know are very techie, very methodical, logical, even mathematical. Does that describe Christian Sands, I asked? "To a point, yeah," he confessed, "Each instrument has a different personality. Take trumpet players, for example – they're always very outgoing. Extraverted. And part of that is the trumpet, the call to attention." Like a fanfare? "Yeah. It's the first thing you hear. They all are like that. In the same way, all drummers are deep thinkers. They think a lot and they read a lot and they research a lot…"
It would have been fascinating to pursue this topic – there's probably a whole book to be written about the way in which certain instruments attract certain personality types. But I wanted to ask him about his record label, Mack Avenue, which has released some of the most consistently interesting music in recent years. "It's one of the reasons why I wanted to sign with them. I was approached by different labels at the time [2016], and Mack Avenue seemed more like home to me, because I was performing with just about everybody on the label, from Christian McBride to Tia Fuller to Sean Jones, Warren Wolf, Aaron Diehl… We used to hang out a lot. So I knew all of the musicians, and I've worked with them and talked to them and hung out with them and we've gone on gigs together. So Mack Avenue, when they asked me, just felt like home."
I was also interested to find out why he decided to produce the album himself, when writing, arranging, dealing with the band and performing is more than enough work for most people. "I like having my hands in everything. I like being a part of the process. Typically, if I have a producer like for example on Reach, where Christian McBride was the producer, it was because I wanted to collaborate with him, it wasn't necessarily because I needed it. It was because I really liked what he brought to the table. With this album I had asked a few people, but then I thought, I'd like to tackle this myself, and really just be as free as possible with the musicians I've chosen. And I think it worked out very well."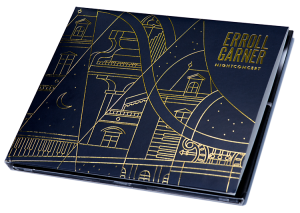 In 2018 he was involved with an album that he didn't play on. Nightconcert is a collection of tunes from a 1964 Amsterdam gig performed by Erroll Garner and his trio. None of the recordings had been released before in their original format. Not long before she died, Geri Allen asked for Christian's help with the project – which continues. "My role is to reintroduce Erroll to the new generation of pianists and listeners, and people that might have forgotten about him, or don't talk about him as much. We did a Concert by the Sea show at Monterey Jazz Festival, with three pianos: me, Geri Allen and Jason Moran." (Both had been his teachers) With Nightconcert, I was going to handle the social media – you know, where the kids are! So ever since then I've been reintroducing his music and him, whether through masterclasses or live performances, or working on albums that have never been released, like Nightconcert. I was working on the engineering, working on the sound, making sure that what he played comes across the way that I believe Erroll intended it to be."
It was an extraordinary feat of sonic archaeology. On the original tapes, there was no sound in the left-hand channel. At the concert, there was one microphone for the piano and one boom mic over the drum kit – and that was it. The bass was amplified, but you could only hear it because it was picked up by the other mics. Somehow, from these primitive recording conditions, Nightconcert emerged as clear as a bell, thanks to some very 21st century digital techniques.
Erroll Garner famously couldn't read music, despite his brilliance. "I think he could read," said Christian, "or read very, very slowly. But the amount of music that he just absorbed through his ears… he didn't have to read, because he really was music.
If he heard a piano concerto, he could repeat it. So do you really need to read music if you can do that? I identify with him, because growing up I was really bad at reading music." When his mother tried to teach him a piece, young Christian would pretend he needed to go to the bathroom. Hiding around the corner, he would listen as she played through the piece, then return and play what he had just heard, instead of reading what was on the stave. His mother soon realised what he was up to, and started making deliberate mistakes to catch him out.
I read him a quote from the singer Jon Hendricks, in which Hendricks argued against reading music at all. "Reading music is the intellectual approach to music," he said, "The people who make the music cannot read. The great operatic arias of Giuseppe Verdi are taken from the folk songs of the Neapolitan fishermen. They can't read… It's the hearing of the music that's the important thing, I think. If you can hear it, you can sing it or play it. Then, if you learn how to do it intellectually, you of course can write it. But the writing of it is not the execution of it. I know great symphonic musicians who, if you say, 'Play Stardust for me', they can't play it until you go get a lead sheet and put it in front of them. Then they can play it. To me that's… not a musician. That's a person who practices the art of playing music, but a musician to me is someone who can play any tune you name without looking at anything…. Because the one who can't play it without the music is totally dependent on the intellect, and the intellect has never created any art form in the history of this planet."
Pointing out that Hendricks had used an intellectual argument for being opposed to intellectualism, Christian told me a story in return. He once heard about a group of white men who travelled to Africa, and heard the drumming of the African drums. They were so enraptured by it that they decided to note everything down. Years later they returned with books, and showed them to the drummers. "What is this?" they asked. "This is what you play," the white men told them. "That's not what we play at all," the drummers replied. Added Christian: "The essence of music can't be harnessed. You can write it down, but it doesn't come to life until you bring something to it."
It was time to wind up the interview. Was he making any plans to tour at the moment? "I was supposed to be in Europe all year! This was going to be a very busy year for me. So this is the version of me being in Europe now – being on a Zoom call! This is the closest it's gonna get for now. I have a European tour in November still on the books – we'll see!"


Jazz In Europe Magazine – Summer 2020 Edition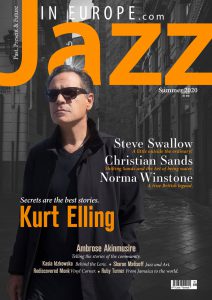 This article is an abridged version of the full interview that appears in the Summer 2020 edition of the Jazz In Europe print magazine.
Also included in this edition are interviews with Norma Winstone Steve Swallow, Ambrose Akinmusire and Ruby Turner. We take a look at some rediscovered Thelonious Monk recordings, Nigel speaks with painter the Sharon Matishoff about her work painting portraits of Jazz Icons and our photo feature for this edition features the work of Polish photographer Kasia Idzkowska.
You can purchase a copy of the magazine here.

Last modified: July 17, 2020