The sleeve notes on the debut album from this incredible duo, tell us that 'All of these songs communicate the universal aspects of human emotion in the face of change, whether it's love or loss, happiness or sorrow'. The timing of these reflective thoughts couldn't be more appropriate. The opening line of the new album from Jo Harrop and Jamie McCredie 'Weathering the Storm is perfect: the scene is set for dreaming'  And with that in mind, it is the ultimate late-night album with a perfect mixture of everything you may desire.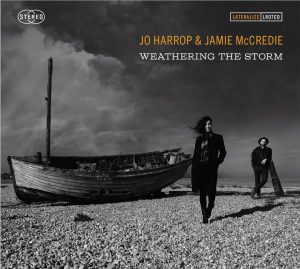 For me, this album stands out from the huge array of vocal jazz standards albums for many reasons. The delivery of each line is meaningful and real and I absolutely believe every word that Jo sings. 'In the wee small hours of the morning' – yes, I'm there with you. She takes you on the journey with her and for me, that is arguably the most important element in any performances, recorded or live. I could honestly listen to Jo's voice for hours. The depth and warmth of her vocals are beautifully and sensitively captured in the production, which also deserves a mention. The dynamics and the energy of voice and guitar and the space that is needed, allowing for each to shine as soloists but also combined as one, are recorded and produced beautifully by Jamie McCredie and furthered strengthened with mastering by Eddie Stevens.
Jamie McCredie's guitar is so much more than the perfect accompaniment to Jo's vocals. Sensitive, beautifully and delicately supporting when needed and shining when the right space appears. The album was recorded at Jamie's studio, with late-night sessions and often after gigs, and the intimacy of this setting and connection between the two musicians is realised flawlessly.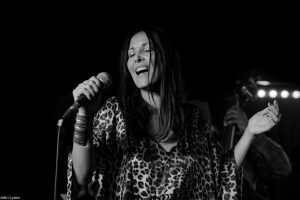 Jo's exquisite vocal performance evidences her musical upbringing of the great Jazz vocalists that influenced her – Billie Holiday, Anita O'Day and of course her longstanding connection with Peggy Lee – and she elegantly pays tribute to them but with her own distinct vocal style through not only Jazz standards but a few slightly more contemporary songs given a Jazz standard makeover. Not only does she embody the emotion of the songs, but she also surrenders to the material and we, as the listener, surrender too.
I highly recommend this album and Jo's comments summarise it perfectly 'an exploration of emotion and depth and the realisation that sometimes the most profound experiences are also the simplest' Enjoy.
The tracklisting for Weathering the Storm
1. My Foolish Heart
2. I Fall In Love Too Easily
3. Tenderly
4. Take It With Me
5. Guilty
6. More Than You Know
7. You Must Believe in Spring
8. Charade
9. Early Autumn
10. In The Wee Small Hours Of The Morning
11. If
Recorded at The Shred Shed
Jo Harrop: Vocals
Jamie McCredie: Guitar, Production/Mixing
Eddie Stevens: Mastering
Jihad Darwish: Double Bass (Track 11)
Find Jo Harrop on  Social Media: Twitter – Facebook – Instagram
Senior writer: Fiona Ross 
Photo credits: Francesca at Piccolino – John Lyons
YT Video: Jo Harrop Channel
Last modified: June 18, 2020