Editors note:  Once again Majamisty Trio offer 21st century, spiritually sublime jazz music – Nigel J.   
When Maja Alvanović appeared on the Serbian jazz scene near the end of this century's first decade, she was – it has to be said – an oddity. With their first album Mistyland (2011), Majamisty Trio instantly garnered appreciation from prominent Serbian critics: the band was one of the headliners of the Belgrade Jazz Festival, their music received praise from JazzTimes as well as All About Jazz, and the release made its way as far as Japan. Boldly stepping outside the main current of Serbian jazz of the time, they conquered new heights, trailblazing for those still in their creative nascence.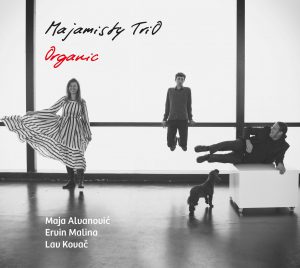 Alvanović did not wait long to tackle the challenge of the fabled "second album" (a.k.a. where to from here?). The new boldness was signalled by the very title of the release Love (2014), which would prove to be aptly named. The experience from working on their debut album, the confidence born of creating and arranging it, alongside five perfectly selected guest performers made the second album depict love in full splendour, emerging as a masterpiece of melody and colour in a magnificently sonorous portrayal of the most important thing in the world. What more could you ask for?
This is probably why it took them twice as long to release their next project, Organic (2020). In the meantime, they had conquered America and England – as well as several European hotspots – and made an addition to their lineup, the exciting young drummer Lav Kovač. And, instead of pursuing the impossible, Alvanović once again made the best choice. 
"Organic is a very familiar term in jazz, denoting that the band breathes as one, which is one of the best (and unfortunately not frequent) descriptions of the values of this music. It perfectly characterizes this release, the third of the Majamisty Trio, the first recorded exclusively as a trio, with pianist Maja Alvanović (who is also the composer of most of the songs), the double bass player Ervin Malina and the new member of the crew, drummer Lav Kovač." from CD review of jazz journalist Vojislav Pantić
The album "Organic" is available on Bandcamp platform. The band decided to make the download more convenient for the audience in this difficult time. 
Music: Kosta Jevtić (1, 6), Ervin Malina (2), Maja Alvanović (3, 4, 5, 7, 8)
CD recording was supported by SOKOJ (Serbian organization for Author's rights)
Last modified: June 25, 2020