I have had the pleasure to see Ray Gelato play live many times and have met him personally on several occasions. We've often both agreed how lovely it would be to put together a feature so many more people would get to know the great Gelato and his music. For me personally, there is no one like Ray Gelato: an absolute musician and performer.
Erminia Yardley: Hi Ray, it's a pleasure to be able to do a feature on you for Jazz in Europe. Can we start by having a brief introduction from you for our readers?
Ray Gelato: Thanks Erminia, Sure, I'm Ray Gelato, band-leader of the long established Ray Gelato Giants, vocalist, tenor sax player, composer and podcaster. I may be one of the last "Jazz Entertainers" and I strive to keep the tradition of greats, like Cab Calloway, Louis Prima and Louis Jordan alive. My mission is to leave an audience feeling happy.
EY: How did you develop your love for the saxophone?
RG: I first fell in love with the sound of the sax from my father's Rock n' Roll records. He loved Rock n' Roll and used to play Bill Haley, Little Richard and Fats Domino around our house. They all had great R&B tenor sax players on those recordings and that big sound caught my ear. Dad also took me to see all of these artists when they came to London, this was in the late 70's. I remember loving Bill Haley and he really put on a great show. Rock 'n' Roll music is a cousin of jazz, just a much simpler version.
EY: Tell me about life in London and the area where you grew up.
RG: I grew up in West London on a very racially mixed council estate, it was on Latimer Road. It was a kind of rough area but we all got on well as kids and played together. I don't remember any racial tensions among us at all. We were just mates and nobody gave a shit about where somebody was from. I had to learn to be tough and stand up for myself and also to look after my friends. It was a useful upbringing.
EY: How did London shape the person you are now?
RG: I consider myself fortunate to have grown up in London. There were so many clubs to play and even before I played, we used to go to clubs and listen to roots music. Mostly rare Rock n' Roll and vintage R&B, that definitely shaped my musical life. One DJ even played Louis Jordan every week and that knocked me out, I didn't know who Louis Jordan was, but young people were pretty open minded back then. Each group had their favoured music and style of dressing, so you had the Teddy Boys, Mods, Rude Boys, Rastas, Rockabillies, Skin Heads, all these subcultures with each group into their own thing. Of course, we used to fight each other and things would and did get nasty at times, but generally, we were just in it for the music and the clothes. I guess my image was formed then.
It was wonderful and London was vibrant back in the late 70's early 80's. Now it's all homogenised and most of these youth groups don't exist anymore. It's the big companies that have stripped the individuality out of music. Most kids now don't care about the past or the history of music.
EY: You're a much loved singer and performer on the scene. I've seen you in action and also reviewed some of your gigs. What is, in your opinion, the best part of a live concert?
RG: The best part of a live concert is when you just forget everything and play. Of course, a great audience helps. When I go out there I reach a different mental state, something else takes over. I seem to sing and play things I can never do when practicing! It's a kind of spiritual experience.
EY: Have you always been drawn to the Swing era?
RG: No not really, I started out as a Rock n' Roller. I got into the Swing and Jump style through that route. They are totally connected styles. Rock n' Roll came from Swing and Jump music.
EY: Who are your favourite swing artists and why?
RG: Well, I love the big bands, especially Ellington and Basie, but I'd say my personal favourites are the three Louis: Armstrong, Prima and Jordan. Louis Armstrong was the innovator of it all. Louis Jordan's small combo was so important because it was the forerunner of R&B and later Rock n' Roll. Jordan was also an incredible alto sax player and singer as well as being a great entertainer.
Louis Prima is a story in himself. He had about 3 careers! Firstly as a great jazz trumpeter on 52nd St in the 1930's, then as a Big Band leader playing Italian songs in the 40's. However, for me, Prima really came into his own as the first lounge entertainer in Vegas during the 1950's. He had that wonderful small band featuring the tenor sax of Sam Butera and the vocals of Keely Smith. Prima started that whole Vegas thing well before Sinatra and Dean Martin. He was a great trumpet player and his mad "messed up" vocals always made me smile. All these artists were great musicians but they also understood the value of entertainment. It was through them that I got into jazz and discovered the music of people like Lester Young, Charlie Parker and Ben Webster.
The critics often frowned upon jazz musicians that also entertained but they totally missed the point. Up until the mid 40's, artists had to entertain in order to make a living and to draw in an audience.
EY: Let's talk a little bit about your creative process. How do you write your music? Do you have a particular source of inspiration?
RG: I've been writing songs since the beginning and it's what sets us apart from so many of the other Jump Jive type bands that only play covers of the old songs. We do those too, but, I'm really happy that my originals are now some of the most requested tunes in our set.
I don't have a particular creative process but I work best under deadline. I guess I write good novelty tunes, mainly about things that annoy me a lot, for example, "Get off the Phone" (about mobile phone manners) and "My Last Meatball" (the person that sits down to eat, tells you he/she is not hungry and then proceeds to steal all of your food!).
I'll do the lyrics first then sit at the piano and try to figure out the melody and chords. I guess my inspiration came not from the great songwriters, but from Louis Jordan. The lyrics on his songs were so cleverly topical of their time. Basically I write fun songs, but, I have written a jazz ballad called "Twilight in Soho" as well.
EY: If you were writing your autobiography, whom would you dedicate the book to?
RG: My family
EY: What plans for the next few months? Any gigs, new releases? Reveal all please!
RG: We have a new live album out on vinyl and CD called "The Big Sound (live in London)". We recorded it down at "The Hideaway". A comedy video is on the way as well, it's set to our song "My Last Meatball" and let's just say, it's a cross between a Mafia Movie and Laurel and Hardy! We've just played the 'Blue Note in Milan' and just now we are on our way to Sofia, Bulgaria to play two nights. Upcoming gigs include the Swindon Jazz festival, Pizza Express (Dean Street) in London, The Hideway (London) and the San Sebastián Jazz Festival. I've also got a jazz tour in April with Enric Peidro, a wonderful Spanish tenor sax player who I'm bringing over. We did an album together last year called "With all due respect" where we salute the great swing era sax players. It was actuality my first "pure jazz" album where I just play my tenor. No vocals!
EY: Thanks Ray for taking the time speak with me and I wish you success on the upcoming dates.
RG: You're welcome.
As I mentioned above, this interview was conducted prior to the Covid-19 outbreak so unfortunately all of these dates Ray mentioned above have either been cancelled or postponed until further notice. I've decided to leave the majority of the interview intact despite the changed circumstances – Very sad indeed, these are hard times we are going through however, I wish to focus on more strength and positivity!
I also want to mention that Ray's album together with Enric Peidro "With all due respect" is dedicated to the loving memory of my father who loved Ray Gelato. Hope you enjoy it, Babbo, wherever you are.
Senior writer: Erminia Yardley – Photo credit: Carl Hyde.


Jazz In Europe Magazine – Spring 2020 Edition
This article is an abridged version of the full interview that appears in the Spring 2020 edition of the Jazz In Europe print magazine.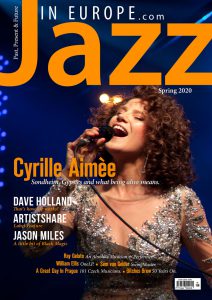 Also included in this edition are interviews with Cyrille Aimee, Dave Holland, Jason Miles and Sem van Gelder. We take a look at Bitches Brew, 50 years on. Our label feature takes a look at ArtistShare Records and Tony Ozuna presents us with a look at the Czech jazz scene from its origins behind the Iron Curtain to the present day. This editions photo feature spotlights British photographer William Ellis.
You can purchase a copy of the magazine here.

Last modified: July 19, 2020