Earlier this year prior to the Corona Virus lockdowns, British Saxophonist Kim Cypher took to the studio to record what she calls "a very special piece of music titled Water From An Ancient Well". This track composed by South African pianist Abdullah Ibrahim and featured on his 1986 album of the same title that was included in the book '1001 Albums You Must Hear Before You Die'.
The track has become a mainstay in Kim's live sets: "I first heard the track performed at a gig by guitarists Chris Santo Cobbson and Cameron Pierre together with Raph Mizraki on double bass and my husband Mike Cypher on drums. I was left speechless after the incredible performance. The piece of music is truly special and really touched me. Unable to get the piece of music out of my head, I checked out Abdullah Ibrahim's original version and was totally blown away. By now I had made the decision that I had to perform this track myself." said Kim when asked about the choice to include the track. "Without exception, every gig I performed it, people commented on the power of this piece of music." she continued.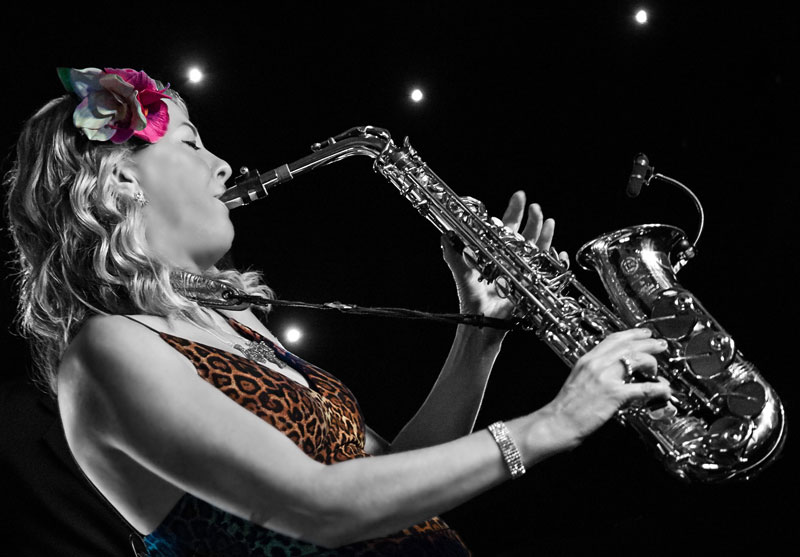 The track has so far never made it onto one of Kim's albums however she had always intended to record it if the situation was appropriate. In January this year, the opportunity arose. With the arrangement tried and tested on stage, she immediately selected a group of outstanding musicians and headed to JJLV Audio studios in Swindon to record. The session resulted in two tracks "All For You" that was released earlier this year and of course this recording of "Water From An Ancient Well". "There was something quite liberating about recording a track for no other purpose than just purely loving it. It was not destined for any album, for any reviews or for any reason other than my own personal satisfaction and for the enjoyment of others. The incredible musicians featured really capture the heart and soul of the track, taking the listener on an emotional journey through a series of uplifting solos. It is a very special piece of music for me indeed."
Originally the track was scheduled for release later this year however due to the current unprecedented situation and the inability at present to perform live gigs Kim chose to bring the scheduled release forward. So in Kim's own words "Turn up the volume, sit back, relax, close your eyes and enjoy this wonderful piece of music."
Track: Water From An Ancient Well (comp. Abdullah Ibrahim, arrangement Kim Cypher)
Line Up:
Kim Cypher – Tenor & Alto Saxophones | Tom Berge – Piano | Chris Santo Cobbson – Guitar | Ian Batemen – Trombone | Raph Mizraki – Double Bass | Mike Cypher – Drums
Release Date: 29 May 2020
Format: Digital
Label: Self Release


New Release Spotify Playlist
The Jazz In Europe New Release playlist features tracks from the new releases featured on Jazz In Europe. Updated weekly, this playlist is the perfect place to discover new music from the leading jazz musicians currently on the scene. We hope you enjoy this selection.
The best way to keep up to date with all the latest releases is to follow us on Spotify. Just click the button below.
Last modified: June 21, 2020