This trans-Atlantic project sees one American meeting three Danes playing compositions originating from Denmark, Sweden, America and Brazil. The album features an eclectic mix of styles making the album a difficult one to pigeon hole. I don't negatively mean this at all, there is a strong consistency throughout the album and not unexpectedly, a decidedly Scandinavian feel.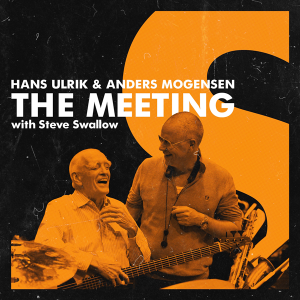 The album includes three compositions penned by Steve Swallow as well as a mixture of Danish traditional tunes along with Milton Nascimento's "Tristesse' and a noteworthy reading of Jerome Moross's "Lazy Afternoon".
Steve Swallow (born 1940) is a complete musician, known for his groundbreaking projects throughout the last 50 years with such jazz icons including: Benny Goodman, Stan Getz, Art Farmer, Jimmy Giuffre, John Scofield, Carla Bley and many others. In addition to being a unique and immensely influential voice as an electric bass player, Swallow is also regarded as a composer of the highest calibre. Swallow as has added many compositions to jazz lexicon including, what have become, important jazz standards as "Falling Grace", "Eiderdown" to mention just a few. On this release Swallows compositional side is showcased with two compositions: "Ladies in Mercedes and "Ever After".
The collaboration between saxophonist Hans Ulrik and Steve Swallow goes back to the late '90s when the two toured Europe and recorded three albums including "Tin Pan Aliens (2004) and the 2008 release "Believe in Spring" that also includes Jonas Johansen, Bobo Stenson and Ulf Wakenius. Hans Ulrik is one of the most distinguished and recognizable voices on the European jazz scene, and he has toured and recorded extensively both as a leader and sideman and is a recipient of a Grammy for his album "Jazz and Mambo" (Stunt Records).
Drummer Anders Mogensens is also no stranger in working with Swallow, his collaboration dates back to the mid-'90s. Swallow once expressed his admiration for Mogensens drumming saying: "You are…. one of the few drummers I really like to play with". J. Anders Mogensen is one of the most sought after musicians on the Danish as well as the International Jazz scene and is known for his work with the Jerry Bergonzi Quartet, and Copenhagen Art Ensemble and Walt Weiskopf European Quartet. Also, his credits as a sideman are extensive and include among others Bob Berg, David Liebman, Marc Johnson and the Brecker Brothers. The fourth member appearing on "The Meeting" is guitarist Niclas Knudsen. He has toured and recorded with a long list of known musicians such as Billy Preston, Adam Nussbaum, Ethan Iverson and is the main force behind the band Ibrahim Electric.
The performances throughout the album are solid and all players are provided with the room to display their skills. I particularly enjoyed the arrangement of the Danish traditional "Jag vet en dejlig rosa" and Hans Ulrik's original composition "Boys night out". The sonic quality is excellent yet, I would have liked to hear a little more room in the final mix. All in all "The Meeting" is a strong release and well worth adding to your playlist.
Track Listing:
1. Tristesse, | 2. Jeg er havren | 3. Jag vet en dejlig rosa | 4. Ladies in Mercedes | 5. Steve & Carla | 6. Lazy afternoon | 7. Ever after | 8. Boys night out | 9. Lawns
Line-Up:
Hans Ulrik – Tenor and Soprano Saxophone | Niclas Knudsen – Guitar | Steve Swallow – Bass | Anders Mogensen – Drums | Steen Rasmussen – Fender Rhodes (Track 9)
Release Date: 1 May 2020
Format: Digital
Label: AMM15

Last modified: May 19, 2020