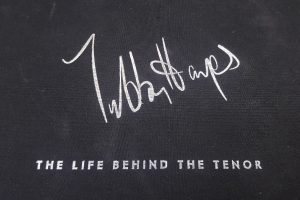 "Tubby Hayes, The Life Behind The Tenor" a brand new book, beautifully put together by Mark Baxter, the writer, filmmaker and PR man as well as great fan of Tubby Hayes, of course. The man behind Mono Media Books, the publisher of this amazing book, Baxter curated the introduction on the book, adding Simon Spillett, saxophonist and Tubby Hayes biographer to write a foreword and an afterword by Richard Hayes, Tubby's son.
What a start and what a treat!
So, what can I say about this book? Well, apart from being beautifully made thanks to the meticulous work of Tangerine Press, this tome is for all the Tubby Hayes fans out there. All the avid fans out there, the ones that want to literally possess everything on the great Tubby Hayes, BUT the book is also for everybody else! Everyone that will hold a copy of this book in his or her hands will not just love the book, but fall in love with the man that was Tubby, not just the musician, because this book is a work of art.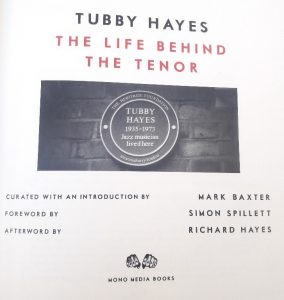 "The Life Behind The Tenor" IS for everybody, really. But what does that mean? Well, let me explain: it's not just that Tubby Hayes was a true master and genius, but it is also because when you, the reader, will hold the book, read it and look at all the incredible photos (the patient and hard work of director Lee Cogswell, who is also behind the 2015 documentary on Tubby Hayes, "A Man in a Hurry" by the way), all sorts of beautiful surprises will be revealed: from photos of the birth certificate to the shoes worn by Tubby, pieces of his personalised music sheets, the ones that he held in his hands! Wow, what an amazing thought.
It is easy to see how illuminating Baxter's passion and love for Tubby Hayes is. Baxter has produced what I consider one of the best books to date on Tubby Hayes. There is only one other tome that is on a par and that is the one that was published in 2015 written by Simon Spillet, "The Long Shadow of the Little Giant", I devoured that book!
"The Life Behind The Tenor" is a labour of love, not a mass-produced item. It's a collector's piece. I am privileged to have a copy and be able to tell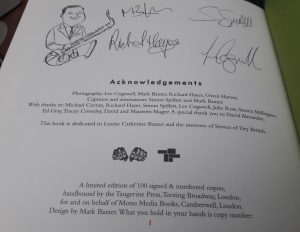 you all about it. So, dear reader, make sure you have one in your collection, too. Anyone that loves Tubby Hayes and his music has to have one. And if any of you reading this, still don't know who Tubby Hayes is, well, it's about time you did.
Edward Brian "Tubby" Hayes: a true legend.
The book can be purchased by contacting Mark Baxter at: mono_media@hotmail.com
Senior writer & photos from: Erminia Yardley
Last modified: January 20, 2021