To enable and encourage jazz and related music discovery during this challenging time, Quincy Jones' video streaming platform Qwest TV, is offering new users one-month of free access to its platform and entire content catalogue, available until further notice.
Qwest is the world's first subscription video-on-demand platform dedicated to Jazz and Beyond. Founded by music legend Quincy Jones in collaboration with French jazz impresario and television producer Reza Ackbaraly, the platform has seen a 30% increase in content engagement over the past two weeks. This is consistent across the board as other music-based platforms, including the one have seen similar increases in traffic since the lock-down was put in place.
To make use of the Qwest offer you can use this the following Promo Codes (below) and sign up at the Qwest website
If you're from the Eurozone, use:
30DAYSFREE-EUR
If you're from Great Britain, use:
30DAYSFREE-GBP
If you're from Japan, use:
30DAYSFREE-JPY
And if you're from anywhere else in the world, use:
30DAYSFREE-USD
Ackbaraly said, "We want to offer music lovers the opportunity to be entertained and replace their concert outings with dedicated programs during this time of global quarantine". The lock-down has inspired a number of initiatives to fill the gap as live concerts have all fallen victim to the pandemic. As published elsewhere here on Jazz In Europe, the Finnish, "April Jazz Festival" will replace the normal festival that has been cancelled with a Live Streaming version. This festival starts this coming Wednesday.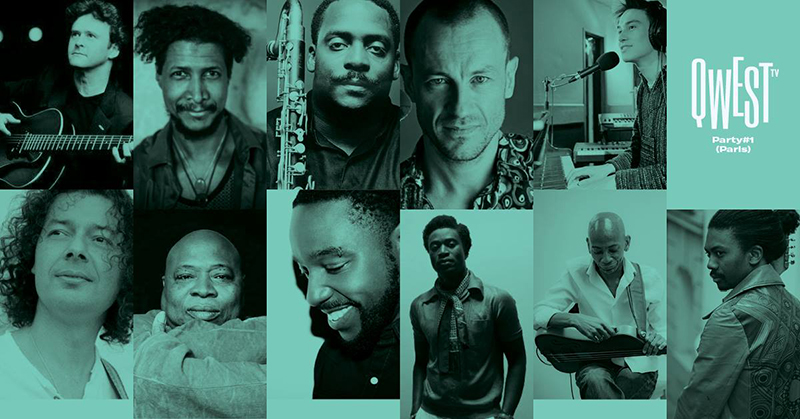 Also adding to live stream events, Qwest TV will also organize live streams every day at 10 pm (CET)/4 am (EST) on Instagram. Internationally renowned musicians agree to play live from home via Qwest TV's Instagram account. Internet users can react and comment throughout the live concert.
"We have also included a 'DONATE' button on our Facebook page for each concert that enables viewers to support the non-profit association Musicares, which helps musicians and performance technicians while all events are cancelled," added Ackbaraly. Pat Thomas, "the golden voice of Africa", Márcio Faraco, Pat Kalla, Hamilton de Holanda, the Brazilian mandolin virtuoso, Baba & Djana Sissoko have already participated this week.
Next week's program is presented by Total Refreshment Centre, a studio, DIY venue and an independent label in Hackney, London. TRC was founded by Lex Blondin, who is one half of the incredibly popular Church of Sound events series as well as being a DJ, Worldwide FM radio host and label owner. His influence has helped to shape the new and exciting jazz scenes in both Paris and London. The following TRC artists who will be going live on Qwest TV are as follows:
Monday, April 20, 2020 – 10 pm on Instagram: Jaimie Branch, trumpeter and composer from Brooklyn. Spirited, political and impossible to ignore.
Tuesday, April 21, 2020 – 10 pm on Instagram: Neue Grafik, instrumentalist, producer and DJ. Equally at home in Paris or London. A staple of Boiler Room.
Wednesday, April 22, 2020 – 10 pm on Instagram: Akenya, multi-genre pianist, singer, composer, collaborating with Esperanza Spalding, Noname & Chance the Rapper.
Thursday, April 23, 2020 – 10 pm on Instagram: Sibusile Xaba, steeped in Zulu guitar traditions and warrior chants, he mixes his South African heritage into a brave new sound.
Friday, April 24, 2020 – 10 pm on Instagram: Alabaster Deplume and Danalogue, London-born composer, saxophonist, and activist Alabaster Deplume combines with Danalogue aka Dan Leavers, analogue synth wizard and one-third of Shabaka Hutching's The Comet is Coming trio.
During the entire quarantine period, Qwest TV will also broadcast a flagship program from its catalogue every day at 9 pm (CET)/3 am (EST), available on the platform's Facebook and YouTube accounts. Among the Qwest TV gems, Internet users will discover next week:
Monday, April 20, 2020 – 9 pm on Facebook Premiere and Youtube Premiere:
Didier Lockwood and Friends – Live in Paris
Tuesday, April 21, 2020 – 9 pm on Facebook Premiere and Youtube Premiere:
Chucho Valdes & Archie Shepp: Afro-Cuban Project – Live at Jazz à Porquerolles Festival
Wednesday, April 22, 2020 – 9 pm on Facebook Premiere and Youtube Premiere:
Charles Mingus & Eric Dolphy – RTBF Archives 1965
Thursday, April 23, 2020 – 9 pm on Facebook Premiere and Youtube Premiere:
Oumou Sangaré – Live at Jazz Sous Les Pommiers Festival
Friday, April 24, 2020 – 9 pm on Facebook Premiere and Youtube Premiere:
Quincy Jones & Friends – Conducted by Jules Buckley – Live at JazzOpen Stuttgart Festival
Saturday, April 25, 2020 – 9 pm on Facebook Premiere and Youtube Premiere:
Ella Fitzgerald – RTBF Archives 1957
Sunday, April 26, 2020 – 9 pm on Facebook Premiere and Youtube Premiere:
Dionne Warwick – RTBF Archives 1964
For more information visit Qwest TV website
Last modified: April 26, 2020