It could be said that Filippo Cosentino is one of the most polyhedral guitarists currently on the modern Italian scene. Firstly his background in Pop and Blues music gives him a personal vision that flows directly in his Jazz lexicon. But it's not only his work as a performer that demonstrates this, he's a composer working in the film and theatre sphere and additionally, he's the artistic director of Milleunanota Jazz; Co and Roero Music Fest. As an educator, he is also a well-known clinician and a reference point in his own city Alba, Piemonte with his school and recording studio called DragonFly.
I first met Filippo (i mean physically) in Mexico City during my last tour, both he and I were playing at Neuma International Jazz Festival. Staying at the same hotel, it was quite natural to have breakfast together and on that occasion, I got to know his work on Baritone Guitar. I confess to being quite ignorant concerning this instrument. The only album I could remember involving the Baritone Guitar was "One Quiet Night" by Pat Metheny.
I spoke with Filippo in-depth about the instrument and it was easy to understand how extensive his research on this instrument was. Filippo explained: " Originally in the '70s the Baritone Guitar was called Bass Guitar and was used mainly in the oratory and in the church spheres. Then for some unknown reason, the instrument disappeared from the manufactures catalogues. Indeed it was quite hard to find one. I finally was able to buy one in 2012 (in Canada if I remember correctly). When Pat Metheny recorded his album in 2001 the Baritone Guitar came back. This time with a different role which was more prominent and now the instrument is equated to a solo instrument".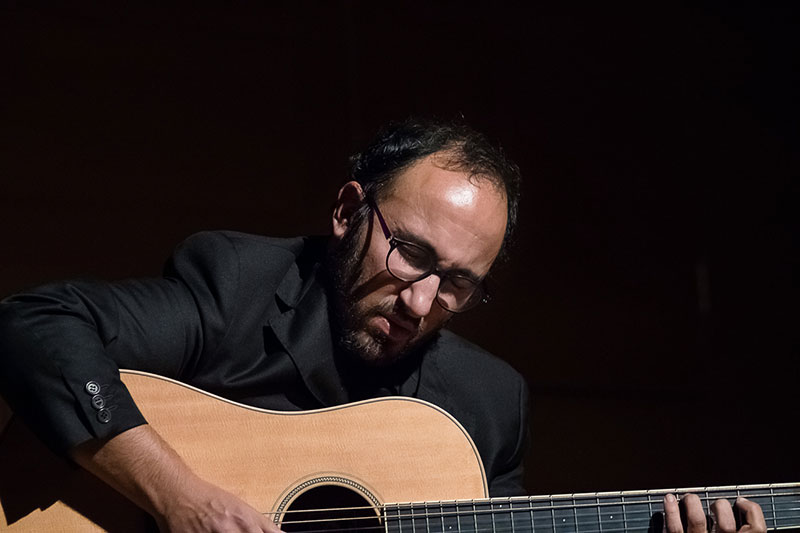 In 2013 Filippo recorded his first album featuring the Baritone Guitar titled "Human being". "It is an interesting transition, at least I thought. "On this album, the Baritone has a standard tuning so it was not that different from the guitar. In this sense, I can say that my vision of the Baritone was at the same level compared to the guitar but with more colours and opportunities. I was amazed by the possibilities I had to play a wide range of colours and I wanted to implement this aspect in my music, both on my albums and live".
Moving forward to the current day and Filippo's career continues to move forward. Recently his new album has been released by Incipit/Egea Music and it's called "Baritune – a Baritone guitar journey"
This album is further evidence of a certain evolution in Filippo's music and his approach to the instrument. In fact, I was interested to know about this aspect and the challenges he faced during this process. Filippo explained, "Normally we (guitarists) deal with the upper-midrange of of the frequency spectrum and due to the physics of the instrument, we don't have a wide range of bass notes at our disposal on the instrument. So the first challenge is to manage the bass strings. The other aspect that surprised me in some ways is that the traditional things we are used to playing on guitar don't work. It was logically also an opportunity because you have to learn to be very creative all the time. It's great because the baritone guitar is like having many instruments in one". The result of Filippo's path can be found in his method on this fascinating instrument published by Volontè & Co. (Chitarra Baritona).
Cosentino's activity not only transcends genre it also transcends Italian borders and with "Baritune" he certainly lives up to these expectations. Filippo explained, "The project is very versatile so I am able to offer it to venues both as a trio or as a solo program. It gives me a lot of flexibility." During the next few months, Filippo will travel to Finland, Croatia, Poland and Norway and of course throughout his beloved Italy.  It was a pleasure speaking to Filippo and learning a lot more about the Baritone Guitar.
Editors Note: This interview was conducted and written prior to the COVID-19 outbreak. It's highly probable that the mentioned tour dates have been cancelled. Please check the artist or venue website for up to date details.
You can stream this album here on Spotify.
Artist website: Filippo Cosentino
Writer: Simone Gubbiotti
Last modified: April 26, 2020