Since last year Prague has had posters everywhere reminding Czech citizens of the 30th anniversary of the Velvet Revolution; "30 Years of Freedom," state the posters showing a mass of people gathered on Wenceslaus Square demanding the end of Communism.
Well, their freedom to do typical activities (work, shop, travel and perform or attend live music concerts) lasted 30 years; as this could be a way to interpret those posters now, as "freedom" has ended indefinitely, due to governmental restrictions, as it has happened similarly across Europe and possibly in every country, sooner or later, due to the Covid-19 virus.
Coincidentally, a few months before, 101 Czech Jazz men and women posed for a historic photo to celebrate their jazz heritage across generations and despite the odds since although jazz from the West was not banned, recordings and radio broadcasts from the West were so restricted, that the Czech scene was behind the times; yet, Czechs did have a commendable jazz scene under Communism and they are proud of it; they also managed to have "state-sponsored" recording sessions with American and West European jazz players for decades.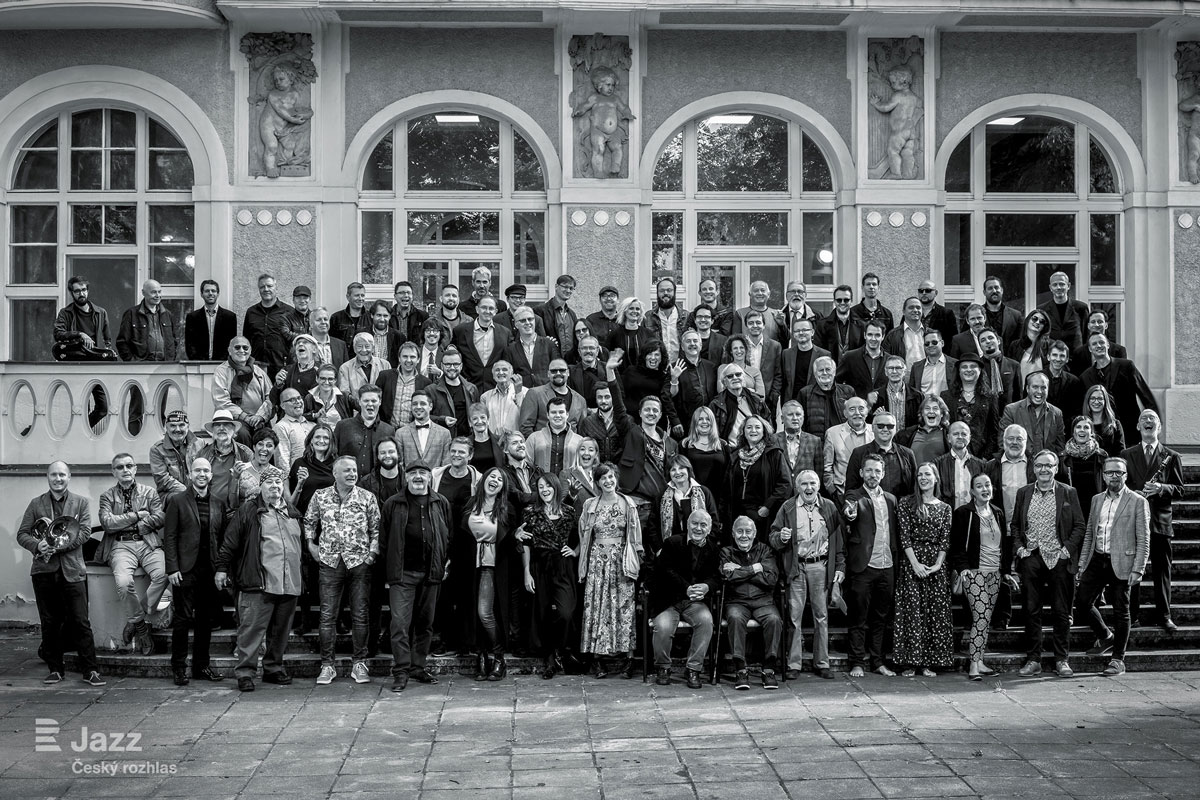 Calling it the biggest meeting of Czech jazz men and women in history, the photo was organized by the Jazz Section of the Czech Radio Broadcasting company and it was done in honour and to match the historic photograph from 1958, "A Great Day in Harlem," which had 57 American jazz musicians, and assorted children sitting on the curb. The photograph in Harlem was done for Esquire magazine, for an article titled, "The Golden Age of Jazz," unsure of who would show up at 10 am on a Sunday morning for a group photo.
The photo "A Great Day in Harlem" by Art Kane has Count Basie, Rex Stuart, Coleman Hawkins, Lester Young, Gene Krupa, Dizzy Gillespie, Roy Eldridge, Jo Jones, Mary Lou Williams, Buck Clayton, Sonny Rollins, Thelonious Monk, Gerry Mulligan, Art Farmer and others showing the history of jazz across decades. The majority of the younger ones represented the rise or height of hard bop, like Art Blakey, Horace Silver, Benny Golson, etc.
Similarly, the Czech photo of 101 Jazz musicians spans many decades with the eldest being the trombonist Václav Fiala (born 1947) one year before the Communists took power through elections in 1948. Since the beginning of his musical career, in the early 60s, he played Dixieland and Blues with Eva Olmerová, a sultry Slavic cross of Billie Holliday, Sarah Vaughan and Janis Joplin. There is a recording of him (on YouTube) with the Traditional Jazz Studio from 1972, including a New Orlean's blues "Albert's Blues" with Albert Nicolas (born 1900 in New Orleans), and who unfortunately died the following year in Basel, Switzerland.
Luboš "Bob" Zajícek, co-founder of the Traditional Jazz Studio (in 1959) is there too, beside Fiala; as a co-founder of the Traditional Jazz Studio Zajícek is another veteran, and a recording of him from 1966 performing as "Benny Waters & Traditional Jazz Studio is on YouTube. The 1960s was a period of cultural openness, which explains how they ended up playing with an American jazzman; though he was an old-timer, saxophonist and clarinetist Benny Waters (born in 1902) was the real stuff for Czechs. After all, it was a huge event in 1965 for Czechs to see Louis Armstrong perform in Prague; at the height of post-bop, and funky or soul jazz, they were excited to hear New Orleans jazz roots by good old Satchmo.
Or perhaps Dixieland jazz was not merely a conciliatory remedy for Czechs, at its core, but it had a message, as in the utterly timely lyrics for "Bare Necessities" from The Jungle Book.
So there was jazz behind the Iron Curtain, it was just behind the times, at worst by decades. Poland and East Germany had parallel jazz scenes each exceptional in their directions. It is the Russians who had it the hardest since, for most of the earliest period under Stalin, jazz was strictly prohibited. But even the Soviet Union liberalized things by the late 1950s and in 1964, when the life-long jazz fan, Ukrainian Leonid Brezhnev became Soviet premier, he let jazz flourish more in the Soviet Union, and across the Soviet Bloc including Czechoslovakia.
The best-known players in modern Czech jazz came onto the scene in the later 60s, like Jirí Stivín, Emil Viklicky, Milan Svoboda, and Jana Koubková, and they are in the photo, naturally. This is the classic jazz generation who had their lives upended by the Soviet pact invasion of 1968, causing a return to stricter censorship in the 70s, yet they still played on despite this.
Jirí Stivín is known best as a flutist in the vein of Herbie Mann, but he also plays clarinet and saxophone. There is a noted recording of him from 1974 as Jirí Stivín & Co. Jazz System blowing fearsome free jazz. They are playing with American ex-pat, Barre Phillips on bass (on YouTube), and with songs like "Five Hits in a Row," they might be influenced by psych-jazz or the Grateful Dead, as well as by Ornette Coleman with Don Cherry and that scene.
Emil Viklicky is among the most renown of jazz pianists/organists on the Czech scene, mostly for straight-ahead jazz, but from the mid-'70s to '80s he had a funky jazz fixation, a mix of soul jazz with rock-fusion ala Jeff Beck and Jan Hammer. After all, Jan Hammer had a profound influence on the Czech music scene since he emigrated from Czechoslovakia after the 1968 Soviet invasion, and he was soon playing with jazz-rock fusion masters John McLaughlin, and later with Beck. Meanwhile, Vicklicky played with Energy (rock-jazz combo) and SHQ (soul-jazz) through the 70s, and he even recorded with a young Bill Frisell (and two other young Americans) who visited him, after Viklicky had befriended them as students at Berklee College of Music. They recorded a surprisingly funky jazz album "Window" in Prague in 1980.
Milan Svoboda (born in 1951) is an esteemed pianist, composer influenced by Keith Jarrett and the third stream direction, combining his studies in classical and jazz (including a year at Berklee College of Music); he is known for his Prague Big Band (formed in 1974) and his later group Kontraband. There is an impressive clip of him with his quartet (on YouTube) from the 1980s documentary "Milan Svoboda: Shaman Dance." It's a wild Dadaistic free-fusion romp.
Redhead Jana Koubková is known for her poetic vocal experimentation in recordings through the 70s and 80s, influenced by free jazz, Bossa Nova and American sirens from Ella to Abbey Lincoln. There is a humorous animated video of her battling thugs on the streets of Prague while screaming her head off for the song "a tak si jdu" or "and so I'm going" (on YouTube).
While Gustav Brom and his swing band was likely the best known Czech jazz figure in Europe during the 60s and 70s, the most popular ones, in general, emigrated to New York City after 1968, including bassist Miroslav Vitouš (soon becoming a founding member of Weather Report), George Mraz (bassist and member of the New York Jazz Quartet), and as previously mentioned Hammer; however, the Czechs who remained in their country had their following as they pursued their love for jazz in a restricted environment, yet still managing to innovate.
The younger Czech jazz musicians in the photo are mostly graduates of the Jaroslav Ježek Conservatory, in Prague. Ježek (born 1906 in Prague under the Austro-Hungarian Empire) is an iconic pianist/composer for Czechs since the Jazz Age, influenced by ragtime and pianists from Fats Waller to Count Basie. He also did the Liberated Theatre Orchestra, an avant-garde theatre and music project, which ended due to Nazi occupation of Czechoslovakia in 1938.
And now back to who is who in the photo: best carrying on the Golden Jazz era is Ondcej Havelka, who led the Original Prague Syncopated Orchestra from 1976-1995, before founding Ond?ej Havelka and the Melody Makers in 1995. This group is an utter phenomenon representing the Czech Swing revival with authentic retro attire and frantic dance parties. His group has his son and daughter, who help to draw an enthusiastic younger audience to their concerts. Their song "Beat Me, Daddy" (on YouTube) is a film noir short with a dance frenzy.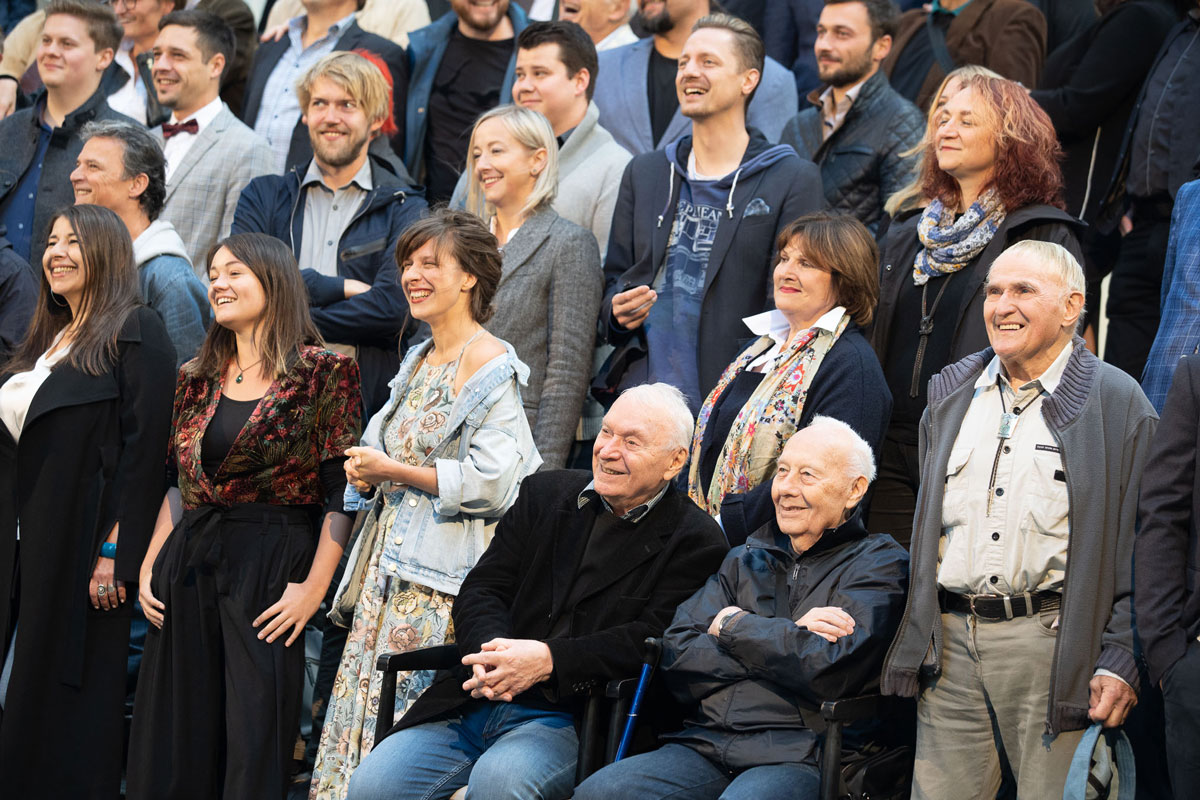 Among the so many others in the photo, several should not be overlooked, including the contrabassist and composer Jaromír Honzák (born 1959), an elder solid modern jazz leader and instructor for the younger ones; another foremost no-nonsense bassist, Robert Balzar best known for his trio and work with funk outfits; then funky guitarist Libor Šmoldas, who collaborates frequently with much bigger name New York-based Americans, and equally so bassist Tomáš Liška, guitarist David Dorcžka, and pianist Martin Brunner. Then there's guitarist Jicí Šimek of the group Muff with saxophonist Marcel Barta (who is not even in the photo of 101 Czechs), who best represents the progressive scene with their jazz fusion linking electric Miles, groove and indie rock.
Counted among the 101 are a few non-Czechs, which is also a fair acknowledgement of the newer scene since the demographics of the country is not as homogenous as prior to 1989. So there is the Polish-Cuban Latin-jazz vocalist Yvonne Sanchez; a saxophonist/flutist from the UK, Suzanne Higgins; her collaborator, saxophonist from the UK, Andy Schofield; as well as the feisty tenor saxophonist Osian Roberts from the UK, who is possibly the most active of non-Czechs who have integrated themselves into the Czech jazz scene. Well worth a listen is the Osian Roberts/Steve Fishwick Quintet with Cedar Walton (2007) for true hard bop nods.
A short documentary has been produced about the photo inspired by the 1994 film about the photo "A Great Day in Harlem." Watch this below:
An album was also released in 1995, featuring artists from the Oscar-nominated film. It would be appropriate to also compile an album tracking the decades of Czech jazz based on this photo for posterity. Worth considering now, though, is how can the jazz culture survive, or how long can the musicians and clubs ride out this crisis? It is a twofold issue concerned with saving lives but also livelihoods of a culture.
While jazz is just a micro-subculture of the society, and everyone else is in the same situation, jazz musicians in parts of Europe at least have had a historical precedent for this situation that we have now. Despite the restrictions, despite the obstacles and the odds, they still pursued their love and devotion to the music and overall the society around them benefited. Similarly, we need jazz musicians and venues to be ready for their return, whenever that time maybe.
It would be too ironic if the photo of 101 Czech jazz men and women really ended up being the last photo of the Czech jazz scene after its hundred years of development (like the history of jazz itself), and if the poster "30 Years of Freedom" ends up as an obituary for their scene.
But this is unlikely since Jazz at its best and most critical times through its history, like the Blues is a music of hope and survival despite the bleakest of odds, this is part of its legacy.
Photo credits: Khalil Baalbaki, Jiri Seda – and (c) info: all rights go to original rights owner/photographer(s).


Jazz In Europe Magazine – Spring 2020 Edition
This article also appears in the Spring 2020 edition of the Jazz In Europe print magazine.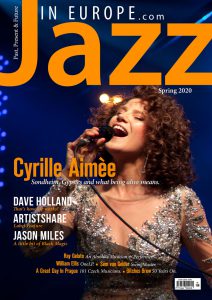 Also included in this edition are interviews with Cyrille Aimee, Ray Gelato, Dave Holland, Jason Miles and Sem van Gelder. We take a look at Bitches Brew, 50 years on. This editions photo feature spotlights British photographer William Ellis.
You can purchase a copy of the magazine here.

Last modified: July 19, 2020